Wynne's Ontario Transit Spending No Bogeyman for Bonds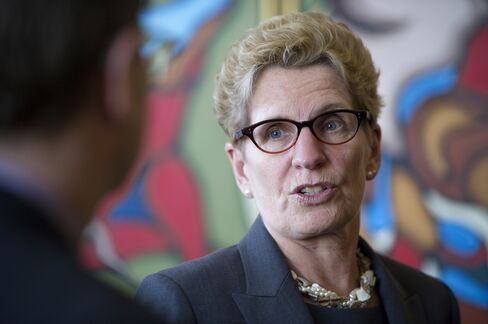 Investors are voting for infrastructure over austerity in Kathleen Wynne's Ontario.
The province's debt is outperforming the average of its peers as Premier Wynne pledges to spend C$130 billion ($108 billion) on roads, transit and hospitals over the next 10 years and Moody's Investors Service has labeled it the world's largest sub-sovereign debtor. The government is so confident of strong demand for the initial public offering of its Hydro One Inc. utility it plans to pay investment banks a quarter of the standard fees for the sale.
The demand signals markets are buying into Wynne's Liberal Party vision for investing in the economy to help stoke growth. While jurisdictions from Greece to Italy are cutting spending to restore fiscal balance, the 61-year-old Wynne is taking a go-slow approach that is winning investors over.
"It's encouraging, because we are at this moment having a very difficult discussion in Ontario about how we're going to go about building this infrastructure," Wynne said in an interview at Bloomberg's New York headquarters on May 14, along with her finance minister, Charles Sousa. "This reinforces what Charles and I know to be true, which is - this is what's needed in Ontario in order for us to be able to compete."
Debt Rising
Wynne has pledged to gradually reduce the deficit without slashing jobs and social services while initiating one of largest infrastructure outlays in Canadian history. The government forecasts a 2015-16 deficit of C$8.5 billion, returning to balance by 2017-18. The shortfall peaked at C$19.3 billion in 2009-10 as the global economic crisis and high currency hammered its manufacturing base.
While the deficit has been dropping, the province's total debt outstanding has been rising and now stands at about C$315 billion, according to the Ontario Financing Authority. Ontario's C$250 billion of long-term bonds rated by Moody's is the most of any province state or local government in the world, the New York-based company said last year. Moody's has the province's AA- credit rating on watch for possible downgrade.
The bond market is backing Wynne's strategy.
Ontario debt contributed 2.97 percentage points to Canada's total return of 8.92 percent over the past 12 months, according to the Bank of America Merrill Lynch Canadian Provincial & Municipal Index and data compiled by Bloomberg. That shows investors received the most profit from Ontario bonds.
'Execution Risks'
Ontario's total return of 10.11 percent over that same time also beat the 8.92 percent average of the index, data compiled by Bloomberg show. Ontario, while lagging Quebec, outperformed Alberta, despite that province's AAA rating over the past 12 months and five years.
Since selling its latest 10 year bond in January, the extra yield investors demand to hold it over federal government benchmarks has narrowed 10 basis points.
Sousa said he met with rating companies including Moody's, after releasing his budget last month.
Moody's declined to comment on the Sousa meeting, spokeswoman Courtney Woolston said. In a press release after the budget, Moody's reiterated it continues "to see execution risks" in Ontario hitting its fiscal targets.
The reduction in the deficit shows the province is responding to its fiscal challenges, Wynne said.
Economy Grows
"But at the same time, I'm not giving up on what I know to be the fundamental challenges that we're facing," she said. "If the rating agency would be happier if we slashed our health-care and education systems, that's not compelling to me. Because, for me, that is absolutely short-sighted social and economic policy."
The risk to Wynne's strategy is that interest rates start to rise and the debt becomes a heavier burden, though the province has increased the average length of its debt maturities in recent years to brace for that prospect.
So far, investor confidence has come back because the economy is on a more solid footing, said Hosen Marjaee, who manages C$22 billion as senior managing director at Manulife Asset Management.
"Even though they haven't promised to pay down debt, they have promised to balance the budget, and they have a majority," said Marjee who holds more Ontario debt than his benchmark indexes. "I think ourselves and many other investors have a lot more confidence this time around that they will do their best to balance the budget."
Once the province balances its budget then the numbers will start to work in their favor as the economy begins to grow, Marjee said.
Hydro IPO
The numbers are already starting to work in Wynne's favor as a lower Canadian dollar and oil prices stoking activity. Ontario has added 500,000 jobs since the recession and the government forecast last month gross domestic product would expand 2.7 percent this year, vying with British Columbia for the fastest provincial growth in Canada.
Ontario generated about 37 percent of Canada's gross domestic product in 2014. It has nearly half of Canada's finance and insurance workers, 44 percent of its manufacturing workers and 42 percent of its professional, science and technical workers -- all with 38 percent of the population.
The province last year overtook Texas to have the continent's second-highest number of information and communications technology companies, behind only California, according to Wynne. Ontario is home to Canada's biggest city, Toronto and its lakes hold one-fifth the world's freshwater.
Political Price
In a search for cash, Wynne undertook an asset review that led to an announcement last month that the province would sell a 15 percent stake in its Hydro One electricity utility for as much as C$2.25 billion. That could be raised to a 60 percent stake over the next several years, Wynne has said.
Banks are so eager to get a piece of the Hydro One's initial public offering that they're willing to accept only about 25 percent of the fees typically that paid out in deals, Sousa said.
Asset sales may come at a political price for voters who think they should remain in public hands, Wynne acknowledged.
"I didn't come into government to privatize or sell, partially or wholly, our assets but if opening up the ownership of Hydro One means I can build the roads, the bridges and the transit that we're going to need for the next generation, then yeah, I'm going to take that political risk and do something that doesn't play to type -- but, in fact, is the practical solution," Wynne said.
Distance Runner
The province has rolled out an "Alternative Financing and Procurement" model for funding infrastructure, a variation on public private partnerships in which the province owns the asset while construction and financing is done by the private sector and payment is made only when projects are substantially complete.
Ontario, which has brought 76 AFP projects to market worth $39 billion is now shopping the model around U.S. states, Sousa said.
Wynne, an avid distance runner who recently completed a 10K, said the fiscal challenges ahead are similarly long-term. The province's belt-tightening won't end once it balances its budget, she said.
"It's not like we reach 2017-2018 and all of the sudden the lid comes off," Wynne said. "We have to understand this is a new normal. This is a long-term reality."
Before it's here, it's on the Bloomberg Terminal.
LEARN MORE