Patriots Owner Kraft Accepts NFL Penalty for Deflated Footballs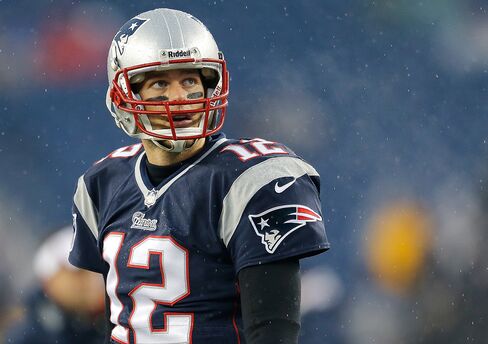 Quarterback Brady continues his appeal of four-game suspension

Players union seeks to remove Goodell as arbitrator in appeal
The New England Patriots won't appeal their National Football League punishment for using underinflated footballs, but quarterback Tom Brady will still challenge his four-game suspension -- and the players' union moved to recuse NFL Commissioner Roger Goodell as the arbitrator in that appeal.
The team will pay a $1 million fine and accept the loss of two draft picks, including a first-round selection in 2016, Patriots owner Robert Kraft said Tuesday at a news conference before league owners met in San Francisco.
The Patriots were punished for using the underinflated footballs in their American Football Conference championship game win against the Indianapolis Colts in January, a victory that sent them to the Super Bowl.
"I am going to accept reluctantly what is given to us and not continue this dialogue and rhetoric, and we will not appeal," Kraft told reporters in a short statement. He did not take any questions, walking away when asked how his move would affect Brady's appeal.
The NFL players' union said Brady's effort to get his penalty overturned will continue.
"The Patriots may not appeal, but this will not impact the NFLPA appeal of the 4 game suspension of Tom Brady," George Atallah, a spokesman for the National Football League Players Association, said on Twitter.
Two hours later, the NFLPA formally requested that Goodell "designate a neutral party to serve as an arbitrator in this matter."
"The commissioner's history of inconsistently issuing discipline against our players makes him ill-suited to hear this appeal in a fair-minded manner," the NFLPA said in an e-mailed statement.
Kraft said he was aware there were two entrenched sides in the four-month-old matter -- Patriots fans and those who believe they cheated -- and that he had been torn between fighting the ruling and accepting it for the good of the league's 32 teams. Kraft said the discipline was "way over the top, as it was unreasonable and unprecedented."
"Although I might disagree with what is decided, I do have respect for the commissioner and believe that he's doing what he perceives to be in the best interest of the full 32," Kraft said. "In that spirit, I don't want to continue the rhetoric that's gone on the last four months."
Before it's here, it's on the Bloomberg Terminal.
LEARN MORE