Memorial Day Trips at 10-Year High Point to Busy Vacation Season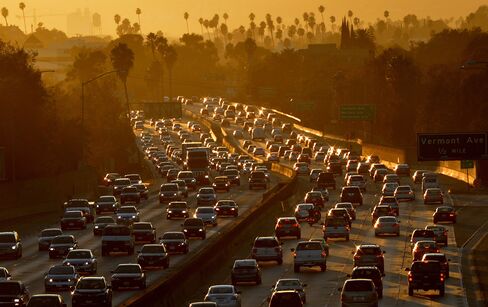 Memorial Day could kick off a busy summer for travel, as low gasoline prices and an improving job market are fueling vacation-planning.
About 37.2 million Americans will travel 50 miles or more from home during the upcoming holiday weekend, the most in 10 years, according to AAA, based in Heathrow, Florida. This 4.7 percent projected increase from 2014 includes trips by car, air, cruise, train and bus in the May 21-25 period.
Memorial Day provides "a good indication of what's ahead" because the holiday marks the unofficial start of the peak vacation season, said Julie Hall, a spokeswoman for the largest U.S. motoring association. This "very positive forecast" should continue throughout the rest of the summer, she said.
Such optimism is echoed by hotel chain La Quinta Holdings Inc., which sees "very strong demand" for lodging during the Memorial Day weekend, Chief Executive Officer Wayne Goldberg said on an April 29 conference call. If so, that would defy recent measures of consumer confidence that suggest Americans are growing more pessimistic about the economy. The University of Michigan preliminary index of sentiment dropped in May by the most in two years. At the same time, households still held relatively upbeat views on incomes.
Pent-Up Demand
For the average American, "disposable income is up, the job market looks better and their financial well-being has improved," said Russell Price, senior economist at Ameriprise Financial Inc. in Detroit. Gas prices are down about 94 cents a gallon from a year ago, while "some pent-up demand" after a severe winter also will help spur summer travel, he said.
The Federal Reserve noted that tourism is rebounding after the harsh winter in its Beige Book business survey released April 15. All reporting districts said "corporate and leisure travel are expected to be up in 2015."
The "three big drivers" of hotel demand -- gross domestic product growth, the stock market and the unemployment rate -- also support "a healthy summer season for domestic travel," said Jan Freitag, a senior vice president at STR Inc. a Hendersonville, Tennessee-based research company. First-quarter bookings rose 4 percent from a year ago, outpacing the projected 2 percent growth pace for the year, he said, adding that STR may update its forecast on June 1.
Robust Memorial Day demand "should translate into a strong peak season as we get into the summer months," LaQuinta's Goldberg said.
Hotel Rates
Advance reservations for North American hotel rooms signal "sustained growth in the low single digits" into the summer, as destinations such as Orlando and San Diego "look really strong," said John Hach, senior industry analyst at TravelClick Inc., a New York-based provider of technology services to the hotel industry. This has given operators confidence to increase the average daily room rate, which is up 4.4 percent for the 12 months through March 2016, he said, citing data the company collects from chains including Hyatt Hotels Corp. and Hilton Worldwide Holdings Inc.
Hach said he doesn't anticipate higher prices will disrupt demand because vacationers can still find "very good deals," particularly if they make reservations more than two weeks in advance. "It's a win-win market for hoteliers and consumers."
Seems Longer
Vacationers may also get a psychological lift from the calendar, because this year there are 15 weeks between Memorial Day and Labor Day, up from last year's 14 weeks. Summer may seem longer, giving workers more days to spread out their travel, even though their company-provided vacation time won't change, Freitag said.
This could provide a small benefit to parks operated by SeaWorld Entertainment Inc., Chief Financial Officer James Heaney said on a May 7 conference call. The extra week adds to the "peak operating period" for the Orlando-based company, though there aren't any major shifts in school calendars, he said.
A "big question mark" related to summertime travel is whether the strong U.S. dollar will hurt demand, Freitag said. Many Europeans could find vacationing in the U.S. too costly, while Americans may be motivated to book trips abroad because of favorable exchange rates, he said.
The currency is about 14 percent above its 5-year average, even after the Bloomberg Dollar Spot Index has fallen 5.1 percent since March 13, when it peaked at its highest in data going back to 2004.
Hospitality Hiring
While there may be fewer international visitors in the U.S., roads and parks probably will be "packed" with Americans, Price said. Businesses appear to be gearing up for "pretty good conditions" as hiring in the leisure and hospitality industries rose 3 percent in April from a year earlier, outpacing the broader labor market's 2.2 percent gain, he said, citing data from the Labor Department.
Even so, consumer confidence has weakened since April. Sentiment as measured by the Bloomberg Consumer Comfort Index has fallen five consecutive weeks to 43.5 in the week ended May 10, down from 47.9 in early April. That's been reflected in weak retail sales reports in recent months.
Still, consumer spending on services, including leisure and travel, is outpacing expenditures on goods, which is an encouraging sign, Price said. Spending on services rose 4.6 percent in the first quarter from a year ago on a seasonally-adjusted annualized basis, compared with an increase of almost 0.8 percent for goods, based on figures from the Commerce Department.
With the labor market on "better footing," this points to more summertime travel, Price said.
"There are a lot of strong positives in the economy that give people confidence to spend on leisure again," he said.
Before it's here, it's on the Bloomberg Terminal.
LEARN MORE