Buffer-State Blues Hit Ukraine Amid EU Greek Distraction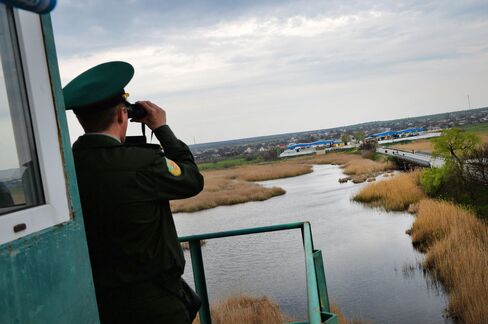 Ukraine, Moldova and Georgia had better get used to life as buffer states between the European Union and Russia.
Not even a glimmer of future EU membership will be on offer at a summit starting Thursday. The three aren't ready and the meeting threatens to be sidetracked by the Mediterranean migration crisis, Greece's quest to escape ejection from the euro and Britain's possible departure from the bloc.
What's left is for the summit in Riga, Latvia, to reaffirm a small-steps policy of trade preferences, a dripfeed of investment and the easing of travel restrictions for citizens of the three eastern countries trying to break out of Russia's orbit.
"Enthusiasm for further integration between the EU and its eastern neighbors is on the wane, but Europe should be bolder," said Ian Bond, a former British diplomat now with the Centre for European Reform in London. "A gray zone to its east is not in the EU's interests."
Ukraine's economic woes and simmering conflict with Russia have made the EU wary of commitments to countries on its eastern fringes, still plagued by corruption and poor governance.
Some 500,000 Moldovans have made trips to the EU since visa requirements were lifted a year ago. That concession has been "a rather sobering experience," Richard Youngs, a senior associate at Carnegie Europe, said Tuesday on a media conference call. "Since that was offered, the problems of corruption if anything have gotten worse in Moldova."
Ukrainian Expectations
Ukraine and Georgia don't yet qualify for a visa-free system, the European Commission said on May 8, putting off that travel perk at least until the start of 2016. Once counting on a breakthrough this week, Ukrainian President Petro Poroshenko has downgraded his expectations. All Ukraine hopes for now is "the prospect of a visa-free regime," he said on May 14.
Ukraine's main takeaway will be the signing of legal documents to release 1.8 billion euros ($2 billion) in European loans promised under an International Monetary Fund-led package. The European money will be disbursed in three tranches between now and 2016.
European aid "can be seen as part of the overall picture" of international support for Ukraine, Valdis Dombrovskis, a commission vice president, said Tuesday in a telephone interview.
Ulterior Motives
European aid is also on Greek Prime Minister Alexis Tsipras's mind. Tsipras, who has pierced the diplomatic embargo on Russian President Vladimir Putin by visiting Moscow, has the goal in Riga of cajoling German Chancellor Angela Merkel into a discussion of Greece's bid to avoid default.
Ulterior motives also accompany U.K. Prime Minister David Cameron to the summit, in his first EU appearance since re-election on May 7. Cameron is gearing up for a British referendum on whether to stay in the EU, and his EU reform plans hinge on re-embracing traditional U.K. allies such as Poland after alienating them during his first term by taking an anti-immigration stance and talking about a benefits clampdown.
European officials said Monday that Russia is no longer threatening to interfere with the launch of a EU-Ukraine free-trade agreement in 2016, touted by the EU as a major step toward modernizing Ukraine's economy.
Indeed, renewed diplomatic contacts between the West and Russia -- with U.S. Secretary of State John Kerry and Putin holding their first face-to-face meeting in two years last week and NATO Secretary General Jens Stoltenberg meeting Russia's foreign minister in Brussels on Tuesday -- may also push the buffer states down the priority list.
Putin still has his thumb on the scale in the three EU aspirants, with Kremlin or Kremlin-backed troops occupying swathes of eastern Ukraine, a ribbon of territory in eastern Moldova and two breakaway regions in Georgia.
Three other countries represented in Riga have less of an appetite for the EU. Belarus and Armenia have joined the Eurasian Economic Union, a Russian attempt to rebuild the Soviet-era economy, while Azerbaijan is keeping its distance from both the EU and from Russia.
Before it's here, it's on the Bloomberg Terminal.
LEARN MORE