American's CEO Vows to Compete on Price With Low-Fare Rivals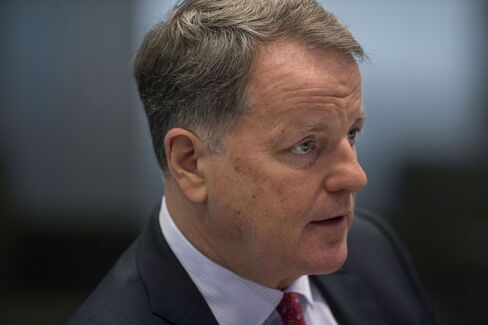 American Airlines Group Inc. will "compete aggressively" against discount carriers that are piling on added seats and then cutting fares to keep planes full, Chief Executive Officer Doug Parker said.
"We're not going to lose customers on price," Parker said Tuesday in an interview at Bloomberg's New York headquarters. "We're not going to give anyone else an advantage and allow them to expand at a rate that takes away customers and is not good for our shareholders."
His comments signaled American's determination to fend off rivals emboldened by the rout in global oil markets. Jet fuel is airlines' largest expense, and crude's 46 percent drop since June 2014 opens the door to expansion that might be unprofitable if kerosene cost more. While American will avoid that kind of growth, it won't cede fliers to low-fare carriers, Parker said.
"To the extent capacity comes in and results in lower prices, we'll match those prices because we have to," he said. "All we can do is run our own airline and compete against those that chose to grow and we will compete aggressively."
Having more tickets on sale crimps airlines' pricing power, and pressure on fares is showing up in gauges such as passenger revenue from each seat flown a mile. That measure has fallen for three consecutive quarters for the North American industry, according to data compiled by Bloomberg.
Stocks Tumble
Investors are concerned that the drop in so-called unit revenue will weigh on margins, and the Bloomberg U.S. Airlines Index fell 8 percent at the close in New York, the biggest one-day drop since October 2011.
American plunged 10 percent to $43.06, echoing declines of 10 percent for United Airlines parent United Continental Holdings Inc. and 5.6 percent for Delta Air Lines Inc.
Parker has spoken frequently about the industry's new-found discipline in keeping capacity in check to restore profits after $58 billion in losses in the nine years ended in 2009. While the collapse in the cost of jet kerosene may be testing that resolve, he suggested Tuesday that a crude-market rally would choke off the expansion in seating.
"It doesn't feel anything like what used to happen in the '80s and '90s, when the industry would get profitable and everyone would start trying to take share from each other," said Parker, 53. "I do believe if fuel prices increased, you'd quickly see a decline in everyone's capacity forecast."
Merger Integration
Parker is close to completing the integration of Fort Worth, Texas-based American and US Airways Group Inc., the carrier he led before orchestrating the 2013 merger creating the world's largest airline. The last major step: shifting to a single reservation system later this year.
He confronts an industry buoyed by robust domestic demand and buffeted by a strong U.S. dollar and economic weakness in parts of Europe, Asia and Latin America. Oil's plunge helps American's profitability -- analysts surveyed by Bloomberg estimate 2015 earnings excluding some costs at a record $6.88 billion -- while also spurring smaller carriers to add seats.
Like its largest peers, American hasn't disclosed its plan for seating capacity in 2016, and Parker declined to do so Tuesday. The airline projects a 2 percent increase in 2015.
American is happy with current U.S. economic growth of 2 percent to 3 percent a year, a recovery that feels "less fragile" than in the past, Parker said. The economy is fueling "strong" travel demand, he said, and the pressure on airlines' unit revenue "is not an economic problem."
'Supply Problem'
"This is a supply problem," Parker said. "It feels like a short-term issue that will work itself out."
Some competitors are charging ahead with seating-capacity increases outpacing the economic expansion. Southwest Airlines Co. said Tuesday that it may increase capacity as much as 8 percent this year, up from 7 percent previously, while JetBlue Airways Corp.'s projected range is 7 percent to 9 percent and Spirit Airlines Inc. anticipates a 31 percent jump.
Parker said smaller cities in the eastern U.S. risk losing service to and from New York's LaGuardia airport if the Port Authority of New York & New Jersey lifts a 1984 rule capping flights at 1,500 miles (2,400 kilometers).
Airlines can't add departures at LaGuardia because the number of trips is capped to reduce congestion. Under a repeal of the so-called perimeter rule, American would join competitors in bringing in larger jets to fly across the U.S. and cut shorter routes, he said.
"Least Profitable"
"We would cancel the least-profitable flying," said Parker, who declined to identify any potential targets. "I'm certain that's going to be the flights being flown with smaller aircraft, closer in."
Regarding competition with Persian Gulf carriers, Parker said federal regulators rejected an initial request to freeze U.S. expansion by Emirates Airline, Qatar Airways Ltd. and Etihad Airways PSJC.
American, Delta and United say the gulf carriers are using billions in government subsidies to gain a competitive edge. They want the U.S. to open talks with the United Arab Emirates and Qatar over the gulf trio's practices, and were turned down when they asked that new service be halted pending a U.S. review of their complaint, Parker said.
"It's impossible to ignore," he said. "I firmly believe this administration will act because I think they have to. We are doing what I think we should do in order to help compel them to act."
The gulf carriers have denied any wrongdoing as the U.S. review continues.
Before it's here, it's on the Bloomberg Terminal.
LEARN MORE