Why Biker Gangs Prefer Twin Peaks
It turns out that motorcycle-riding toughs like craft beer and burgers, too
The Twin Peaks restaurant chain was born a decade ago with a simple ambition: to offer America a racier alternative to Hooters. The scene outside a Twin Peaks location in Waco, Texas, on Sunday went beyond racy to violent chaos when members of rival biker gangs engaged in a shootout and melee that left 9 dead, 18 injured, and about 170 arrested.
Why did the bikers choose a Twin Peaks as the venue for their mayhem? It may surprise some to learn that the edgy restaurants are not dives. Twin Peaks Chief Executive Officer Randy DeWitt's highly successful formula has been to serve better food and beer than Hooters offers. He emphasized that the items on the menu are made with fresh ingredients, at a time when even sports bar patrons were becoming more food-conscious. And he filled the bar shelves with fine whiskies and specially made craft beers, with suggestive names like Dirty Blonde and Knotty Brunette. The approach has worked. Twin Peaks grew to 65 locations last year, with sales of $239 million, 46 percent more than in 2013, according to Technomic.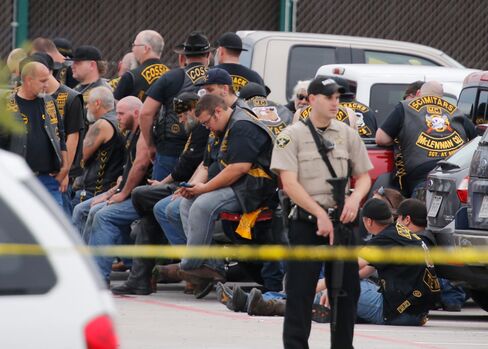 And of course, Twin Peaks serves up something else: flirty waitresses in scanty outfits that make the Hooters uniforms look almost matronly in comparison. That can make for a boisterous atmosphere at Twin Peaks. When I wrote about the chain last September, several women I spoke to said they were constantly propositioned by the restaurant's predominately male clientele.
That's the kind of environment that can attract a bunch of hard-to-control men, which is apparently what happened on Sunday. Both the city's police department and executives at Twin Peaks headquarters in Dallas say they warned the franchisee in Waco that things were getting out of hand.
Twin Peaks is taking the right steps by revoking its franchise agreement with the Waco operator. But the company might want to take another look at its saucy business model. Hooters is tamer than Twin Peaks, both in atmosphere and in sales, which were up only 2.5 percent in the U.S. last year, according to Technomic. It's not unusual to see parents with their children at Hooters these days. That might be too tame for some sports bar fans, but at least they don't have to worry about dining with a bunch of biker gang members looking for trouble.
Before it's here, it's on the Bloomberg Terminal.
LEARN MORE