State Universities Shift Scholarships to Rich Kids, and Away From Needy Students
What happened to giving a leg up to people who actually need it?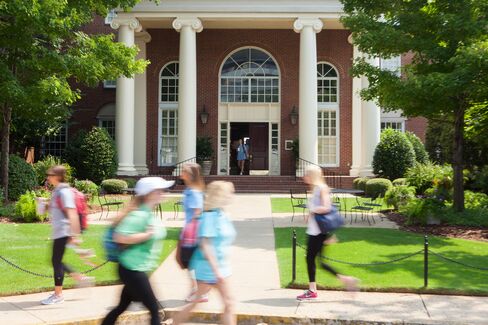 In 2014, the University of Alabama reached a milestone: For the first time in history, a majority of the student body came from outside Alabama. The change "was no accident," Stephen Katsinas, the director of the Education Policy Institute, told the university's campus newspaper. "It was the result of a deliberate plan."
Alabama is one of a growing number of public universities gunning for wealthy, high-performing students from other states, according to a new study.
Sixty-eight percent of public universities and colleges provide scholarships to students who do not need financial aid, a report released Monday by the New America Foundation shows. In part, funneling scholarships to affluent students is a response to budget cuts at state schools—tempting a lot of rich nonresidents with small amounts of aid is more profitable than giving a full ride to fewer poor students—but it can also boost schools' standing in national rankings.
"Public higher education was supposed to be about serving in-state students and really helping people get a leg up," says Stephen Burd, a senior policy analyst at New America and the author of the report. "Instead of doing that, they are looking for wealthier students."
Burd analyzed data from more than 400 public universities published on CollegeData.com, a website that tracks higher education spending. So-called merit aid has become a more common tool for luring top-performing students to public institutions in the past two decades.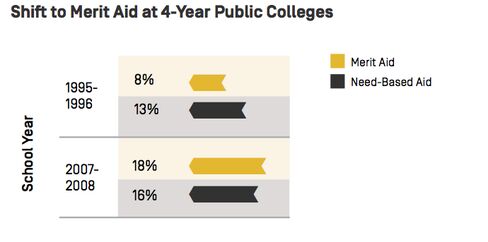 In 1995, just 8 percent of students at public universities got merit scholarships, a smaller share than those who were getting need-based aid, according to Department of Education data. By 2007, that changed: The share of students getting money based on merit was larger than the share who got money because they needed financial support.
At public universities that gave high levels of merit aid, 28 percent of the freshman class came from other states. Compare that with schools that gave the lowest levels of merit aid, where just 10 percent of first-year students were not state residents.
That shift is radically altering what it means to get a college degree in this country, the report said.
"As more and more public colleges get caught up in the merit aid arms race, the nature of public higher education appears to be changing," said the report.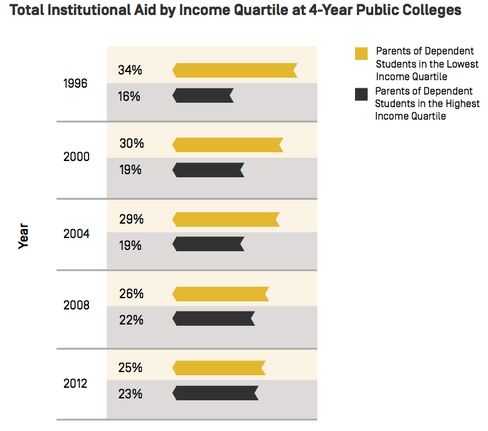 "By bringing in more and more wealthy nonresident students, these colleges are increasingly becoming bastions of privilege," Burd wrote. In 1996, a third of institutional aid went to students in the lowest income bracket. Sixteen percent went to students in the highest income bracket. By 2012, only a quarter of aid went to the poorest students – and nearly as much was going to the wealthiest.
"Lower-income and working-class students are being shut out," says Burd.
Before it's here, it's on the Bloomberg Terminal.
LEARN MORE