Modi May Spend $11 Billion to Bring Rural India Online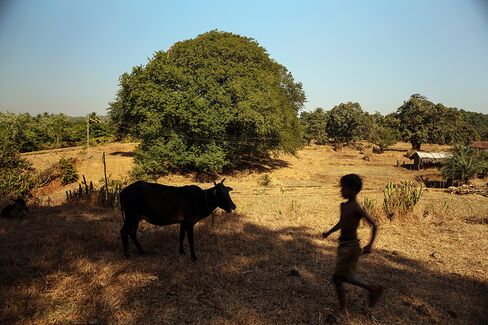 India is considering doubling spending on a high-speed Internet grid to connect villages across the country to 700 billion rupees ($11 billion), Communications Minister Ravi Shankar Prasad said.
A committee appointed by the ministry has recommended raising the allocation for the National Optical Fibre Network to enable changes to the project, Prasad said in an interview Friday in New Delhi. Prime Minister Narendra Modi will have to approve the budget increase, according to Prasad.
"It is ambitious," Prasad said. "We laid down one million kilometers of fiber in a time span of 30 years. Now, we propose to lay down 700,000 kilometers in three years."
An increase in the outlay will help Prasad in the rollout of the broadband network that will link 250,000 village clusters to the Internet and is central to Modi's $18 billion Digital India initiative. The higher spending could potentially expand opportunities for companies -- from local optical fiber suppliers such as Sterlite Technologies Ltd. and Aksh Optifibre Ltd., to telecommunications gear vendors such as Cisco Systems Inc. and Huawei Technologies Co.
Previously, the government had budgeted 360 billion rupees for the broadband grid that is running behind its original schedule for completion by 2013. The $11 billion plan includes money already spent on the project.
Shares Climb
Shares of Sterlite Technologies climbed 9.4 percent in Mumbai trading to 72.20 rupees, the highest close since Nov. 24. The stock was the best performer today on the S&P BSE 500 Index. Aksh Optifibre rose 1 percent to 15.70 rupees.
India is considering allowing private companies to help build the network, Department of Telecommunications Secretary Rakesh Garg said last month. Prasad did not name any private companies that might work on the project.
"Over the next four to five years we see a huge potential as well as opportunity," Sterlite Technologies Chief Executive Officer Anand Agarwal said in a telephone interview on Tuesday. "The government is currently working on dividing the country into five to seven zones and then giving it out to various agencies to execute the project. The entire process may take three to four months."
Almost 1.1 billion Indians remain offline mostly in rural areas, the largest non-Internet user population in the world, McKinsey & Co. estimated in a report last year. Low literacy levels and the struggle to afford web access in a nation where more than 700 million people live on less than $2 per day are among the obstacles the government's digital push faces.
Before it's here, it's on the Bloomberg Terminal.
LEARN MORE