Greek Bonds Tumble on Speculation Cash May Only Last a Few Weeks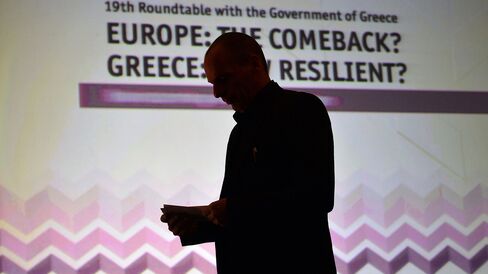 Greek bonds plunged, pushing 10-year yields up to the highest since April, as speculation grew that the nation's financial system may be just weeks away from running out of cash.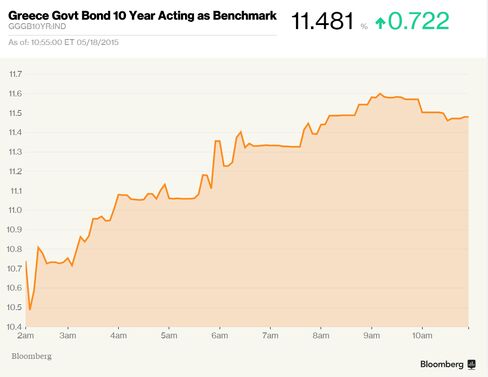 The time remaining for Greece to strike a deal with its creditors is "very limited," European Union Economic Commissioner Pierre Moscovici told reporters in Berlin Monday. The Greek government meanwhile repeated its pre-conditions for any deal to be reached, saying it won't yield ground on its "red lines."
Europe's most-indebted state is struggling to resolve talks with its international creditors over the terms attached to its 240 billion-euro ($274 billion) bailout. Concern over the country's future in the euro area has triggered a liquidity squeeze, pulling the economy into a double-dip recession. Prime Minister Alexis Tsipras says he's not considering leaving the currency bloc and is focused on getting the aid he needs to avoid a default.
"There needs to be an agreement soon, otherwise it's very likely that there'd be a default," said Daniel Lenz, lead market strategist at DZ Bank AG in Frankfurt. Falling prices for most euro-area bonds on Monday have "definitely been triggered by Greece, but it's not that the market is heading toward panic, it's just the usual market reaction when there's newsflow like we're seeing currently."
EU Proposal?
Greece's 10-year bond yield rose 57 basis points, or 0.57 percentage point, to 11.33 percent as of the 5 p.m. close in London. Earlier they reached 11.62 percent. The 3 percent security due in February 2025 fell 2.295, or 22.95 euros per 1,000-euro face amount, to 54.745 percent of face value.
The Greek two-year note plunged, with its yield surging as much as 433 basis points to 25.25 percent. The debt recovered slightly after a report from Greek newspaper To Vima that the European Commission proposed a compromise for a Greek deal. Government spokesman Gabriel Sakellaridis said Greece hasn't received such a proposal, while an EU Commission spokeswoman said she wasn't aware of one.
Greek banks are running short of the collateral they need to access emergency European funding. That poses a potential crisis for Tsipras after weeks of brinkmanship with creditors. The worst-case scenario could see this lifeline being maxed out within three weeks, economists have said.
The four pre-conditions to a deal set out by Greece include a restructuring of debt, a low primary surplus, no reductions in wages or pensions, and a plan to stimulate growth, Sakellaridis said Monday.
Two Year
Tsipras sent a letter May 8 to European Commission President Jean-Claude Juncker, International Monetary Fund head Christine Lagarde, and European Central Bank President Mario Draghi, saying that Greece wouldn't be able to pay around 750 million euros due to the Washington-based lender on May 12 without financing, Athens-based Kathimerini newspaper reported on May 16. The Greek government only decided to pay the tranche on May 9, after it confirmed it could use SDR holdings held in reserve, according to the report.
The Greek state hopes to conclude a technical agreement with creditors at Brussels Group on Tuesday, with the aim of reaching a political approval at May 21-22 European Union Summit in Riga, Sakellaridis told reporters in Athens.
German Bonds
Benchmark German 10-year bund yields rose three basis points to 0.65 percent, while the yield on Italy's debt of a similar maturity increased 13 basis points to 1.90 percent, after tumbling 12 basis points over the previous two days.
The jump in Italian 10-year yields left them about 40 basis points higher that at the end of April. Investors have cut holdings as higher oil prices and signs of a nascent economic recovery in the region created concern that yields weren't sufficient to compensate for potential inflation.
While Germany's 10-year yield has surged from a record-low 0.049 percent on April 17, it's still about 2 percentage points below its average of the past decade. At its extreme point, the current selloff only took the yield to its highest level since December, before the ECB announced its expanded quantitative-easing program, which began in March.
Before it's here, it's on the Bloomberg Terminal.
LEARN MORE