Islamic State Victory Threatens to Unravel Obama's Iraq Plan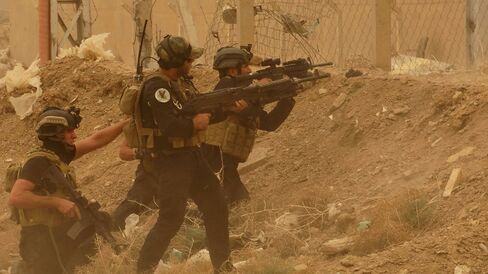 Islamic State's seizure of the Iraqi city of Ramadi threatens to unravel President Barack Obama's strategy for defeating the Sunni extremist group without sending U.S. ground troops back to Iraq.
Ramadi's fall, two days after a U.S. general said Islamic State was "losing" in Iraq, is the militants' biggest success since they swept across northern Iraq a year ago. Deploying car bombs and executing dozens of pro-government soldiers and civilians, the group raised its black banner over the capital of Anbar province as government forces fled.
On Monday, U.S. officials insisted that there's no need to change the administration's reliance upon airpower and the training of pro-government Iraqi forces. Ramadi, they said, will be freed eventually.
"Our strategy is working," said Army Colonel Steve Warren, a Pentagon spokesman, who denied that Iraqi forces fled their positions as they did last year in the face of an Islamic State blitzkrieg in northern Iraq. The Islamic State "forces simply had the upper hand, and it was time for Iraqi forces to reposition," he said.
Continued administration assertions of strategic success risk the return of the Vietnam War-era "credibility gap," according to some analysts.
"The administration is now trying, again and again, to spin its way to victory," said Anthony Cordesman, a military analyst at the Center for Strategic and International Studies. "It isn't working."
The lack of combat success is reflected in perceptions among the U.S. public. In a New York Times-CBS News poll, 64 percent of respondents said the fight against Islamic State is going "somewhat" or "very" badly. The survey of 1,027 adults was conducted from April 30 to May 3.
'Major Setback'
"This is a major setback, both for the Iraqi government and the U.S.," retired Army General David Barno, the former commander of U.S. forces in Afghanistan, said of Ramadi's capture. "It calls into question whether the Iraqi security forces can fight effectively."
Boehner's Criticism
On Tuesday, senior members of both political parties joined the critics' chorus. House Speaker John Boehner, an Ohio Republican, said Obama has failed to take Islamic State seriously.
"The president's plan isn't working," Boehner told reporters. "It's time for him to come up with a real, overarching strategy to defeat the ongoing terrorist threat."
Representative Adam Schiff of California, the top Democrat on the House intelligence committee, called Ramadi a "significant and serious setback" at a breakfast with reporters, while retired military officers and other analysts said the U.S. needs to reconsider its approach to the conflict.
Obama, who was elected in 2008 after promising to extract the U.S. from a decade of war, has ruled out the use of American ground troops against the jihadists of Islamic State, also known as ISIS or ISIL.
American advisers have trained about 7,000 Iraqis to date, with an additional 3,000 to 4,000 now receiving instruction. Barno said the pace of the training effort should be quickened.
'Wake-Up Call'
"Show me some success," said Michael Barbero, a retired U.S. Army lieutenant general who led the training of Iraqi forces during one of his three combat tours in Iraq. "None of it is working. It should be a wake-up call."
The loss of Ramadi, about 68 miles (100 kilometers) west of Baghdad, exposes the Iraqi capital to possible attacks on its international airport, if not the heavily defended city itself.
The need to recapture Ramadi, where U.S. Marines battled al-Qaeda units for months in 2006, also is likely to delay the much-anticipated Iraqi offensive to liberate Mosul in the country's north. And Iraqi Prime Minister Haider al-Abadi's decision to call upon Iranian-backed Shiite militias to fight in the Sunni city now -- though endorsed by local leaders -- risks exacerbating sectarian animosities.
'Political Agenda'
"There is a political agenda behind the prime minister's decision to send the militias," said Ahmed al-Misari, a Sunni lawmaker who spoke from Baghdad by phone, adding that he feared a repeat of sectarian killings seen in other areas where the militias have fought.
At stake could be Iraq's integrity as a single state. As militant attacks mounted in recent weeks, representatives of Iraq's Sunni and Kurdish communities complained that the Shiite-dominated central government has been slow to provide them with arms and ammunition.
"The Anbar officials and tribal leaders have been begging the defense minister to send the Iraqi government forces to Anbar and to the tribal fighters weapons and ammunition so they can resist the aggressive attacks carried out" by Islamic State, Nahida al-Dayni, a Sunni lawmaker, said by phone. "The response was always weak."
U.S.-backed forces last month retook Tikrit, the birthplace of Saddam Hussein and a Sunni stronghold. After that victory, which featured Shiite militias supported by Iran, the Iraqi government announced plans to retake all of Anbar province.
'On the Defensive'
On May 15, Marine Corps Brigadier General Thomas Weidley, chief of staff for the Combined Joint Task Force-Operation Inherent Resolve, said Islamic State was "on the defensive throughout Iraq and Syria."
The ability of Islamic State to mass several hundred fighters for Ramadi's capture, however, exposed airpower's limits. Without U.S. personnel on the front lines who can pinpoint targets, it is difficult to use air attacks against enemy forces in cities.
"There's no question this is not a relentless air-to-ground campaign," said Barno.
Even as Ramadi's fate was being sealed, the U.S.-led coalition flew just eight airstrikes in the 24 hours that ended at 8 a.m. Monday local time.
The toll on Islamic State was modest: four fighting positions, five buildings, two armored vehicles, two mortar potions, one armed personnel carrier, some ammunition and a command-and-control facility, according to the Defense Department.
"There will be ups and downs to this fight, and Ramadi is a great example of a down," Michael Morell, a former deputy director of the Central Intelligence Agency, said in Washington on Monday.
'Pretty Confident'
Still, Morell said he was "pretty confident" that "given time, given a mixture of airstrikes" combined with Kurdish fighters, Shiite militia and retraining of Iraqi security forces, Islamic State will be pushed from Iraq.
The U.S. currently has 3,040 soldiers in Iraq training and advising Iraqi security forces, including at al-Asad air base in the Sunni heartland.
Army General Martin Dempsey, the departing chairman of the Joint Chiefs of Staff, who was criticized by some Iraq veterans' families last month when he said the city was "not symbolic in any way," said Monday that the U.S. will continue to back Iraqi forces.
'Much Effort'
"Setbacks are regrettable, but not uncommon in warfare," Dempsey said in a statement. But he also acknowledged that "much effort will now be required to reclaim the city."
The nonpartisan Institute for the Study of War said the administration needs to reexamine its approach.
"The U.S. must recognize that its policy of defeating ISIS is insufficient," wrote Jessica Lewis McFate, a former Army intelligence officer. "American national security requires a regional policy to stabilize the Middle East."
For more, read this QuickTake: The Third Iraq War
Republicans were quick to assail the president's approach. Arizona Senator John McCain, the chairman of the Senate Armed Services Committee, called Ramadi's loss "huge" and said more American ground troops would be needed to turn the tide.
On the campaign trail in New Hampshire on Monday, New Jersey Governor Chris Christie, an expected Republican presidential candidate, complained that "right now our piecemeal strategy to deal with ISIS doesn't inspire confidence."
More battles lie ahead.
The militants may seek to retake Tikrit or the oil refinery at Baiji -- described by Brigadier General Weidley as a "stalemate" -- in the weeks leading to the June 29 anniversary of the Islamic State declaring a new caliphate in Iraq and Syria, according to IHS Country Risk.
Before it's here, it's on the Bloomberg Terminal.
LEARN MORE