Glencore Share Lock-ups End Amid Commodities Markets Gloom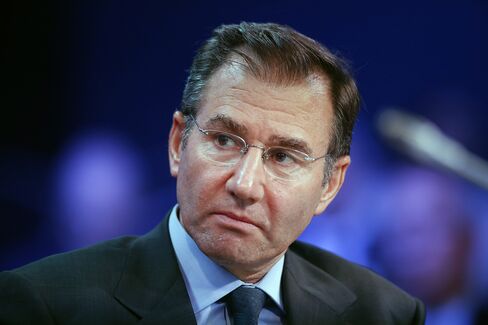 Glencore Plc executives who controlled about a third of the commodity trader at its $10 billion initial public offering four years ago can sell their entire holdings from next week as the last of a series of staggered lock-ups roll off.
The final tranche of locked-up employee-owned shares, diluted by Glencore's $29 billion takeover of Xstrata Plc two years ago, will be released on May 24. The expiry of lock-ups in high-profile IPOs like Goldman Sachs Group Inc. in 1999 and more recently Facebook Inc. has sparked selling that trimmed the share price.
Any appetite to sell Glencore stock immediately will be tempered by weak commodity prices, Swiss capital-gains tax and a 45 percent slump in the shares since the IPO. Though Chief Executive Officer Ivan Glasenberg has committed to holding his shares while at the Swiss firm, there has been speculation that others, including those minted as billionaires by the IPO, might be tempted to cash in.
"With the senior execs that's always been seen as the risk," Paul Gait, a mining analyst at Sanford C. Bernstein Ltd., said by phone. "These guys are now fabulously wealthy so don't they just monetize their positions and sail off into the sunset? So far it doesn't seem to have been the case."
Four top executives holding 5.9 percent of Glencore's capital at the time of the IPO have since left the Swiss company, according to estimates compiled by Bloomberg from public records. It's unclear if any have sold stock as only executives holding stakes larger than 1 percent are required to declare their ownership or the sale of shares.
Creating Billionaires
As well as Glasenberg, the IPO made billionaires of Daniel Mate, Telis Mistakidis, Tor Peterson and Alex Beard. Mate and Mistakidis have both added small tranches of shares to their holdings since the IPO. Peterson and Beard reported holding 2.76 percent and 2.4 percent respectively of the stock in May 2013, unchanged since the IPO. There have been no reported changes to their holdings since then.
The expiry of the lock-up comes at a time when metals and oil markets have been roiled by a supply glut that's depressed prices, hurting valuations of mining companies.
The industry is "suffering a crisis of confidence" and has damaged its credibility by oversupplying markets regardless of demand Glasenberg said last week. The 30-year veteran of the company is the second-largest shareholder with an 8.4 percent stake.
First Reserve
First Reserve, a U.S.-based private equity firm that was among the earliest investors in Glencore through a convertible bond in 2009, said on Tuesday it's sold about $130 million of shares in the past week. First Reserve, whose CEO William Macaulay is an independent director at Glencore, has sold more than $350 million of the commodity trader's shares this year.
Glencore fell as much as 2.3 percent and was down 1.9 percent to 291.45 pence at 10:45 a.m. in London, valuing the company at about 38 billion pounds ($59 billion).
Glencore's IPO valued the stakes of the company's top six executives at $23 billion at the end of the opening day of trading, with Glasenberg's stake then worth more than $9 billion.
One quarter of the locked-up employee-owned shares have been rolled off over each of the past four years, with the final May 24 expiry meaning that 100 percent of the stock can be sold. The potential for a selloff has to be factored in, Clive Burstow, who helps manage $44 billion at Baring Asset Management in London, said by phone.
Swiss Tax
"It's one of the risks to investing in a company like Glencore but it's probably not 'the risk,'" he said. "It's a risk and like every investment case you have to manage the risk."
Glasenberg's holding is subject to a five-year lock-up as is the holding of Chief Financial Officer Steve Kalmin. A spokesman for Baar, Switzerland-based Glencore declined to comment.
Under Swiss law, any share sale within five years of the IPO will be taxed by the local canton. Subsequent sales are exempt from capital gains tax, which may tempt some partners to sell, according to Ben Davis, a mining analyst at Liberum Capital Ltd. in London.
At that point, "we will begin to see employees selling down, similar to what we saw post the Goldman Sachs IPO lock-up roll offs," Davis said. "I don't imagine we'll ever see Ivan selling, but those who have left the company are likely to do so."
Executive Exits
Goldman shares declined 10 percent in the week after the expiry of a one-year lock-up on retired partners.
In January 2012, Steven Blumgart, co-head of aluminum and alumina, became the first senior executive to leave Glencore since the listing. Blumgart, whose 1.25 percent stake in the trading house was worth about $730 million at the IPO, was a member of the 13-strong inner circle that then ran the company.
Since then, several other senior executives, including Gary Fegel, Matt Lucke, Robert Franco, Christian Wolfensberger and oil-trading head Luis Alvarez have left the trading house.
"There can be no assurance that there will be no significant disposals" after the lock-ups expire, Glencore said in its IPO prospectus. "The possibility of significant sales by those existing shareholders may cause the market price of the ordinary shares to fluctuate or decline."
'Refreshing Message'
The value of Glasenberg's stake at the time of the share sale exceeded that reaped by the founders of Google Inc. and Blackstone Group LP in their IPOs.
Glencore, which buys and sells commodities such as coal, grains and metals, employs about 181,000 across 50 countries. It acquired Xstrata Plc in a $29 billion all-share deal completed in 2013 that added a host of mining operations to its commodities-trading empire.
Glencore has "brought a new way of thinking about the cycle into the market which was basically deliver the supply that's needed, generate the cash flow and invest in growth and returns to shareholders," said Burstow of Baring Asset Management. "That was a very refreshing message at a time when many people were still talking about growth for growth's sake. A lot of credit to Ivan and the team for that."
Peter Grauer, the chairman of Bloomberg LP, the parent of Bloomberg News, is a senior independent non-executive director of Glencore.
Before it's here, it's on the Bloomberg Terminal.
LEARN MORE