U.K. Referendum on EU Should Be in 2016, Labour's Burnham Says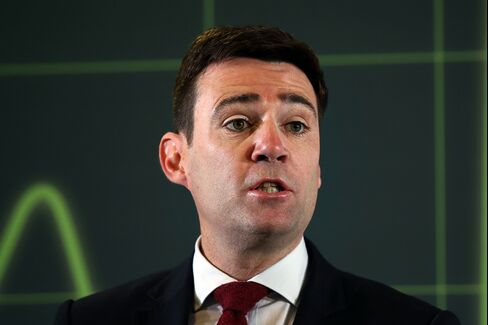 Prime Minister David Cameron should bring forward his referendum on Britain's EU membership to 2016, according to Andy Burnham, the opposition Labour Party's health spokesman and favorite with bookmakers to be its new leader.
Cameron, who has pledged to hold a vote by the end of 2017 after renegotiating the terms of the nation's membership of the bloc, has said the timing may be accelerated if he can make swift progress. Burnham said on Sunday that a deal on limiting immigrants' access to welfare would be crucial to winning the referendum.
"The worst of all worlds is a prolonged period of uncertainty and argument," Burnham said in an interview with "The Andrew Marr Show" on BBC TV. "The British interest is in staying in the European Union, but I am warning that we will only be able to win that argument if we have a credible package of reforms on immigration. If David Cameron does not deliver it, then we will be sleepwalking to exit from the European Union and I don't want to see that."
Labour, under former leader Ed Miliband, fought and lost the May 7 election arguing there should be no referendum on EU membership unless there was a transfer of powers from London to Brussels. Burnham, who is one of four candidates currently declared in the race to lead the party, said his position reflects a change in public opinion in favor of a vote.
Burnham was speaking a day after Labour's leader in Scotland, Jim Murphy, said he would be resigning after the party was left with just one seat north of the border after the election. Burnham accused Cameron of increasing divisions between England and Scotland, where the Scottish National Party won all but three seats in the House of Commons.
English Nationalism
"We've had an election that's left the country more divided and fragmented, and we have a prime minister that has stoked the separatist cause in his own interest," Burnham said. "You know this used to be the Tory and Unionist Party. They're now just playing to English nationalism. If anyone out there is concerned about the break-up of the U.K., they will need a strong Labour Party."
Murphy signaled his departure on Saturday even after receiving the backing of the Scottish Labour Party's executive by 17 votes to 14. In his resignation speech he attacked Len McCluskey, leader of the Unite labor union, which is one of the Labour Party's biggest financial backers.
"Whether in Scotland, or, in the contest to come, across the U.K., we cannot have our leaders selected or deselected by the grudges and grievances of one prominent man," Murphy said. "The leader of the Scottish Labour Party doesn't serve at the grace of Len McCluskey and the next leader of the U.K. Labour Party should not be picked by Len McCluskey."
McCluskey, who Murphy accused of leading a campaign against him, responded by saying that Unite is due to reconsider its links with Labour in July and most of its members in Scotland had voted for the SNP.
"Since 2008, the SNP have been gaining ground and Scottish Labour have displayed an arrogance that unfortunately led us to where we were at the general election," McCluskey said in an interview with BBC Radio 5 Live. "The majority of my members in Scotland voted SNP. What I predicted would happen with Jim Murphy unfortunately came to pass."
Before it's here, it's on the Bloomberg Terminal.
LEARN MORE