Iran-Saudi Rivalry's Next Round Has Stock-Buyers' Cash as Prize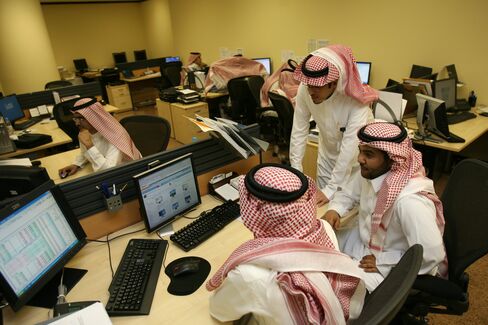 One of the Middle East's most intractable rivalries looks set to extend to equity markets.
As Saudi Arabia, the oil behemoth that is among the region's largest Sunni nations, opens its stocks to international investors, Iran is close to a deal with foreign powers that would end more than 10 years of sanctions on the Shiite country, paving the way for an influx of overseas cash.
The following outlines key market, economic and political considerations for investors interested in exploring Saudi Arabian and Iranian stocks:
*ACCESSIBILITY
Saudi Arabia:
Shares in the world's largest oil exporter will be open to direct foreign investment from June 15. In the meantime, overseas investors can access the market by buying so-called participatory notes and exchange-traded funds. MSCI Inc. will start a standalone benchmark for the kingdom with 19 companies including Saudi Basic Industries Corp., the world's biggest petrochemicals maker by sales, from June 1.
The market regulator said this month that international ownership of a single stock will be restricted to 49 percent. Institutional investors managing at least 18.75 billion riyals ($5 billion) will have direct access, a threshold the regulator reserves the right to cut to 11.25 billion riyals.
Iran:
Economic sanctions on the country have hindered the process of transferring money and as such deterred institutional funds from the stock market, even though they are officially able to hold in some cases up to 100 percent of an equity.
While a final deal with global powers that removes penalties against the Islamic Republic hasn't yet been reached, overseas money managers including London-based Charlemagne Capital Ltd. are already positioning themselves. The first index exchange-traded fund dedicated to Iran started in January.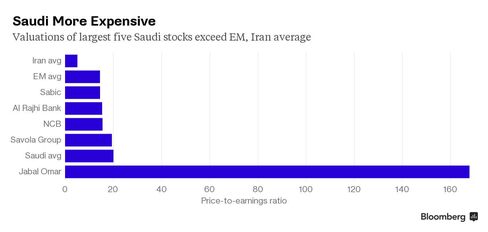 *MARKET SIZE
Saudi Arabia:
The Saudi exchange is the biggest in the Arab world and the 19th-largest globally, with a market value of $579 billion. By comparison, South Africa's capitalization is $541 billion.
Iran:
Iranian stocks have a market value of $102 billion, according to the latest data from the exchange, less than half the size of Turkey's. That makes it the fourth-largest in the Middle East after the United Arab Emirates and Qatar, data compiled by Bloomberg show.
*CURRENCY
Saudi Arabia:
Saudi Arabia's riyal is pegged to the dollar at 3.75 and central bank policy often tracks the U.S. Federal Reserve.
Iran:
The rial has depreciated 1.4 percent in the past year to 33,280 rials versus the greenback. In 2012 and 2013, under former President Mahmoud Ahmadinejad's rule, the currency lost more than two-thirds of its value against the dollar as families turned to gold and foreign currency to safeguard their savings.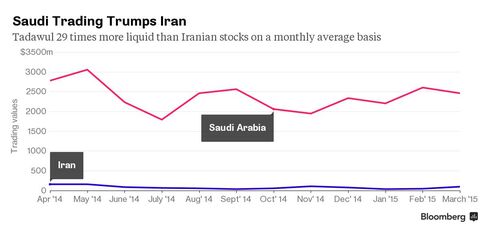 *VALUATIONS/LIQUIDITY
Saudi Arabia:
Saudi stocks trade at a multiple of 15.8 times 12-month estimated earnings and 20.4 times profit, compared with 12.4 and 14.9, respectively, for the MSCI Emerging Market Index. Valuations reached a record high of 16.24 in August.
The 169-member Tadawul All Share Index has advanced 18 percent so far this year, compared with an increase of 8.6 percent for developing-nation stocks.
Equity trading in Riyadh was little changed in the first quarter, with $2.17 billion shares changing hands on average, compared with $2.07 billion a year earlier.
Iran:
The 316-member index traded at 5.13 times 12-month profit at the end of March, according to latest data on the exchange, a 74 percent discount to Saudi stocks and 65 percent versus developing countries.
The Tehran Stock Exchange has about 8 percent year-to-date after sinking 21 percent in 2014, the first annual decline since 2008.
The daily average of shares traded fell to $101 million in March from $160 million in the year-earlier period.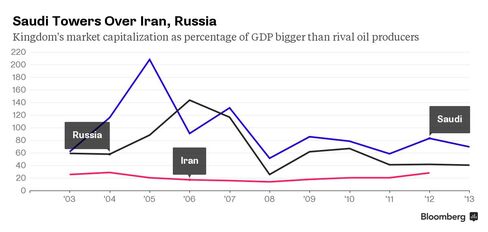 *ECONOMY/OIL
Saudi Arabia:
Saudi Arabia, home to about 30 million people, is unlocking its exchange as it pursues a $130 billion spending plan to boost non-oil industries. The country's revenue is taking a hit after the price of crude, its main source of income, fell 42 percent in the past year.
Growth in the $748 billion economy is set to slow to 2.5 percent in 2015 after accelerating to 3.59 percent last year, according to the median estimate of 15 economists on Bloomberg.
Economic expansion has averaged 5.27 percent in the past five years. The nation's central bank, the Saudi Arabia Monetary Agency, has more than $690 billion in assets. That's the third-largest globally after China and Japan.
Saudi Arabia has about 16 percent of the world's crude reserves and generates 10.05 million barrels a day, or one 10th of global production. The kingdom has the fifth-largest natural gas reserves.
Iran:
Iran's $369 billion economy contracted by almost 6 percent in 2013, before rebounding by an estimated 3 percent last year, according to data from the World Bank. GDP may grow by 0.6 percent this year and 1.3 percent in 2016, the International Monetary Fund forecasts.
Growth in non-oil industries remains well below the level needed to create enough jobs for Iran's population of 77 million. Prior to entering two years of recession, GDP expansion averaged about 4.2 percent from 2007.
The administration of President Hassan Rouhani has reduced inflation, which had accelerated to more than 40 percent under Ahmadinejad, to about 15 percent.
Iran has about 11 percent of the world's oil reserves and produces about 2.8 million barrels a day. The nation is also home to the world's largest gas reserves.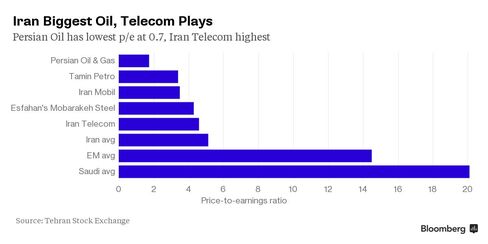 *POLITICS/RELIGION
Saudi Arabia:
A long-time ally of the U.S., Saudi Arabia has de facto military protection from America. It has been a monarchy since its founding in 1926.
Since taking power after the death of King Abdullah in January, King Salman has made substantial changes to the government.
The country was engaged in a bombing campaign against Shiite rebels in Yemen before a cease-fire last week. The kingdom is seeking to restore the government led by President Abdurabuh Mansur Hadi, who was driven from power by Shiite fighters known as Houthis. Saudi Arabia accuses the fighters of being tools of Iran.
Iran:
Iran has been a theocracy since the revolution in 1979 when U.S.-backed Mohammad Reza Shah Pahlavi was deposed and Grand Ayatollah Ruhollah Khomeini took power as supreme leader.
The National Development Fund of Iran, the nation's sovereign wealth fund, has $62 billion in assets.
Iran has been under United Nations sanctions since 2006 and doesn't have a formal diplomatic relationship with the U.S.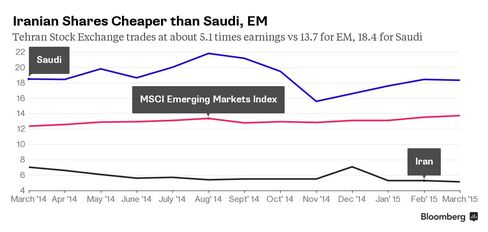 The Islamic Republic and world powers agreed April 2 to settle a dispute over its nuclear capabilities by setting limits on the Islamic Republic's work in exchange for relief from penalties.
Before it's here, it's on the Bloomberg Terminal.
LEARN MORE