India Bad Loans Seen Hitting 14-Year-High Amid Considerable Pain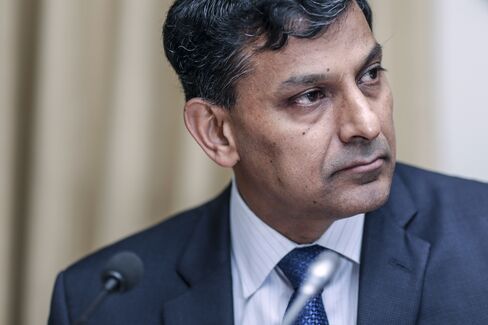 Stressed assets of Indian lenders are seen rising to the highest in at least 14 years and Bank of Baroda's chief executive officer says there's still "considerable pain" in Asia's third-biggest economy.
The local unit of Fitch Ratings estimates the percentage of soured and restructured loans in the banking system will reach the highest since 2001 in the year through March 2016. A record proportion of reworked assets are expected to turn bad in the period, according to Standard & Poor's Indian arm.
Three of India's five biggest banks reported an increase in bad loans for the year ended March 31 as policy makers' efforts to boost investment and economic growth have yet to bear fruit. Central bank Governor Raghuram Rajan said May 14 that while improvements in credit quality will be slow, he doesn't see the soured assets leading to a financial crisis.
"There is considerable pain still left in the economy," Ranjan Dhawan, Bank of Baroda's Mumbai-based CEO, said in a May 11 interview. "Some of the big corporate houses are facing liquidity issues and may face difficulty in repaying."
Stressed assets will rise to 13 percent of total advances by March, according to India Ratings and Research Pvt., the Fitch unit. The ratio was 10.73 percent as of December, the latest central bank data show. Crisil Ratings, S&P's Indian arm, estimates the sum of total soured loan and restructured advances that are likely to turn bad will reach an unprecedented 5.3 trillion rupees ($83 billion) in the same period.
Corporate Leverage
India's banking system is dominated by state-owned lenders that account for more than 70 percent of all loans, and their credit profiles will take longer to improve as they are tied to the recovery of corporate balance sheets, Moody's Investors Service said in a May 13 report. While asset sales and fresh capital raising activities increased in the year ended March 2015, they haven't "meaningfully" lowered debt among Indian companies, Moody's said.
Bank lending increased 9.8 percent in the 12 months through April 17, RBI data show, near September's 9.17 percent, which was the slowest pace since 2009. Credit growth has remained sluggish even after the central bank lowered the proportion of deposits lenders must invest in safer assets three times since June and cut its benchmark repurchase rate in January and March.
Policy makers are seeking to sustain economic growth that the International Monetary Fund forecasts will surpass China this year at 7.5 percent. Since elected to office a year ago, Prime Minister Narendra Modi's government has eased rules for foreign investment in businesses such as insurance, defense and railways.
'Vicious Cycle'
"With the new government, hope of an economic recovery is very high," and companies are refraining from selling assets as they await higher valuations, Rajat Bahl, a director at Crisil, said in a May 14 interview. "It's a vicious cycle. Improvement isn't happening and people aren't selling assets."
Profit growth at the 30 members of the S&P BSE Sensex Index of shares will slump for a second straight quarter in the three months to March 31, forecasts compiled by Bloomberg show.
ICICI Bank Ltd., India's largest private sector lender by assets, posted the slowest quarterly profit growth in five years in the January-March period as bad loans increased. Chief Executive Chanda Kochhar said April 27 the last fiscal year "was probably" the worst in terms of nonperforming assets, and loan growth will improve in the current year.
'Recovery Underway'
Soured loans climbed to 3.78 percent of ICICI Bank's total advances in the 12 months ended March 31 from 3.03 percent a year earlier. State-run Bank of Baroda and Punjab National Bank also reported increases, exchange filings show.
"We are doing everything we can to work with the banks to recognize the problem and deal with it, and over time bring down the non-performing loans," Rajan said in the western state of Goa on May 14. "A slow recovery is underway, I think it will help."
The prospect of an economic recovery has lowered Indian lenders' bond risk. The cost of insuring State Bank of India's debt against non-payment for five years reached a five-year low of 143 basis points on March 5, according to data provider CMA. The nation's largest lender's credit-default swaps were at 147 on May 15. Similar contracts for ICICI Bank touched 157 on March 5, the lowest since November 2007, and were at 165.
Ten-year sovereign bonds rose on Monday, with the yield on the 8.4 percent notes due July 2024 falling four basis points, to 7.90 percent, according to prices from the central bank's trading system. The rupee fell 0.1 percent to 63.55575 a dollar as of 12:10 p.m. in Mumbai.
"Corporate balance sheets are over leveraged," Abhishek Bhattacharya, associate director for banks at India Ratings & Research, said in a May 14 interview."The demand for greenfield investment will not come till they deleverage it to a normal level, which can take around two to three years."
Before it's here, it's on the Bloomberg Terminal.
LEARN MORE