ECB Swigs on Bond-Rout Liquidity Before Summer Sovereign Drought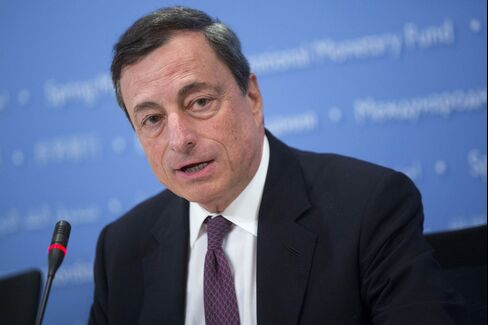 For Mario Draghi, the cloud over Europe's bond market comes with a silver lining.
After six weeks of quantitative easing helped push sovereign-debt yields to levels that disqualified about 8 percent of bonds from the program, the recent drop in prices has replenished the larder. That correction eases the task for the ECB president and his officials as they prepare for a tougher squeeze when market liquidity evaporates in August.
Policy makers have so far met their monthly purchase target of 60 billion euros ($69 billion) of securities, due to run until at least September next year. Some smaller euro-area central banks have already struggled to find enough bonds to buy, adding fuel to speculation that the ECB's job will get harder as a broader scarcity of debt over time gets exacerbated by government efforts to curb budget deficits.
"Summer months tend to be very quiet, with worse liquidity and considerably less bond issuance," said Michael Riddell, London-based money manager at M&G Group, which oversees about $415 billion. "So far, the ECB has seemed determined to plow on regardless of whatever market conditions have been. So a change in the pace of purchases is possible but probably unlikely."
Lehman Memories
Since 2008, when the collapse of Lehman Brothers Holdings Inc. triggered a global financial crisis, the volume of bund futures traded in August was below the monthly average in six out of seven years. That gauge of liquidity already signals receding activity: Trading volumes last month were the lowest level since December, making it the slowest April since 2000.
"During the summer, we usually face less liquid markets," said Joachim Nagel, the board member of Germany's Bundesbank in charge of its market operations. "This is even true for the government bond segment."
Thinner volumes aggravated a bond-market rout in the past three weeks that pushed the German yield curve to the steepest in five months and wiped more than $400 billion off the value of global fixed-income markets.
The yield on German four-year debt was at minus 0.031 percent on Monday, up from as low as minus 0.219 percent on April 17. The 10-year yield was 0.648 percent, compared with a record-low 0.049 percent last month.
The ECB said that outstanding settled purchases of bonds under its public-sector purchase program rose to 122.4 billion euros as of May 15, up from from 108.7 billion euros the previous week.
While the majority of economists in Bloomberg's monthly survey predict the central bank will be able to fill its monthly QE quota through September 2016, some have entertained the idea of temporarily reducing purchases.
No Surprises
"It would make complete sense for the ECB to adjust its purchases to net supply and liquidity -- the market would understand and probably even be relieved," said Karsten Junius, chief economist at Bank J Safra Sarasin Ltd. in Zurich. "All it takes is an indication before the summer, so that the market isn't caught by surprise and doesn't interpret such a move as tapering."
The ECB has shown flexibility in the past. It suspended the early repayment of long-term loans at the end of the past two years in view of "expected low interest," and policy makers including Executive Board Member Yves Mersch have signaled that the pace of asset purchases could be adjusted if warranted by the inflation outlook. Even so, Mersch pointed on Monday to the importance of pushing ahead with the program.
"We need to maintain the pace and volume of our interventions, as we have communicated, so that inflation rises back toward 2 percent as quickly as possible and that monetary policy can begin once more to normalize," he said in a speech in Stockholm.
For now, the bond-market selloff has helped the ECB. It buys sovereign bonds with maturities between two and 30 years and a yield no lower than the deposit rate, currently at minus 0.2 percent.
Much Appreciated
"Price developments in the past weeks were appreciated because they extended the universe of assets" available for purchase, said the Bundesbank's Nagel.
Before prices dropped, German debt with a residual lifetime of as long as four years were ineligible for the program, as were two-year bonds from countries such as Austria, Belgium, Finland and the Netherlands. As of April 23, debt worth $548 billion of the $6.2 trillion market did not qualify. The value of bonds with yields below the deposit rate was $183 billion as of last week.
"We could see that as a positive, as the ECB has more to buy," said Richard McGuire, head of European rates strategy at Rabobank International in London. "But the overall size of the market has declined as well," and that means the ECB could hit its limits sooner, he said.
Flexible Program
Smaller countries are already struggling to find enough government bonds. Estonia isn't buying any, and Lithuania and Latvia are purchasing proportionally less than they would have to, making up the shortfall with bonds issued by supranational institutions including the European rescue funds ESM and EFSF. With the possibility that other countries could face similar challenges, Draghi hasn't excluded fine-tuning QE.
"While there is no reason to change the composition of the purchases at the moment, the program is sufficiently flexible to be adjusted," he said in a letter to a European lawmaker published on May 8. The purchase plan "is proceeding smoothly" and "concerns about the scarcity of bonds are therefore not warranted at this juncture," he said.
Before it's here, it's on the Bloomberg Terminal.
LEARN MORE