Debt-Choked Puerto Rico at Fiscal Brink as Bond Buyers Pull Back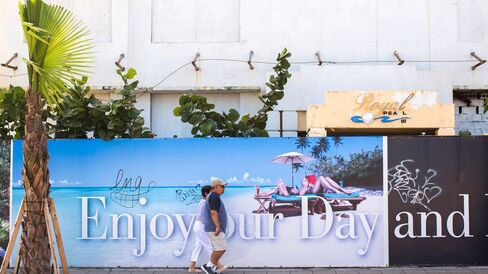 The sobering news arrived in San Juan via telephone from Washington.
It was April 28, and U.S. Treasury Secretary Jacob J. Lew called to tell Puerto Rico officials they must confront one of the island's gravest financial crises without a bailout. Saddled with $72 billion in debt, the commonwealth -- a U.S. territory since the Spanish-American War -- needs a "credible" plan, Lew said.
The Caribbean island is hurtling toward the fiscal brink. After years of borrowing to paper over deficits, and with $630 million due to investors on July 1, Puerto Rico may confront the unthinkable: a default. The prospect has set Wall Street on edge as bond yields surpass those of Argentina and Greece; about half of municipal mutual funds hold commonwealth debt.
Puerto Ricans across the political spectrum are alarmed at the scale of the crisis, Rafael "Tatito" Hernandez, chair of the House Treasury Committee, said during a May 6 interview at the Capitol. Every mayor on the island will face angry constituents, he added, especially those whose work weeks may be cut to four days.
"We used to have choices," Hernandez said, a framed copy of his U.S. Navy honorable discharge on the wall behind him. Now "people have to realize where we're really at. It may be late, but that's the reality."
To give its struggling economy some breathing room, Puerto Rico sold $3.5 billion in bonds last year, the largest junk-rated municipal offering in history. Since then, economic activity has contracted every month, following eight years of declines. Revenue this year is $251 million below estimates, according to the island's Treasury Department.
Getting Worse
The March 2014 bond sale "was a bet that the economy would at least stabilize," said Matt Fabian, a partner at Concord, Massachusetts-based Municipal Market Analytics. "If nothing else, its erosion has only gotten worse."
The squeeze means diminished services and hundreds of school closings, with lawmakers proposing on May 14 to cut spending by at least $500 million and raise the sales tax.
The population of 3.5 million is forecast to shrink 0.6 percent this year after falling 7 percent in the past decade. Those who stay are more likely to earn less and live in poverty than their mainland counterparts, according to the Pew Research Center.
While tourists from visiting cruise ships amble up cobblestone streets in the historic center of San Juan buying art and T-shirts, visitors heading away from the Capitol pass abandoned, graffiti-covered buildings.
Budget Gap
Official projections of economic growth haven't panned out. An index tracking monthly economic activity has registered 27 consecutive year-over-year declines. March unemployment, at 11.8 percent, was more than double the U.S. rate. With revenue well below forecasts, the commonwealth has a $191 million budget gap it must close by June 30. Procter & Gamble Co. plans to close its only plant on the island within 12 months, Jeff LeRoy, a spokesman for the consumer-product maker, said in an interview. The facility employs 230 people.
The May 14 proposal by Governor Alejandro Garcia Padilla and legislative leaders to cut spending also would raise the sales tax temporarily to 11.5 percent from 7 percent. Even if the legislature approves the measure, it won't be enough. The commonwealth, the largest employer on the island, needs to shrink the government and boost private-sector jobs, said Secretary of Economic Development Alberto Baco Bague.
"Puerto Rico is a turnaround situation and that process is painful," Baco Bague said in a May 5 interview at his office in San Juan. "People have to confront reality, and at the end of the day there's acceptance and there's negotiations."
Financial Self-Reliance
The island must exercise financial self-reliance as yields on its general obligations surpass 10 percent, effectively blocking access to capital markets. The Government Development Bank, which lends to the commonwealth and its localities, may run out of cash by Sept. 30 unless it can sell $2.9 billion of oil-tax bonds, according to its latest quarterly filing. The filing said the government may place a moratorium on debt payments in fiscal 2016 if it can't cut spending or generate more revenue.
Puerto Rican securities have sold at distressed levels for more than a year. The tax-free bonds that were issued in March 2014 and mature in 2035 trade at about 80 cents on the dollar, down from 93 cents at pricing. For top earners, the yields are equivalent to about 17 percent on a taxable basis, compared with about 8.6 percent on 20-year Greek bonds.
The fiscal crisis extends to the main electricity provider, called Prepa. The state-run utility is negotiating with creditors to reduce an almost $9 billion debt load, and Moody's Investors Service says it may default on a $416 million July 1 payment to bondholders. Prepa debt maturing in July 2027 traded Monday at an average of 55.52 cents on the dollar.
Bankruptcy Protection
The island and its agencies have more debt than all but two U.S. states. Officials, including the governor, are looking to the U.S. Congress to pass a bill that would allow some public corporations to file for bankruptcy protection under Chapter 9.
"My administration is doing everything within our power to solve our fiscal crisis," Garcia Padilla said in an e-mailed statement, but "the commonwealth alone cannot fix this decades-in-the-making crisis."
Puerto Rico's cash crunch came to a head last month after its House voted against the governor's tax-overhaul plan, which would have paved the way for the oil-tax bond sale. Since he took office in January 2013, Garcia Padilla has reduced spending, raised the retirement age and pared the budget deficit. Still, expenses surpass revenue collections.
Possible Shutdown
With six weeks to go in the current fiscal year, failure to pass a new budget could force a partial government shutdown as soon as July. If lawmakers do approve a balanced budget by June 30 and the administration crafts a five-year financial plan, Puerto Rico may be able to sell the oil-tax bonds. That would avert the shutdown, replenish the Government Development Bank's available cash and once again give the island more time to grow its economy.
The May 14 agreement on higher taxes and spending cuts is "definitely helpful," said Daniel Solender, who helps manage $17 billion as head of munis at Lord Abbett & Co. in Jersey City, New Jersey. "It still sounds like there's investors out there who want to lend them money, if everything is set up correctly."
Those loans may come from hedge funds and distressed-debt buyers who have been purchasing Puerto Rico bonds as traditional municipal-bond investors pull back. Hedge funds bought the bulk of the 2014 offering.
No Bailout
The U.S. Treasury has said the federal government won't bail out the commonwealth or provide additional financial assistance beyond technical guidance to make sure Puerto Rico is making the most of existing programs. When Lew spoke with Garcia Padilla and legislative leaders on April 28, he urged them to implement a long-term plan.
Garcia Padilla has had multiple meetings with Lew and other Treasury officials in recent months "mainly to explain to them the steps we are taking in several fiscal fronts, such as the tax reform, the fiscal year 2016 budget and the five-year fiscal stability plan," Melba Acosta, president of the Government Development Bank, said in an April 29 statement.
Treasury staff are sharing their expertise regarding the island's economic policies, according to Daniel Watson, a department spokesman.
"They really believe this is our problem and we have to get out of it on our own, which is probably a good thing," Sergio Marxuach, public policy director at the Center for a New Economy, said in an interview from the research group's office in San Juan. "It would finally require Puerto Rico to stop depending on outside help."
Before it's here, it's on the Bloomberg Terminal.
LEARN MORE