U.S. Navy Patrols May Prod China to Clarify Claims to Isles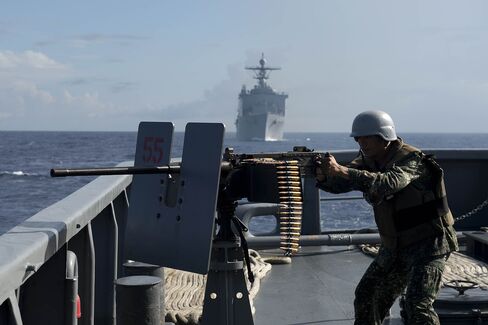 Proposed U.S. military "freedom of navigation" operations in the South China Sea may prod China to more clearly explain what it considers to be its territory -- and why.
While countries like the U.S. and the Philippines have long urged China to set out the legal basis for its claim to more than 80 percent of the South China Sea, leaders in Beijing have relied on history and a nine-dash line drawn on a 1940s map, alongside their increased military clout.
Now, Defense Secretary Ashton Carter has asked the Pentagon to consider expanding patrols in disputed areas of the sea, including into a 12 nautical mile (22 kilometer) radius of the reefs China has been building on. Such actions, known as freedom of navigation challenges, could elicit protests from China and pressure it to explain the rationale for its assertions.
"The point is to put as many pressure points on China at every opportunity, without being overly aggressive, and make it more and more uncomfortable about what they are doing and what they are claiming," said Gregory Poling, a Southeast Asia specialist at the Washington-based Center for Strategic and International Studies.
Keeping tensions down in the waters is key given about half the world's merchant ships pass through the area every year. Freedom of navigation operations are not unusual for the U.S. Navy, which in the year to September 2014 challenged 19 nations, such as Indonesia, Malaysia, the Philippines and Vietnam for the way they manage their territorial waters.
Alongside China, five other governments, including those of Vietnam and Taiwan, contest territory. China's reclamation work, where it has been creating artificial islands, has set off alarms that its ultimate aim is control of the South China Sea.
Submerged Rocks
While saying it takes no sides in the disputes, the U.S. contends that China's claims are ambiguous because maritime territory is derived from land features under the United Nations Convention on the Law of the Sea, which China has ratified.
The Philippines has sought international arbitration under UNCLOS for its dispute with China over the Spratly Islands. China has said it will only discuss the spat directly with the government in Manila.
Any U.S. naval operation could involve its vessels passing close to the structures China is building on rocks and reefs that are submerged at high tide. These aren't legally entitled to a 12 nautical mile territorial zone under UNCLOS.
"New features built on low-tide elevations are legally artificial islands entitled under international law to no more than a 500 meter (1,640 feet) safety zone," said Poling.
If China were to protest U.S. vessels sailing too close to one of these features, it would be obliged to argue that the former low-tide elevation is now a rock or an island. "That would place Beijing in an absurd legal position," said Poling.
China's Resolve
Foreign Ministry spokeswoman Hua Chunying said on Wednesday that while China supports the freedom of navigation in the South China Sea, that "freedom definitely does not mean that foreign military vessels and aircrafts can enter one country's territorial waters and airspace at will."
"The foreign ministry's remarks suggest that if the Pentagon plans do go ahead, we may see a major geostrategic crisis due to U.S. underestimation of Chinese resolve," said Zhang Baohui, director of the Center for Asian Pacific Studies at Lingnan University in Hong Kong.
The U.S. has been shifting military assets to Asia as part of its broader strategic rebalancing to the region, including deployment of Littoral Combat Ships to Southeast Asia and stationing Marines in the northern Australian city of Darwin.
B-1 Bombers
"We will be placing additional Air Force assets in Australia as well, including B-1 bombers and surveillance aircraft," Assistant Defense Secretary for Asian and Pacific Security Affairs David Shear said on Thursday in Senate committee testimony. Australian Prime Minister Tony Abbott said on Friday there were no plans to permanently base additional aircraft in the country.
Secretary of State John Kerry, whose attempts to secure a freeze on actions in the South China Sea that might provoke tensions have been rebuffed by China, is in Beijing from Saturday for meetings with senior leaders.
While China has said the islands would be used for a range of civilian purposes - from search-and-rescue operations to marine meteorological forecasting - it has also said they'd be used for military purposes. China is building an airstrip on at least one of the islands and last week the foreign ministry said it reserves the right to establish an air defense identification zone over the area.
Manufacturing Sovereignty
While other countries have also been building on islands in the sea, China has reclaimed nearly four times as much land as is occupied by the five other claimant states combined, U.S. Assistant Secretary of State for East Asia and Pacific Affairs Daniel Russel told a Senate committee on Wednesday.
"Under international law it is clear that no amount of dredging or construction will alter or enhance the legal strength of a nation's territorial claims," Russel said. "No matter how much sand you pile on a reef in the South China Sea, you can't manufacture sovereignty."
For more, read this QuickTake: Territorial Disputes
Before it's here, it's on the Bloomberg Terminal.
LEARN MORE