Tsipras Says He Won't Cross Red Lines in Talks With Creditors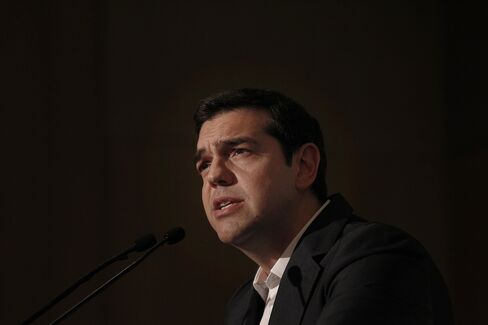 Greece won't cross its red lines in negotiations with international creditors just because time is pressing to close a deal, Prime Minister Alexis Tsipras said.
"Those who think that our red lines will fade as time goes on would do well to forget it," Tsipras said at a conference in Athens late Friday. "I want to assure the Greek people that there's no way the government will back down on the issue of pension and wage cuts," he said. "A deal must be reached but it must be mutually beneficial."
Tsipras will address the standoff in bailout negotiations on the sidelines of a meeting of European Union leaders to be held May 21-22 in Riga, Latvia, according to a Greek government official who asked not to be identified as the diplomacy is not public.
More than 110 days of talks between Greece and its creditors have failed to produce an agreement to unlock further aid from the country's 240-billion euro ($275 billion) bailout and avert default. The standoff has triggered a liquidity squeeze, pulling the country back into a recession and renewing doubts over Greece's future in the euro area.
"The bottom line is that pressure on Greek authorities to come to a deal is rising," JPMorgan Chase analysts Malcolm Barr and David Mackie wrote in a note to clients Friday. "The pressures on central government cash flow, pressures on the banking system and the political timetable are all converging on late May-early June. At that point some form of interim deal will need to be struck" and "it's clear that time is running out," they said.
Negotiations in the so-called Brussels Group of Greek and creditor institution representatives will continue over the weekend and into next week, an EU official said, asking not to be named as the talks are private.
Open Issues
While Greece has found common ground with its creditors in areas including fiscal targets, a marginal change to the sales tax rate and tax administration reform, there are "still open issues" concerning labor market and pension system reforms, Tsipras said.
Greece may seek an additional meeting of euro-area finance ministers by the end of May, Greek government spokesman Gabriel Sakellaridis said on May 14, as the cash crunch intensifies.
It remains unclear how Tsipras will deal with the likely objection by the Left Platform section of his Syriza party to the content of any deal, Barr and Mackie said. "Even small countries can stand upright to confront imperialist pressures and threats," Greek Energy Minister Panagiotis Lafazanis said today in Athens following a meeting with Venezuela's ambassador to Greece. Lafazanis leads the Left Platform.
Tsipras Mandate
Tsipras's mandate from the Greek people is the biggest stumbling block to a deal with the country's creditors, Maltese Finance Minister Edward Scicluna said in an interview Friday.
The yield on Greek 10-year bonds ended Friday up 20.9 basis points at 10.76 percent. The yield climbed to as high as 13.93 percent in April, the highest since December 2012, after dropping to as low as 5.52 percent in 2014. The benchmark Athens Stock Exchange General Index closed Friday 2.6 percent lower.
Credit-rating company DBRS downgraded Greece's issuer rating to CCC from B on Friday citing a "further increase in uncertainty over whether Greece and its creditors will reach an agreement on a program that restores macroeconomic stability and improves Greece's cash position." Fitch Ratings later in the day affirmed its CCC grade for Greece.
"I think a third deal is simply needed and there is no way around a third deal," ING Germany Chief Economist Carsten Brzeski said in a Bloomberg Television interview Friday. "It's either a third bailout package or it's a Grexit, no matter how you look at it. I think that there is no in-between solution."
Before it's here, it's on the Bloomberg Terminal.
LEARN MORE