The Canadian Economy Might Not Be Able To Ride America's Coat Tails This Time
A historic relationship is breaking down.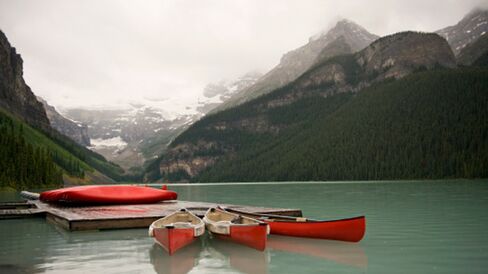 Emanuella Enenajor, Canada and U.S. economist at Bank of America Merrill Lynch, has some bad news for the Canadian economy.
In light of the collapse in oil prices, she says, Canada is relying on a resurgent U.S. economy in order to provide a boost to exports and spur investment in activities that aren't related to commodities.
Lofty oil prices have helped foster investment and employment growth in Canada as well as domestic consumption by making imports less expensive. For that reason, the Canadian dollar is often referred to as the petro-loonie since the key role oil plays in the nation's terms of trade is typically reflected in currency fluctuations. With the price of oil falling recently, the pressure is on for Canada and it doesn't look like the country will be getting much help from its Southern neighbor.
Notwithstanding the fact that economic activity in the U.S. has routinely disappointed so far this year, Enenajor concludes that a pick-up in U.S. growth wouldn't be a panacea for Canada.
The Canadian economy, she finds, has become less sensitive to domestic demand in the United States: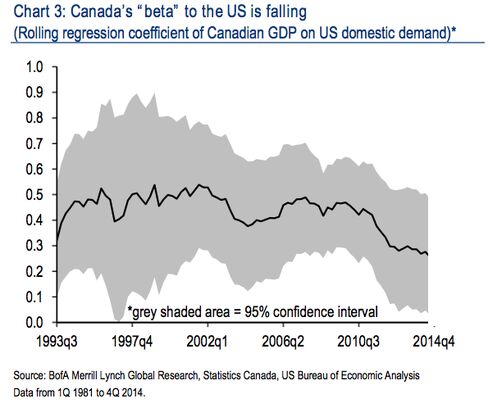 Here's Enenajor with the details:
In the early 2000's the beta was close to 0.5, meaning a 1% increase in US domestic demand was associated with a 0.5% boost to Canadian GDP. Today, that beta has been cut in half, suggesting a 1% increase in US domestic demand lifts Canadian GDP by about 0.25%. Thus, even if US growth accelerates this year, the impact on Canada may not be as great as in the past.
Historically, there has been a fairly consistent link between Canadian and U.S. growth.
Since 1983, as long as the U.S. economy has expanded on a quarterly basis, the Canadian economy has also grown on 95 percent of occasions.
Two of the seven quarters during this period in which the Canadian economy contracted while the U.S. grew occurred in 1986 –the last time the nation was grappling with the fallout of a supply-side driven plunge in the price of oil.
Bank of Canada Governor Stephen Poloz has often spoke of a growing wedge between how Canadian exports have performed versus what the central bank's models would have projected.
Enenajor has an explanation for this as well: Canadian exports have a more diversified customer base than they once did.
"The share of U.S.-bound exports in Canadian GDP reached a peak of 37.2 percent in 2000," she writes. "Today, the share is 22.9 percent."
Before it's here, it's on the Bloomberg Terminal.
LEARN MORE