Obama Summit Draws Praise From Gulf Nations, Criticism Elsewhere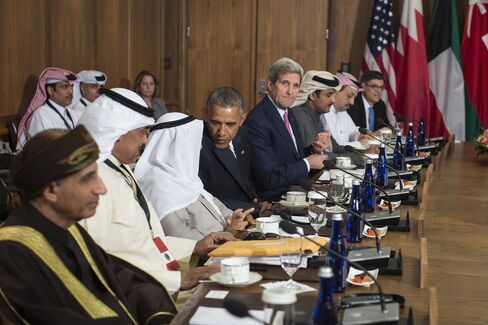 A day after President Barack Obama promised Persian Gulf nations U.S. aid if they're attacked, Gulf officials lauded the deepening security relationship while critics called the pledge insufficient.
Heads of state from the six-member Gulf Cooperation Council met with Obama amid criticism that his administration has rattled Sunni Gulf allies over talks with Shiite Iran on its nuclear program and the possibility the U.S. might be seeking a broader rapprochement with the Persian nation.
Officials of the GCC said Friday that the meeting was reassuring.
"There's no grand bargain" with Iran, said Abdel Aziz Aluwaisheg, the GCC's assistant secretary general for foreign affairs. "That was what we heard from all the administration officials, there is no grand bargain; there is no abandoning of the GCC; there is no pivot towards Iran. It's about the nuclear program."
The Gulf allies are just being polite, said Dov Zakheim, a former undersecretary of Defense and chief financial officer at the Defense Department. "It's clear the Arabs are holding their fire," Zakheim said on a call arranged by the Atlantic Council, a Washington policy group.
Zakheim and Mishaal al Gergawi, director of the Delma Institute, an Abu Dhabi-based research group, argued that the U.S. is doing little new for its Gulf allies, merely reaffirming old arrangements and existing ties.
"Their fundamental concern has not been addressed, which is what is going to be the fundamental role of Iran once this deal is consummated," said Zakheim, a former Defense Department official and senior fellow at the CNA Corp., a nonprofit research firm. The Gulf states' worry remains that "there's been a decision to allow Iran to be the major power," he said.
Consumed by Iran
Iran consumed much of the agenda for Obama's daylong meeting with GCC representatives on Thursday at the Camp David presidential retreat in Maryland, convened after the U.S. and five other world powers reached agreement on a framework for a deal aimed at preventing Iran from developing a nuclear weapon.
Aluwaisheg said the GCC members finished the meeting reassured about the talks on Iran's nuclear program. "In general, it's the best deal we can have," he told reporters at the Arab Gulf States Institute in Washington. While it's "not perfect," Aluwaisheg said, "it establishes a very robust inspection system."
The U.S. agreed to greater security cooperation with the Sunni-led Gulf states in countering Iran's destabilizing activities across the region. Along with expanded military exercises, the U.S. will help them develop an early warning system to detect ballistic missiles.
'Asymmetrical Threats'
"The most difficult threats to deal with are asymmetrical threats, threats that are not overt," Aluwaisheg said, saying that this is a "game Iran has been playing" in Syria, Yemen, Iraq and elsewhere.
Zakheim, too, said the toughest challenge Iran presents is its meddling in other countries. On that front, none of the administration's announcements about ballistic missiles or weaponry will help, he said.
"Hard power doesn't address the kinds of threats that Iran really poses," said Zakheim. "Sending a bunch of F-16s doesn't really do the job." The U.S. currently helps Gulf allies with counterterrorism training, intelligence, counter-messaging and information-sharing.
Aluwaisheg said a nuclear agreement may create an opening to address this issue, as well. "We need to take advantage of the agreement to invite Iran to modify its behavior," he said. "I think everybody including the GCC accepts that if Iran then moderates its behavior, stops or de-escalates its destabilization of the region, then we all will pivot to Iran, but it's in the hands of the Iranian regime."
Nuclear Deal
While Obama got no endorsement of the framework for a nuclear deal with Iran, he said the Gulf state representatives all agreed that a comprehensive, verifiable deal that prevents Iran from developing nuclear arms is in the best interest of the region.
"Given that I'm not going to sign off on any deal until I've seen the details, I wouldn't expect them to either," Obama said at a news conference Thursday after meetings with representatives from Saudi Arabia, Kuwait, Bahrain, Oman, Qatar and the United Arab Emirates.
Secretary of State John Kerry and Energy Secretary Ernest Moniz, the two lead U.S. negotiators in the Iran talks, briefed the leaders on the verification mechanisms to detect illicit work on nuclear weapons that would be part of a final agreement, Obama said.
Iran's Finances
Treasury Secretary Jacob Lew was brought in to address another concern of the Gulf states: that Iran could afford to step up its meddling in the region if a nuclear agreement freed it from economic sanctions.
"We gave them our best analysis of the enormous needs that Iran has internally and the commitment that Iran has made to its people in terms of shoring up its economy and improving economic growth," Obama said.
He said that additional U.S. support would help the Gulf nations deal with Iran from a position of strength and that working to stabilize hot spots such as Syria, Yemen and Libya and to combat extremism would put a check on Iran.
Before it's here, it's on the Bloomberg Terminal.
LEARN MORE