Factory Production in U.S. Stalled on Machinery Cutbacks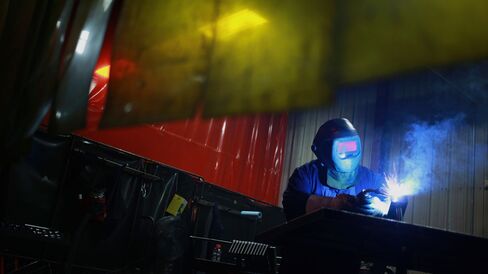 Factory production stalled in April, as American manufacturers were dealt blows by a strong dollar and cheap oil.
The unchanged reading in manufacturing followed a 0.3 percent March gain that was larger than previously estimated, a Federal Reserve report showed Friday in Washington. The median forecast in a Bloomberg survey of 21 economists called for a 0.2 percent increase. Total industrial production declined for a fifth consecutive month amid mining and utilities cutbacks.
Soft export demand, caused by a stronger dollar and weaker global markets, continued to diminish U.S. manufacturing activity in April, while oil companies curtailed operations to cope with low fuel prices. The effects of temporary setbacks in the first quarter, including bad weather and a West Coast port shutdown, will probably fade, signaling the industry could make some progress in coming months.
"The manufacturing picture is really pretty flat," said David Sloan, senior economist at 4Cast Inc. in New York, who correctly projected the drop in overall production. As oil prices rebound and the negative effects of the ports dispute fade, manufacturing "will go from flat to modest growth, but I wouldn't count on strong growth," he said.
Other reports Friday showed consumer confidence fell in May by the most in more than two years, while manufacturing in the New York region expanded at a slower pace this month than projected.
Consumer Sentiment
The University of Michigan preliminary index of sentiment dropped to 88.6, the lowest since October, from 95.9 in April. The 7.3 point decrease was the largest since December 2012. The Federal Reserve Bank of New York's Empire State index climbed to 3.1, just shy of the 5 median forecast of economists surveyed by Bloomberg, from minus 1.2 in April. Readings greater than zero signal growth.
Stocks fell after the reports, while Treasuries rose. The Standard & Poor's 500 Index fell 0.2 percent to 2,117.72 as of 10:21 a.m. in New York. Ten-year Treasury notes yielded 2.16 percent, down seven basis points.
Total Production
Total industrial production declined 0.3 percent for a second month. It was projected to be unchanged, according to the Bloomberg survey of 83 economists. Estimates ranged from a drop of 0.7 percent to a 0.8 percent gain. Output in March was revised from a previously reported 0.6 percent drop.
Mining production, which includes oil drilling, decreased 0.8 percent in April, the fourth consecutive decline. Oil and gas well drilling dropped 14.5 percent, according to the figures.
Utility output declined 1.3 percent after plunging 5.4 percent the previous month.
Automaking remained a bright spot. Output of motor vehicles and parts increased 1.3 percent after rising 4.3 percent a month earlier. Excluding autos and parts, factory production declined 0.1 percent in April after climbing 0.1 percent a month before.
Capacity utilization, which measures the amount of a plant that is in use, fell to 78.2 percent last month from 78.6 percent in March.
Steel Industry
U.S. Steel, the country's second-biggest steelmaker, posted a surprise loss in the first quarter and cut its full-year profit forecast as rising imports put pressure on prices and prompted the Pittsburgh-based company to idle capacity.
"We have a significant presence in the energy business and the flat-rolled segment is the sole supplier to the energy business," Chief Executive Officer Mario Longhi said on a conference call April 29, referring to U.S. Steel's flat-rolled unit, its largest business.
The U.S. steel industry used 73 percent of its capacity on average in the first quarter, down from 77 percent a year earlier, according to data from the American Iron and Steel Institute.
Machinery production dropped 0.9 percent last month, while construction materials climbed 0.1 percent, Friday's Fed report showed.
Negatives Fading
"The oil-price hit did cut demand for investment equipment in the mining industry," Sloan said. "That negative will fade, and we'll see a more positive underlying picture. Also I think the ports dispute had a negative effect, which will unwind in the second quarter. The strong dollar doesn't seem to be getting any higher, so that's not going to increase as a problem though it remains a problem."
Other data indicate manufacturing's slump may be drawing to a close. A gauge of bookings at U.S. factories reached a four-month high in April, according to a report from the Institute for Supply Management earlier this month.
The group's new orders gauge climbed to 53.5 in April from 51.8 as 35 percent of purchasing managers surveyed, the biggest share since November, said demand was improving. A measure of production rose to 56 from 53.8, while the export index also advanced.
Before it's here, it's on the Bloomberg Terminal.
LEARN MORE