Citi: Here Are the Asset Classes That Are the Most Bubbly
But you still might want to think about buying them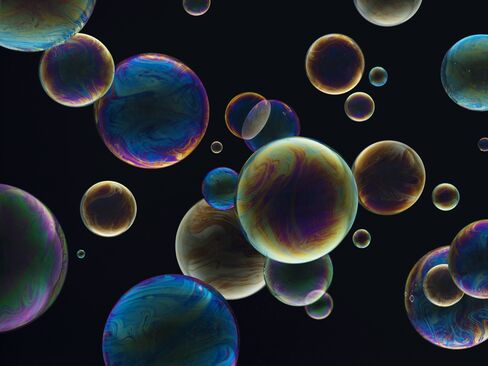 With a number of indexes in the U.S. and around the world either hitting new all-time highs or closing in on them, we were bound to hear more talk about bubbles in certain markets.
Just this past Monday, former U.S. Treasury Secretary Henry Paulson told Bloomberg that there are bubbles, and it's now a question of how big they are and can we deal with them. "Until we get back to a world where interest rates are determined by real economic forces and reflect economic reality, there are going to be asset bubbles. ... There's going to be volatility and clearly there are bubbles, so the question is, are they manageable and how big they are."
You also have Federal Reserve Bank of St. Louis President James Bullard repeatedly voicing his own concerns over creating bubbles: "A risk of remaining at the zero lower bound too long is that a significant asset-market bubble will develop."
But not everything can be in a bubble, as they usually take hold in one or two specific markets (think housing and technology bubbles of the past). So, a team of analysts at Citigroup led by Chief Global Equity Strategist Robert Buckland sent out a note late yesterday titled "It's Bubble Time," and took a close look at several markets to find out which ones are in or nearing bubble territory by different measures, as well as what causes them.
In terms of causation, Citi said there are four key drivers:
A new paradigm story supported by convincing fundamentals
Surplus liquidity
A demand/supply imbalance
Business/benchmark risk among asset managers
For the first point, what might be the current new paradigm?
Citi said that taking a macro look, the most obvious candidate is secular stagnation, or what it calls "a world where growth, inflation and interest rates are likely to stay low for the foreseeable future. Fixed income assets are the obvious beneficiaries."
To the second point, it's hard to find a time where money was cheaper than it is now. Central banks around the world have been cutting benchmark interest rates toward zero. Citi's aggregation of central bank rates points to a weighted average global price of short-term money at 0.7 percent, the lowest level in the past 40 years. To top it off, you also have quantitative easing.
Third, where is there a demand and supply imbalance? Citi's note points out that following the financial crisis, security issuance has fallen and central bank buying has gone up. The net effect is that the two cancel out and net security issuance is zero, creating an intense scrum for financial assets. Given the scarcity of such securities, Citi says prices rising and potential bubbles inflating is hardly a surprise.
Last, Citi makes the point that fund managers rarely can afford to sit out on big bubbles given that they are judged against investment benchmarks.
Taking all four of these into account, Citi decided to normalize all valuations by their standard deviation and used price-to-book values within equities. Its bubble threshold was two standard deviations above the mean. It also asked Citi equity strategists where they saw potential bubble candidates within their markets.
Here is a chart showing just how bubbly or unbubbly some markets are. European bonds are the standouts.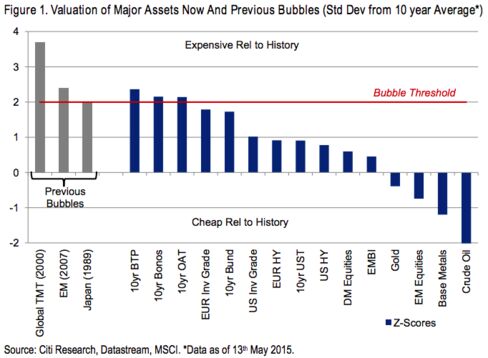 Citi also used a heat map to compare geographies now to the year 2000.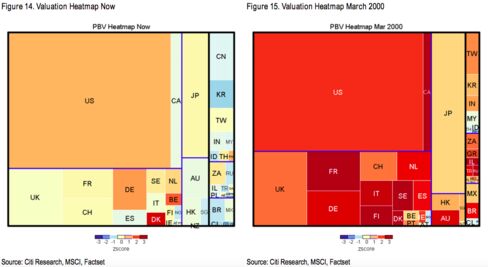 The note went on to break out valuations by global industries.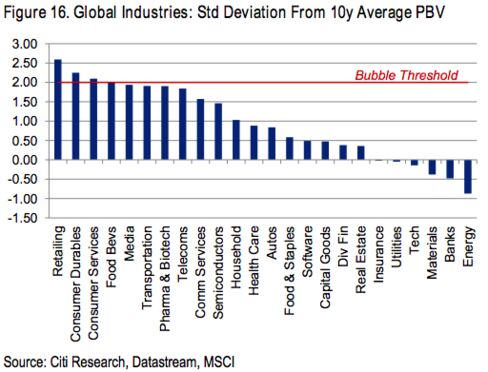 And even zeroed in on industries within regions. Looking at the chart, you'll see that in the U.S., consumer-related sectors such as food and beverage, retailing, and media are looking expensive, while European pharmaceuticals and Japanese food and beverage are also looking a bit pricey. On the cheap side you'll see several emerging-market sectors like banks, autos, energy, materials, tech, and capital goods. The note says that commodity sectors within developed markets are also trading below average.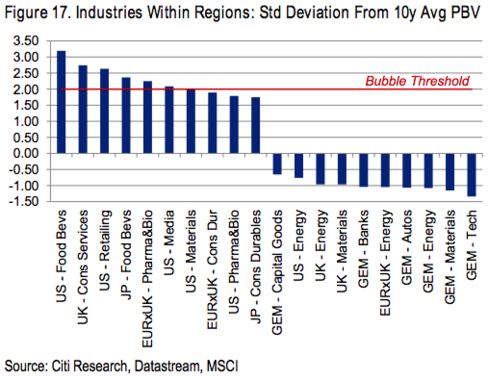 Last, Citi created a heat map for sectors within major markets, with the colors reflecting the price-to-book value relative to the 10-year average.
The size reflects the size of each market or sector. It looks like the U.S. is the hottest equity market, while emerging markets look least expensive.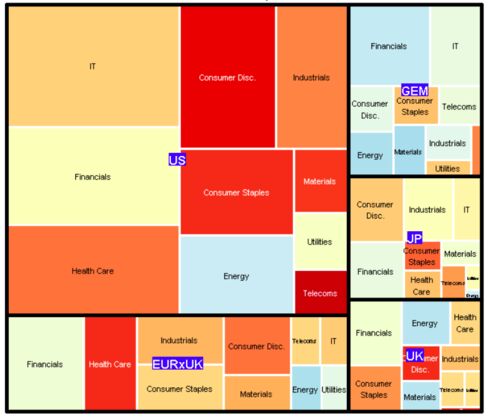 But wait, don't start selling yet. Citi says that yes, interest rate rises like the ones it expects to come later this year do tend to burst bubbles, but it usually takes at least three hikes.
We think it is still too early to fight this bull market and remain Overweight two of the more bubbly sectors (Health Care, Consumer Discretionary). For balance, we are also Overweight the distinctly unbubbly Financials. ...

We do not expect the third Fed hike until 3Q16. In the meantime, expensive stocks may keep getting more expensive.
Before it's here, it's on the Bloomberg Terminal.
LEARN MORE