China Absent as Japan Parades Gear at First Defense Show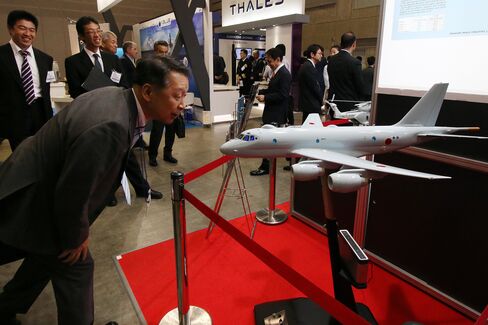 Japan showed off homegrown military equipment at its first international defense trade show this week -- an event featuring presentations from countries as far away as Norway and Poland, but none from China or South Korea.
Military officers from the U.S., Europe and Australia mingled with government defense officials and contractors among scale models of ships, planes and submarines. Former Japanese Defense Minister Satoshi Morimoto, chairman of the MAST Asia 2015 event, raised concerns about China's assertiveness immediately after welcoming delegates in the port city of Yokohama.
"We continue to observe the situation in the South China Sea and East China Sea and we are concerned by any unilateral actions such as large-scale land reclamation which change the status quo and increase tensions," Morimoto said.
The event coincides with Prime Minister Shinzo Abe's approval of a package of legislation expanding the role of Japan's armed forces as part of a more robust military stance. The U.S. and its allies have welcomed the move, though China and South Korea, where painful memories of Japan's World War II aggression linger, are wary of Abe's plans.
It also comes as China's economic and military rise are spurring security concerns from Southeast Asia to the Indian Ocean, prompting countries to increase weapons budgets. Vietnam, Singapore and Indonesia are buying submarines, as is India, which has approved at least $45 billion of arms purchases since Narendra Modi was elected as prime minister in May last year.
Japan is embroiled in a territorial dispute with China over uninhabited islets in the East China Sea. Planes and ships from both nations constantly tail one another around the area and Japan frequently expresses concern about the lack of transparency in China's growing defense spending.
Security 'Diamond'
The 2014 abolition of Japan's self-imposed ban on military exports opens a new channel for building defense ties with other countries and offers markets for companies such as Mitsubishi Heavy Industries Ltd. and Kawasaki Heavy Industries Ltd., which build ships, subs, tanks and other equipment for the Japanese Defense Ministry.
This network doesn't include China. Ties with South Korea are also fraught over territory and accusations that Japan hasn't sufficiently atoned for past aggression.
In his opening remarks, Admiral Tomohisa Takei, head of Japan's Maritime Self-Defense Force, referred to an Abe essay in 2012. Abe set out plans in the article for a "democratic security diamond" stretching between Japan, Hawaii, Australia and India, and enlisting help from the U.K. and France to counterbalance China's growing power.
"Problems between countries must be solved by peaceful means in accordance with international law," Takei said. "If one country imposes its own interpretation of international law, other countries' freedom of navigation" may be threatened.
Cherry Blossom
Military commanders from U.S., France and the U.K. gave keynote addresses at the three-day event this week, which included a series of seminars about maritime security and defense technology.
MAST Asia's organizers list a Chinese academic as a committee member and said they had invited a South Korean official to attend, though they couldn't confirm whether either came. China and South Korea were invited to submit papers -- but didn't, they said by e-mail.
Defense equipment cooperation has long been a part of the U.S.-Japan alliance, often in the form of licensed production of U.S. equipment by Japan. Since the regulatory changes, Japan has agreed to provide components to the U.S. military.
Talks are under way over the sale of Japan's US-2 rescue aircraft to India and Soryu submarines to Australia, and Japan is also trying to sell its P-1 submarine-hunting aircraft to the U.K. Models of these offerings were displayed under panels depicting cherry blossom at the event.
Deepening Ties
Foreign governments are also eager to capitalize on joint projects to build closer defense ties with Japan, as well as making potential cost savings or commercial profit by selling the results of their collaboration to a third country.
"Defense equipment is a good way of deepening ties," Tim Johnson, head of defense, security and strategic trade at the British Embassy in Tokyo, said in an interview before the event, at which the U.K. was among the largest exhibitors. "If you cooperate on defense equipment, that is a long-term commitment."
It's a commitment that Japan's Defense Ministry is far from making to China, even as Abe seeks to defrost ties with his nation's giant neighbor.
"We transfer equipment to countries with which we have security relations," Toru Hochi, director of the ministry's equipment policy division, said in an interview. "How far can we say we are in a cooperative relationship with China?"
While governments express eagerness to cooperate over national boundaries, Japan's biggest defense contractor had a more conservative approach, amid public opposition to looser rules on military exports.
"We won't particularly be looking for opportunities," said Shoji Sato, vice president in the integrated defense and space systems division at Mitsubishi Heavy Industries Ltd., when asked about possibilities for cooperation with other countries. "We will simply go along with government policy."
Before it's here, it's on the Bloomberg Terminal.
LEARN MORE