Boston Marathon Bomber Dzhokhar Tsarnaev Sentenced to Death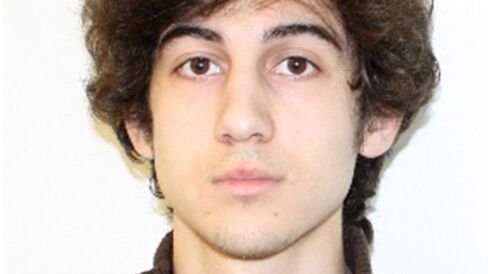 Dzhokhar Tsarnaev was sentenced to death for helping set off two bombs near the Boston Marathon finish line, killing three, wounding hundreds and laying bare the threat of homegrown terrorism in post 9-11 America.
While a lengthy appeal is likely, the sentence closes the door on a trial marked by wrenching victim testimony describing the horror of the 2013 assault, memories of the "sunny" boy Tsarnaev's relatives said they knew long ago and his writings vowing to avenge the deaths of Muslims.
In the end, Tsarnaev's lawyers' bid to humanize him and pin the blame on his older brother failed. Jurors decided life behind bars without a chance of parole was too lenient for the Russian immigrant, who became a citizen months before carrying out the worst terror attack on U.S. soil since Sept. 11, 2001.
"The system worked," said Peter White, a former federal prosecutor. "An unpopular and unsympathetic defendant was afforded excellent, zealous representation. And the jury sent a message that terrorism on our shores will be subject to the highest possible penalty."
Tsarnaev, a 21-year-old former college student, stood as the verdict was being read, showing no emotion.
The penalty was announced in Boston federal court by a unanimous jury of seven women and five men after about 14 1/2 hours of deliberations. Tsarnaev was found guilty by the same panel in April after a trial in which his lawyers admitted to his role in the attack.
People Weep
A male juror wiped his eyes with a tissue after the verdict was read. Liz Norden, whose sons were maimed in the bombing, also wept. She had favored the death sentence.
If the penalty is carried out, Tsarnaev will be the fourth person put to death in a federal case since the death penalty was reinstated in the U.S. in 1988. He would follow Oklahoma City bomber Timothy McVeigh, a murderous drug dealer and a man who killed a female U.S. soldier, all of whom were executed by lethal injection at the federal death chamber in Terre Haute, Indiana.
The verdict also renewed debate about the death penalty in the U.S.
"I guess the jury determined that they would return his bad deed with another bad deed," said Barry Slotnick, a criminal defense lawyer in New York who isn't involved in the case and opposes the death penalty.
Death Penalty
"This verdict shows the continuing viability of capital punishment, despite increasing national skepticism," said Timothy Heaphy, a former U.S. Attorney who now leads the white-collar criminal defense practice at Hunton & Williams LLP in Washington.
Dzhokhar and his older brother Tamerlan used mobile phones to detonate two homemade bombs hidden in backpacks near the marathon finish line. Tamerlan died in a shootout with police after a massive manhunt in the days after the attack.
The bombing triggered speculation on how two young men who came to the U.S. at an early age could become so radicalized as to perpetrate a terrorist assault.
In the years since, more Americans have been caught up in recruitment efforts by the Islamic State network, also known as ISIS, to travel to the Middle East to fight or carry out attacks in the U.S.
Three Brooklyn, New York, men were among dozens arrested for attempting to join ISIS overseas.
In Garland, Texas, two Phoenix men armed with assault rifles attacked a Mohammad cartoon contest gathering on May 4 before being killed by security guards. Elton Simpson converted to Islam, and his roommate Nadi Soofi was a Muslim immigrant. ISIS claimed responsibility for inspiring the men.
Radicalization Path
Read this next:
Paths to radicalization have only increased since the marathon bombing, said Matthew Levitt, a former U.S. Treasury terrorism and financial intelligence official. He is now director of the counter-terrorism and intelligence program at the Washington Institute for Near East Policy.
"We're finding there's a particularly wide aperture right now for possible extremists -- many ways for people to become radicalized," said Levitt, who testified for the prosecution during the trial's guilt phase.
Prosecutors portrayed Tsarnaev as a self-radicalized terrorist who sought to kill out of anger toward U.S. foreign policy and its effect on Muslims. He declared his motives in pencil on the inside of a boat where he hid while police hunted him.
"This was not a religious crime. This does not reflect Muslim belief," Carmen Ortiz, the U.S. attorney in Boston, told a press conference Friday after the verdict. "This was a political crime designed to intimidate and coerce the United States."
True Feelings
The sentence may not represent the true feelings of people in a state that's largely opposed to the death penalty, since all jurors had to agree to support execution as a possible punishment in order to be chosen, said John Blume, a death penalty expert at Cornell Law School.
"In some cases it can nullify community values where there's strong opposition to the death penalty," Blume said. "The process excludes so many people you're left with a narrow band of the community that supports the death penalty."
"The ultimate penalty is a fitting punishment for this horrific crime," U.S. Attorney General Loretta E. Lynch said in a statement.
"We hope that the completion of this prosecution will bring some measure of closure to the victims and their families," Lynch said.
Dreading Appeal
Bombing survivor Melida Arrendondo said the verdict didn't bring her satisfaction. She wouldn't say whether she wanted Tsarnaev to get a life sentence but said she dreads the appeals process ahead.
"This seems like another burden that will drag on," she said.
Michael Ward, a Massport Fire Department lieutenant who cared for victims at the scene of the bombing, was blunt in his reaction.
"He wanted to go to hell and he's going to get there early," Ward said.
The case is U.S. v. Tsarnaev, 13-cr-10200, U.S. District Court, District of Massachusetts (Boston).
For more, read this QuickTake: Lethal Injections
Before it's here, it's on the Bloomberg Terminal.
LEARN MORE