UBS Guilty Plea for Libor Seen Opening Door to Political Battle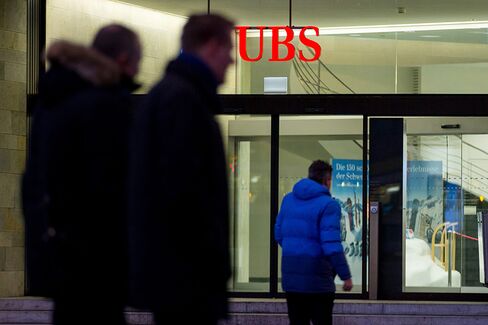 UBS Group AG faces the prospect of making a guilty plea that would require it, along with four other giant global banks, to seek U.S. regulators' permission to keep managing Americans' money.
Several law experts said that UBS may face a harder road than others who are expected to enter guilty pleas for currency-market manipulation, although much could change when the details of the negotiated settlements are made public. The Zurich-based bank has already gone to regulators once to seek permission to keep operating at full tilt, and a guilty plea now would require it to return to the same doorsteps, possibly opening UBS to public or lawmaker questions about whether it should continue business as usual in the U.S., they said.
"This will intensify political scrutiny on the company," said Lawrence Baxter, a professor at Duke University School of Law.
The U.S. Justice Department is in the final stages of settlement talks with several banks that would include antitrust charges for rigging currency rates, people familiar with the situation have said. UBS, which approached the government early in the investigation with an offer to cooperate, is shielded from antitrust charges, these people have said.
Rip Up
However, UBS isn't getting across-the-board immunity. The bank operates under an agreement with the Justice Department, which declined to prosecute the bank for its role in manipulating the London interbank offered rate. As part of that December 2012 non-prosecution agreement, UBS vowed not to commit any crimes. Now, its admissions in the currency-rigging matter could cause the government to rip up the 2012 deal and prosecute UBS for Libor violations, said a person familiar with the matter.
Karina Byrne, a UBS spokeswoman, and Peter Carr, a Justice Department spokesman, declined to comment.
The Justice Department has come under criticism in recent years for the deferred- and non-prosecution agreements it has reached with banks, with lawmakers and other critics saying the deals weren't an adequate deterrent. The government counters that the agreements lead to oversight and cooperation that otherwise wouldn't be possible.
So far the U.S. hasn't torn up a deal with a big bank, and doing so would put banks on notice. The potential for fallout could be greater for banks in the future who can't, like UBS, claim to be cooperating parties.
"The Justice Department's willingness to tear up UBS's NPA of course sends a message to the industry and other banks" that have entered into similar agreements, said Elliott Stein, a litigation analyst with Bloomberg Intelligence.
Parent Companies
Citigroup Inc., JPMorgan Chase & Co., Barclays Plc and Royal Bank of Scotland Group Plc are expected to admit guilt in coming days in settlements with the Justice Department and other regulators over allegations they worked together to manipulate currency markets, people familiar with the negotiations have said. The pleas are likely to come from some of the banks' parent companies, people familiar with the matter have said.
In most cases, such pleas require banks to seek permission from regulators including the Securities and Exchange Commission to keep operating in certain lines of business, including managing mutual funds. The Labor Department has oversight of pension managers, which will likely make it an important stop for UBS, which had $28.2 billion in U.S. pension assets under management at the end of 2013, according to Pensions & Investments.
Guilty Pleas
The five banks are likely to take similar paths as they seek the so-called waivers that organizations with criminal convictions need to continue operations, several securities lawyers said. That could change, they caution, depending on the specific terms of the final settlements.
"Now that bank guilty pleas are becoming more common there is a real need for much clearer rules on the regulatory consequences of bank convictions," said Brandon Garrett, a law professor at the University of Virginia who studies corporate prosecutions.
In some cases, banks request these waivers in advance, so they can have them in hand to limit fallout when settlements are announced.
The Justice Department was hoping to announce deals between the banks and regulators Wednesday but the announcements are now unlikely for another week, said several people familiar with the talks. Part of the reason for the delay is that banks are still trying to lock down waivers, one of these people said.
Waiver Process
In addition to UBS, Barclays is operating under a non-prosecution agreement from its 2012 Libor settlement. Last year, that agreement was extended to June to allow the Justice Department to determine whether the bank's conduct in the foreign-exchange market following the Libor settlement was criminal, according to a regulatory filing. RBS's deferred prosecution agreement from its Libor settlement expired this year.
The waiver process has gained more attention as more banks seek them. The Labor Department has twice asked for additional time to consider Credit Suisse Group AG's bid to keep managing Americans' pensions. SEC chief Mary Jo White has said she's against using waivers as an enforcement tool, but the two Democrats on the five-member commission have said the agency shouldn't award them too readily.
Granting waivers, but with conditions attached, "might have actually more deterrent value at the end of the day than a large penalty," Commissioner Kara Stein said last week at a panel discussion at an Institute for New Economic Thinking seminar in Washington. "A large penalty sometimes for a large firm is sort of a speed bump."
Even so, until now the SEC and Labor Department haven't struck down big banks' waiver requests. Said Duke's Baxter: "My guess is that UBS and the DOJ think they can ride this out."
For more, read this QuickTake: Broken Benchmarks
Before it's here, it's on the Bloomberg Terminal.
LEARN MORE