Uber's Blitz on London Leads to Drop in Black-Cab Recruits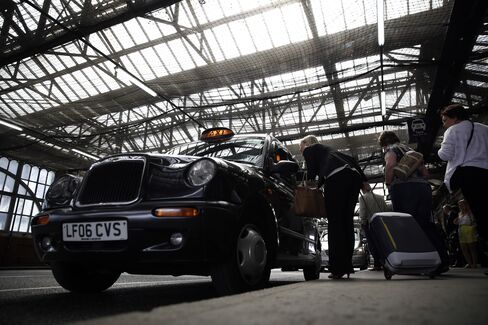 London's famous black cabs, which have ferried city-goers around the capital for more than a century, are in danger of being run out of town by upstart U.S. taxi app Uber Technologies Inc.
Data obtained by Bloomberg from Transport for London, the transit authority, show black-taxi license applications, which include new licenses and renewals, are down 20 percent so far this year from the same period a year earlier. The industry is laying the blame squarely at Uber's door.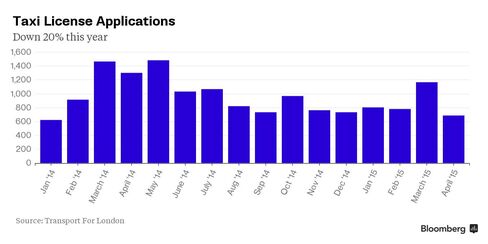 At the same time, the number of budding cabbies looking to take "The Knowledge" -- the notoriously difficult test that all black-taxi drivers must pass -- has fallen more than two-thirds at one of the main examination centers.
The steep drop will stoke fears that a feature of London life going back to the time of Oliver Cromwell is under threat. Black-cab drivers are also worried about the prospects for a profession that some say brings yearly earnings of as much as 50,000 pounds ($78,000).
"I've never seen declines like this and I've been driving a taxi for 30 years," said Steve McNamara, head of the Licensed Taxi Drivers Association, who estimates 1,200 new Uber drivers are starting up in London every month. The company itself declines to give a figure.
The Knowledge, which can mean four years of study and requires the memorizing of 25,000 streets and 20,000 landmarks, isn't needed at Uber, whose drivers rely on GPS technology to navigate town.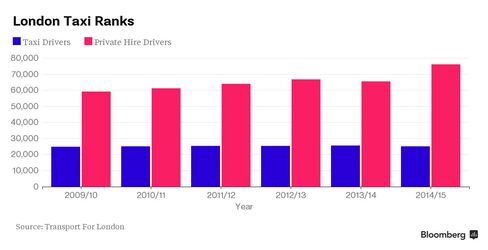 About 15,000 drivers in the capital already work for the app that first appeared in 2012. They're still outnumbered by 25,000 black cabs, but the decline in new recruits means Uber drivers could soon overtake traditional cabbies, a milestone they've already passed in New York City.
European Bans
San Francisco-based Uber, valued at $40 billion, has generally had a tougher time in Europe than at home. It's been banned by courts in Spain and Portugal and had to scrap a German ride-sharing service after a judge outlawed it.
In London, while the service is loathed by traditional cabbies, it's popular with city-dwellers. Unlike many black cabs, Uber drivers take credit cards, cars can be ordered to your door and they offer cheap fares.
"We've really had an incredible past year, it's been an explosion in business," said Harry Porter, an Uber spokesman in London.
By contrast, Taxi Trade Promotions, one of the two main London testing centers for The Knowledge, says about 60 aspiring cabbies are passing through its doors each month, down from 200 before Uber's arrival.
Derek O'Reilly, the center's head, conceded that some cabbies have been slow to embrace technology. But he points out that a test requiring an investment of as much as 8,000 pounds and countless hours criss-crossing London means "you're paying for a superior service when you get into a London taxi, and without a shadow of a doubt Uber is detracting from the quality we provide."
Hackney Carriages
Professional London taxi drivers have a long history going back to 1654, when Oliver Cromwell set up the Fellowship of Master Hackney Carriages, a name by which modern black cabs are still sometimes referred. The Knowledge first appeared in about 1851 for horse-drawn carriages, with the city's first motorized black cabs arriving in 1898.
The total number of black cab drivers in London has been remarkably consistent over the past decade at about 25,000, though the ranks of private-hire vehicles have jumped 29 percent since 2010, with Uber's arrival expected to accelerate this. Private hire vehicles already outnumber black cabs three to one.
For Ricky Neighbour, a 36-year-old who's been getting up at 5 a.m. every day for 18 months to pursue The Knowledge, the thought of taking Uber's easy route has zero appeal. "With The Knowledge I'm training to be the best in the world and I want to be part of something special," he said. "Having that taxi badge, that means something."
Before it's here, it's on the Bloomberg Terminal.
LEARN MORE