Asian Nations Turn Away Boats of Rohingya as Crisis Expands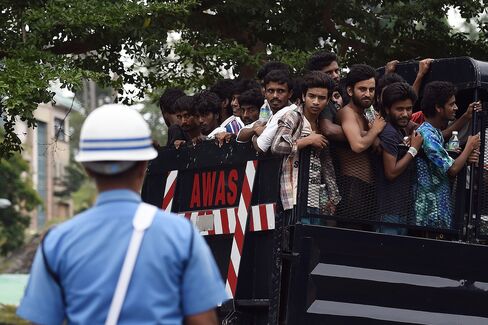 Malaysia said it will escort boats carrying Rohingya and Bangladeshi asylum seekers out of its waters after more than 1,000 undocumented migrants arrived on its shores this week, as human rights groups criticize Southeast Asian nations for refusing to take the people in.
A boatload of more than 500 people was turned away after being given fuel and provisions, the Associated Press reported, citing Deputy Home Minister Wan Junaidi Jaafar. The National Security Council has ordered vessels to be removed from the nation's waters amid reports that 8,000 people may be en route, the Star reported, citing the Malaysian Maritime Enforcement Agency.
Countries towing boats back to sea would probably be in breach of international law, said Eric Paulsen, executive director for human rights group Lawyers for Liberty.
"These boats carrying overcrowded refugees and migrants are typically rickety wooden trawlers and hardly seaworthy," he said. "Turning or towing these boats away is as good as signing their death warrant as the occupants are normally starving, dehydrated, sickly and in dire need of immediate assistance."
Denied Citizenship
The treatment of ethnic Rohingya, who are denied citizenship in Buddhist-majority Myanmar and have had their homes and businesses attacked, has led tens of thousands to flee. While the United Nations and western governments have called for Myanmar's leaders to do more to protect minorities, members of the Association of Southeast Asian Nations have been mostly silent.
Thai junta leader Prayuth Chan-Ocha questioned whether it was fair to ask a "middle country" like Thailand to take responsibility for the Rohingya. He said Thailand would not open permanent refugee camps for them, and if Thailand were to open camps they would only be to temporarily detain them to be prosecuted for illegal entry.
"If they break the law and land in Thailand, how can we take care of them?" Prayuth told reporters Thursday. "Where will the budget come from? That money will need to come from Thai people's taxes, right?"
Detention Center
Indonesia said this week it had pushed back one boat and directed the vessel to Malaysia after providing occupants with food and water. The Malaysian government said Tuesday that 1,158 Rohingya and Bangladeshis had arrived on Langkawi island since May 10 and would be transferred to an immigration detention center on the mainland state of Kedah.
"The Burmese government has created this crisis with their continued persecution of the Rohingya," said Phil Robertson, deputy Asia director at Human Rights Watch. "Thailand, Malaysia, and Indonesia have made things much worse with cold-hearted policies to push back this new wave of 'boat people' that puts thousands of lives at risk."
Authorities in Thailand have discovered several jungle trafficking camps near its southern border with Malaysia over the past two weeks. The camps were mostly abandoned and the remains of more than two dozen bodies were found. Officials have indicated the dead were Rohingya.
Phones Seized
The Freeland Foundation, a group that seeks to stop human and wildlife trafficking, said on May 5 it had been working with local Thai police for several months to analyze phones seized from suspected traffickers. The group said the assessment showed a "systemic kidnapping scheme" targeting Rohingya in Myanmar who would then be held for ransom in Thailand.
"Thai authorities at the most senior levels have long known about these smuggling rings and turned a blind eye," Human Rights Watch said in a statement Thursday.
The Thai government will hold a one-day meeting on undocumented migrants on May 29 in Bangkok. It will be attended by senior officials from 15 affected countries, including Australia, Indonesia and Vietnam, its foreign ministry said.
For more, read this QuickTake: Political Asylum
Before it's here, it's on the Bloomberg Terminal.
LEARN MORE