Samsung's Lee Jae Yong to Succeed Father at Two Foundations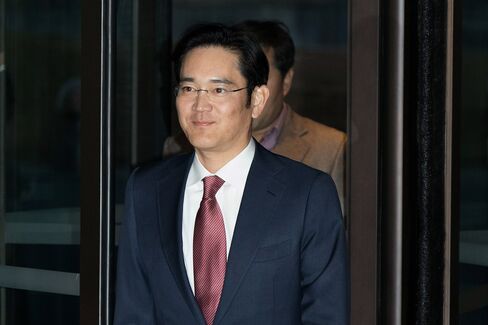 Samsung Group said Lee Jae Yong will replace his father as chairman of two charitable foundations, the first time the heir apparent to South Korea's biggest chaebol has taken that title inside the conglomerate.
The 46-year-old will succeed Lee Kun Hee at Samsung Life Public Welfare Foundation and Samsung Foundation of Culture, effectively from May 30, Samsung Group said in an e-mailed statement Friday. The elder Lee, 73, has been hospitalized since a heart attack about a year ago.
Lee Jae Yong has been taking on a greater role steering Samsung, which includes about 70 companies, in his father's absence. The business group includes Samsung Electronics Co., the world's biggest maker of TVs and smartphones, as well as interests in construction and a theme park.
"The symbolic move shows that Lee Jae Yong is on course to take over the Samsung's chairman post by increasing his presence in other group related businesses," said Lee Sang Hun, a Seoul-based analyst at HI Investment & Securities Co. "The foundation chairman's role also helps freshen up his image."
Samsung Life Public Welfare Foundation, founded in 1982, works to help low-income households and operates health-care services, including aged care. Samsung Foundation of Culture supports Korean art and was started in 1965 by the group's founder Lee Byung Chull, grandfather of the incoming chairman.
Before it's here, it's on the Bloomberg Terminal.
LEARN MORE