FedEx Seeks to Show It's Good Guy in Internet Drug Crackdown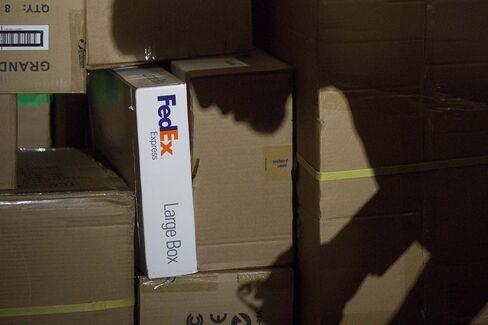 FedEx Corp. says government claims that it conspires with illegal online pharmacies don't tell the whole story: Especially the part about how the company helps drive those websites out of business.
As a drug-trafficking and money-laundering case heads toward trial, with the potential for almost $1 billion in fines, the parcel-shipping service is trying to show it's being punished after doing the right thing.
The company said as far back as 2002, 12 years before it was accused of scheming with "rogue" online drugstores to deliver controlled substances to dealers and addicts, it was assisting federal agencies with investigations of pill purveyors. FedEx helped the government win convictions of the very companies the shipper is accused of conspiring with, defense lawyer Cris Arguedas said in court Thursday.
FedEx won a ruling Thursday compelling the U.S. to hand over documents it says will show its "state of mind" and that it was acting in good faith. Such evidence may plant seeds of doubt in the minds of jurors or a judge, said Larry Cote, a former U.S. Drug Enforcement Administration associate counsel.
'Bad Actors'
"If there's information that FedEx can get from the government, or that they have, to demonstrate that it was cooperating with the government to prosecute these bad actors, then it's certainly going to undermine the government's position that FedEx was in fact conspiring with these same bad actors," Cote said.
FedEx failed Thursday to persuade U.S. District Judge Charles Breyer in San Francisco to dismiss the charges based on a federal law that the company claimed grants it an exemption from policing whether or not the 4 million packages it delivers daily contain contraband.
Prosecutors contended FedEx's interpretation of the law would give carriers "carte blanche" to knowingly distribute illegal drugs.
The judge agreed.
"I just think that it's not that it's an uphill battle, it's an impossible battle," Breyer told FedEx's lawyers while denying their request to dismiss the case. "I don't want to deny you your moment of eloquence, but I just want to tell you that it's not going to work."
Separately, Breyer ordered the FBI and other agencies to turn over communications that FedEx says show it has long cooperated with the government's crackdown on companies that are shipping drugs without proper prescriptions.
The U.S. argued that the Food and Drug Administration is the only agency behind the criminal investigation and that FedEx's demand for information from three other federal agencies and at least five states is an overreach.
'Aggressive' Prosecution
Tim Crudo, a former federal prosecutor, called the case an "aggressive" prosecution in an interview before Thursday's hearing. Crudo, a defense lawyer not involved in the case, said the government may seek to show FedEx's cooperation was "half-hearted" or that it was "cooperating with one hand and with the other hand going about business as usual."
Abraham Simmons, a spokesman for U.S. Attorney Melinda Haag in San Francisco, declined before the hearing to comment on the case.
FedEx and its alleged co-conspirators may face a fine of twice the gains from the illegal conduct, alleged to be at least $820 million. The Memphis, Tennessee-based company and individuals who ran the illicit pharmacies "knowingly and intentionally" schemed to launder more than $630,000 in shipping payments that were derived from drug sales, according to a revised indictment in August.
UPS Forfeiture
United Parcel Service Inc. agreed in 2013 to forfeit $40 million in payments from illicit online pharmacies under a non-prosecution agreement with the U.S. Justice Department. Walgreen Co. and CVS Caremark Corp. have paid a total of more than $150 million in civil fines over claims they sold medications knowing they weren't for legitimate medical use.
FedEx previously said "settlement is not an option" in the case. Cote said the company appears willing to fight the charges at trial, now set for February.
The government said in the indictment that the shipping company knew it was delivering drugs to dealers and addicts, with couriers in Kentucky, Tennessee and Virginia expressing concerns to managers that FedEx trucks were stopped on the road by online pharmacy customers demanding packages of pills. Some delivery addresses were parking lots or vacant homes, prosecutors said.
The case is U.S. v. FedEx Corp., 14-cr-00380, U.S. District Court, Northern District of California (San Francisco).
Before it's here, it's on the Bloomberg Terminal.
LEARN MORE