Wells Fargo Says Executive Gilani Among Dead in Amtrak Crash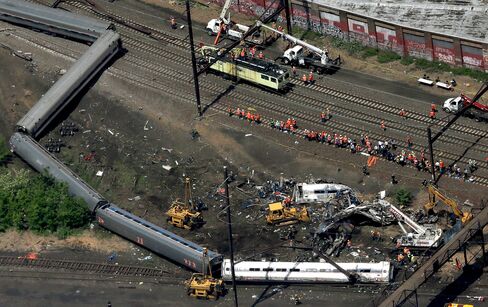 Abid Gilani, a senior vice president in Wells Fargo & Co.'s commercial real estate division, was among passengers who died when an Amtrak train derailed in Philadelphia, according to the bank.
"Our hearts go out to all those impacted by this tragedy," the company said Wednesday in an e-mailed statement.
Gilani joined Wells Fargo's hospitality finance group last year from Marriott International Inc., according to his LinkedIn profile. He worked at the Bethesda, Maryland-based hotel operator for more than six years, and previously spent almost two decades at Bank of Nova Scotia.
Seven people were killed and more than 200 were injured when the train derailed late Tuesday on its way from Washington to New York, closing part of the busiest passenger-rail corridor in the U.S. Neither Amtrak nor regulators have explained why the train was traveling 106 miles per hour just before the accident, more than double the speed limit.
Gilani's early career focused on mining before he earned an MBA at the University of Saskatchewan's Edwards School of Business in 1987, according to his LinkedIn profile. He joined Scotiabank in 1990, eventually becoming a managing director of real estate, gaming and leisure for its San Francisco agency.
The trade publication Hotel & Motel Management quoted him in 2003 talking about the importance of having already built relationships with clients going into tough economic times. With new clients, "the first deal is the toughest," he said.
His group at San Francisco-based Wells Fargo is part of the commercial real estate business that provides loans and other products to hotel owners, institutional investors and developers, according to its website.
Before it's here, it's on the Bloomberg Terminal.
LEARN MORE