Shake Shack Shares Gain After Sales Beat Analysts' Estimates
Shake Shack Inc. shares rose the most since its first day of trading after first-quarter sales beat analysts' estimates, helped by new locations.
The stock, which more than doubled the day it debuted in January, climbed as much as 14 percent to $77.73 in New York on Thursday. First-quarter revenue surged 56 percent to $37.8 million, the New York-based company said in a statement Wednesday. Analysts estimated $34 million.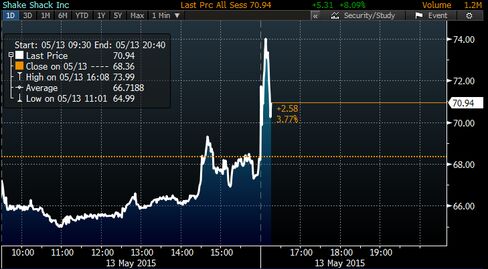 Shake Shack, founded by restaurateur Danny Meyer, is known for upscale fast food, including its signature burgers and fries. While the company's restaurants in Manhattan have posted higher sales and better profitability than its locations elsewhere, investors are betting Shake Shack can narrow that gap as it expands across the country. Two new locations in Boston helped sales in the first quarter.
"They have brand awareness there, and it looks like those Shacks debuted really strong and boosted the top line," said Michael Halen, an analyst at Bloomberg Intelligence.
The company posted a strong performance at its established locations as well. Sales at restaurants open at least two years advanced 12 percent, topping analysts' estimate of a 5.1 percent gain. Earnings were 4 cents a share, excluding some items. Analysts projected a 3-cent loss.
New Restaurants
The chain, which has 68 restaurants, has said it will open 10 new company-owned restaurants this year. The company already has opened five: with one each in Baltimore, Texas and New Jersey as well as the two in Boston. That brings its U.S. total to 36 company-owned restaurants. Shake Shack plans to open a location in Los Angeles in 2016.
Shake Shack announced earlier this year that it was forging a partnership with Sazaby League Ltd., the company that brought Starbucks to Japan, to open a location in Tokyo in 2016. There will be 10 Shake Shacks in Japan by 2020, the company said. All of the Shake Shack restaurants abroad are licensed, while the company owns all but five of its U.S. locations.
Shake Shack grew slowly in its early years. When it first opened as a kiosk in 2001, it was mainly meant to help support the restoration of Manhattan's Madison Square Park. Three years later, the first official Shake Shack was born. And it wasn't until 2008 that the company started expanding.
Meyer, Shake Shack's chairman, is credited with founding some of New York's most prestigious eateries, including Gramercy Tavern, Eleven Madison Park, and Union Square Cafe, which he opened three decades ago. His firm, Union Square Hospitality Group LLC, also operates a catering business and consulting services.
Before it's here, it's on the Bloomberg Terminal.
LEARN MORE