Italy Is Headed for Record-High Migrant Boat Arrivals This Year
While European Union officials promise to reduce the flow of migrants and refugees arriving by boat from North Africa, Italy is on track to have the highest number ever this year.
The first chart to the right shows the progression of arrivals in Italy by boat from 22,000 for all of 2006 to a projected record high of approximately 193,100 in 2015.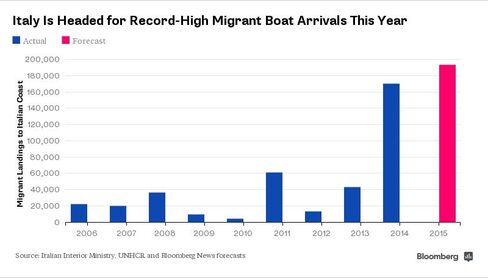 Data for the chart come from the Italian government and the United Nations High Commissioner for Refugees for the period through February 2015. The projections for March through the end of this year were made by Bloomberg News based on historical trends.
The final number of those who make landfall will depend on the effectivness of European Union measures that followed the April sinking of a refugee boat in the Mediterranean Sea that cost hundreds of lives. The European Commission on Wednesday proposed a quota system for settling political refugees across the 28-nation bloc.
The second chart to the right illustrates the spike in arrivals during the warmer months of June through September.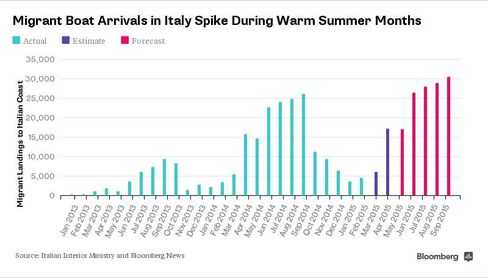 There were 26,236 arrivals in Italy during those four months in 2013 while the corresponding figure for the same months last year was 97,544 people. The four-month tally could jump to about 113,800 this year, based on historical trends.
Data for the second chart come from the Italian government, while estimates and projections for March through September were made by Bloomberg News.
Before it's here, it's on the Bloomberg Terminal.
LEARN MORE