Coffee Farmers in Vietnam Seen Hoarding Most Beans Since '10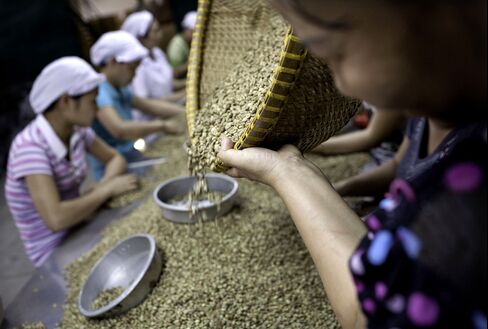 Coffee farmers in Vietnam, the top supplier of robusta used by Nestle SA, probably have the largest unsold inventories in at least five years as they hang onto supplies in anticipation of a recovery in prices.
Growers were hoarding 42 percent of the crop by the end of April, the median of eight trader estimates compiled by Bloomberg showed. That's the most since at least 2010 and compares with a five-year average of 27 percent, according to traders. Production will reach 1.72 million metric tons in the year from next October, down about 4 percent from a previous estimate because of dry weather, they said.
Planters are holding back beans after futures in London lost 18 percent in the past 12 months amid improving crop prospects in Brazil, the second-biggest producer of robusta and top grower of arabica beans, and forecasts for a record harvest in Indonesia. Income from other crops such as pepper and durian fruit are supporting farmers, said Sept. 2nd Import-Export Co.
"Vietnamese farmers are benefiting from lower lending rates and years of savings, so they can hold back beans," Le Duc Huy, deputy general director of the second-biggest exporter known as Simexco, said on May 6. "Profits from other crops such as pepper are helping them."
Banks expect interest rates to drop by as much as 1.1 percentage point on average by the end of this year from 12 months earlier, according to a central bank survey.
Farmers are trying to grow more pepper, avocados, durians, oranges and macadamia nuts to increase their income because coffee is less profitable than those crops, Tong Teik Pte, owned by RCMA Commodities Asia Pte, said in a report e-mailed May 6. Growers have boosted pepper plantings after prices in Vietnam more than tripled in the past five years.
Shipments Plunge
Unsold coffee inventories were probably 660,000 tons at end-April from 420,000 tons a year earlier, the survey showed. Exports slumped 41 percent in the four months through April to the lowest level since 2008, Statistics Office data show.
Sales may not increase unless prices exceed $1,900 a ton, said Huy of Simexco. Robusta futures traded at $1,718 on ICE Futures Europe on Thursday.
Bean shipments could improve as the currency weakens and international prices recover. Vietnam devalued the dong by 1 percent on May 7 in a bid to keep exports competitive and accelerate economic growth.
April was the driest on record for most growing areas, Tong Teik wrote. The rainy season probably won't start officially until late May or early June and only then will dry conditions gradually improve, the National Center for Hydro-Meteorological Forecasting said May 1.
Dry Weather
The province of Dak Lak received 27.3 millimeters (1.07 inches) of rainfall in the first four months at 10 stations, including one in neighboring Dak Nong, compared with 172.5 millimeters in the same period last year and an average of 114.1 millimeters in previous years, government data show.
Dak Lak which supplies 30 percent of the harvest is forecast to have more rain through May 20 after downpours in the first 10 days of the month eased "severe dry weather," the weather office said on May 11.
"Farmers are hoping that regular rains will start so they can avoid a fifth irrigation round which will bring most of the wells into trouble," Tong Teik said. If rains start soon, the damage will be minor, probably less than 500,000 bags because irrigation has been done by most farmers, its report said.
The dry weather is reducing forecasts for next season's harvest. Trader estimates compiled by Bloomberg predict a crop of 1.72 million tons, down from the 1.8 million tons seen in March. That would still match the record in 2013-2014.
Before it's here, it's on the Bloomberg Terminal.
LEARN MORE