Chicago Faces $2.2 Billion Bank Payout After Rating Cut to Junk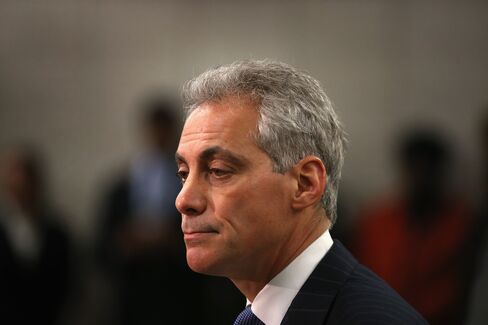 Chicago may have to pay banks as much as $2.2 billion after Moody's Investors Service dropped its credit rating to junk, deepening the fiscal crisis in the third-largest U.S. city.
The company's decision Tuesday to cut Chicago's $8.1 billion of general obligations two ranks to Ba1, one step below investment grade, allows banks to demand that the city repay debt early and exposes it to fees to end swaps contracts, Moody's said in a statement. JPMorgan Chase & Co., Barclays Plc and Wells Fargo & Co. are among the city's bankers.
The downgrade adds to the financial pressure on Chicago, which was already the lowest-rated of any big U.S. city except Detroit. It follows an Illinois Supreme Court ruling last week that safeguards retirement benefits, casting doubt on Chicago's ability to curb its $20 billion pension-fund shortfall.
"It certainly becomes a wakeup call for action for the political leaders, and also other parties, to come to the table and find a solution," said Dan Heckman, senior fixed-income strategist at U.S. Bank Wealth Management, which oversees about $128 billion in Kansas City, Missouri.
Chicago's cash-strapped retirement funds are exerting a growing strain on the city after it failed for years to set aside enough money to cover the benefits it promised. The annual payment into workers' pensions is set to rise by $600 million next year.
Beyond Reality
Mayor Rahm Emanuel, a second-term Democrat, criticized Moody's decision.
"While Chicago's financial crisis is very real and at our doorsteps, today's irresponsible decision by Moody's to downgrade the city's credit by two steps goes far beyond that reality," Emanuel said in a statement Tuesday.
Chicago was already rushing to refinance $900 million of floating-rate debt to reduce the penalties it now faces because of the Moody's downgrade. It's planning to go ahead with sales set for next week, according to city officials who weren't authorized to discuss the deal publicly. Some $383 million of bonds are scheduled to be sold, according to data compiled by Bloomberg.
The city still has investment-grade ratings from Standard & Poor's, Kroll Bond Rating Agency and Fitch Ratings.
Higher Yields
Still, Chicago will confront higher borrowing costs if it proceeds with next week's sale, said Michael Johnson, managing partner at Gurtin Fixed Income Management, which oversees $9 billion of munis in Solana Beach, California.
"I don't necessarily think it would totally lock them out of the market, but I'm not sure they're prepared to pay the interest rate they may have to pay to actually sell the bonds," said Johnson, whose firm sold its Chicago holdings years ago.
The yield on taxable city bonds maturing in January 2035 rose Wednesday to 7.55 percent, the highest since March 2011. The price has fallen 16 percent since mid-February to $1.02 on the dollar.
The rating cut triggers provisions in variable-rate bond and swap contracts that allow banks to "immediately demand" termination fees and accelerated payments of interest and principal, Moody's said. That's similar to requiring a homeowner to repay a 30-year mortgage in a matter of years. Such provisions helped push Jefferson County, Alabama, into bankruptcy after the 2008 credit crisis.
Persuading Banks
JPMorgan, Barclays and Wells Fargo are among those that have agreed to act as buyers of last resort for Chicago's variable-rate debt or sold it swap contracts, according to city documents.
Jessica Francisco, a spokeswoman for JPMorgan in New York, declined to comment. Elise Wilkinson, a spokeswoman for Wells Fargo in Charlotte, North Carolina, had no immediate comment. Mark Lane, a spokesman with Barclays in New York, didn't respond to a request for comment.
City officials may be able to persuade its banks not to demand the penalties as long as Chicago can move ahead with its refinancing plan, said Johnson, the partner at Gurtin Fixed Income.
"I would guess that most of their counterparties would be fine letting them go," he said. "If they end up not selling it, then that creates significantly more risk."
The obstacles raised by Chicago's underfunded retirement system increased after the May 8 Illinois Supreme Court decision, which held that the state couldn't cut retiree benefits.
Court Challenge
That ruling may bear on legal challenges to Chicago pension overhauls that affect about 60,000 employees.
The suits were put on hold pending the outcome of the Illinois lawsuit. With the ruling in hand, lawyers for the city, the state, the workers and their pension fund appeared before a Chicago judge Wednesday to map out a plan to resolve their cases. At the hearing, Cook County Circuit Judge Rita Novak said the state's high court will have the last word on the case.
Moody's said in a statement that the city's options have "narrowed considerably" because of the ruling.
"The Supreme Court ruling in our view raises the risk that Chicago's pension reform won't work," said Matthew Butler, an analyst with Moody's.
Before it's here, it's on the Bloomberg Terminal.
LEARN MORE