Burundian General Attempts Coup as Region Back Incumbent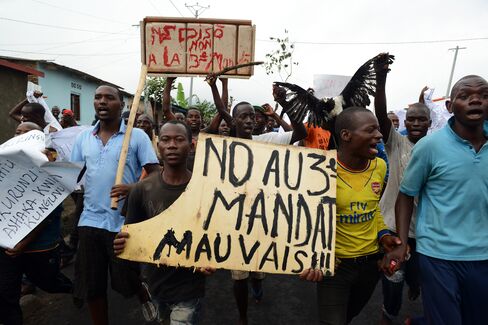 Burundi's former intelligence chief announced he has overthrown President Pierre Nkurunziza, whose plan to seek a third term triggered weeks of protests that left at least 20 people dead.
Major-General Godefroid Niyombare, who was fired by Nkurunziza in February for opposing his re-election bid, declared an end to the 51-year-old leader's rule in a statement broadcast Wednesday on radio in the capital, Bujumbura. He urged political leaders to "come together and rethink how the country can be governed and how elections can be organized soon." The presidency said the attempted coup was unsuccessful.
East African leaders meeting in neighboring Tanzania to discuss the protests condemned the coup, while demanding an end to fighting and a postponement of elections. The East African Community, which groups Burundi with Kenya, Tanzania, Rwanda and Uganda, "will not stand by if the violence does not end," Tanzanian President Jakaya Kikwete said.
The unrest in Burundi has stoked fears of a return to conflict if rebel groups abandon agreements that ended a civil war 10 years ago between ethnic Hutus and Tutsis that left 300,000 people dead. It also has the potential to destabilize the Great Lakes region that includes the Democratic Republic of Congo, Africa's top copper producer, and Rwanda, which is recovering from a genocide in 1994.
Foiled Coup
Burundi's presidency said the coup had been foiled and that the perpetrators would be brought to justice, according to a statement published on its Twitter account. Nkurunziza departed Dar es Salaam for Bujumbura before the regional summit ended at about 5:30 p.m., Tanzanian presidency spokesman Salvatore Rweyemamu said in an interview. Niyombare ordered the closure of the country's airport and borders.
Niyombare's declaration that he had seized power came after police fired live bullets and tear gas at demonstrators who tried to storm parliament and attacked one of the offices of the ruling party.
Protests erupted on April 26 after Nkurunziza's CNDD-FDD party nominated him to run in a presidential vote set for June 26. Critics of Nkurunziza say he'll flout a two-term limit by running in the elections. The president's supporters argue that he's only been popularly elected once because his first term was an appointment by parliament.
Great Concerns
United Nations Secretary-General Ban Ki-moon has urged all parties to show restraint, spokesman Stephane Dujarric said on Wednesday. France has called for a Security Council briefing by Said Djinnit, the UN special envoy to the Great Lakes region. The situation is of "great concern" to the U.S. and there are legitimate complaints about whether democratic processes are being followed, said White House spokesman Josh Earnest.
The issue of extending term limits has recently sparked a public outcry in other African nations. Opponents of Congolese President Joseph Kabila staged protests in January over what they said were his plans to change the constitution and seek a third term.
"Civil society organizations in Congo have been watching how they've been organizing in Burundi so this may spell bad news" for Kabila, Francois Conradie, an analyst at NKC Independent Economists in Paarl, South Africa, said by phone.
In the West African nation of Burkina Faso, mass demonstrations in October ended President Blaise Compaore's 27 years in power.
Coffee, Nickel
Burundi, about the size of the U.S. state of Maryland, has a $2.7 billion economy and is home to 10.2 million people. It's the continent's seventh-biggest coffee exporter and buyers of its beans include Starbucks Corp. The country also holds 6 percent of the world's nickel reserves, according to the African Development Bank.
The attempted coup may trigger factional fighting between rival ethnic groups in the military and police, increasing the probability of a civil war, Robert Besseling, principal Africa analyst at IHS Country Risk in London, said in an e-mailed note.
"The highest risk of ethnic fighting over the next few days will be in Bujumbura, overpopulated rural areas and internally displaced people's camps along the Democratic Republic of Congo and Tanzanian borders," he said.
Niyombare, a former ambassador to Kenya whose wife is a member of parliament, was removed as intelligence chief by Nkurunziza in mid-February after only three months in the post. No reason was given for the decision, which Radio France Internationale reported at the time may have stemmed from his opposition to the president seeking a third term.
Neighboring Rwanda's foreign minister warned on Tuesday that ethnic-Hutu rebels it alleges were involved in the Rwandan genocide are infiltrating Burundi, raising concern that the violence will escalate.
Before it's here, it's on the Bloomberg Terminal.
LEARN MORE