Brazil Congress Upsets Levy Spending Cuts With Pension Boost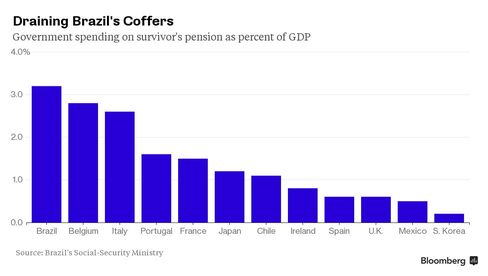 Brazil's lower house approved an amendment that raises benefits for pensioners, upsetting Finance Minister Joaquim Levy's efforts to contain government spending.
Lawmakers on Wednesday evening voted 232 to 210 in favor of the amendment that raises federal spending on retirees. The approval came just hours after legislators approved the basic text of a broader bill designed to shore up fiscal accounts by limiting sick leave and pension payments to surviving relatives. The bill and amendment now go to the Senate.
"This was a surprise," Rafael Cortez, a political analyst at Tendencias Consultoria, said by telephone about the amendment. "It doesn't kill the broader bill, but creates another complication in terms of pension payments."
Wednesday's vote was the first major setback in Congress for Levy, who is banking on legislation that would raise taxes and cut spending to help avert a credit downgrade. The economist has spent the last several weeks lobbying lawmakers who are reluctant to approve belt-tightening measures amid expectations Brazil will sink into recession this year.
The administration of President Dilma Rousseff will try to revert the setback either in the Senate or by vetoing it, Jose Guimaraes, the government leader in the lower house, told reporters in Brasilia.
Still, there is a "big chance" Congress would override the presidential veto, Sao Paulo-based consulting company MCM said in a research note.
Swap rates on contracts maturing in January 2017 rose 4 basis points, or 0.04 percentage point, to 13.57 percent at 9:45 a.m. local time.
"This amendment clearly harms the fiscal adjustment," Guimaraes said.
Lawmakers on Thursday are scheduled to vote on an additional seven amendments to the pension bill.
Levy's fiscal measures are designed to achieve a primary budget surplus equivalent to 1.2 percent of gross domestic product. The government last year ran a deficit before interest payments of 0.6 percent of GDP.
Before it's here, it's on the Bloomberg Terminal.
LEARN MORE