Bosses to Billions: Xi Meeting Modi Revives Faded Chindia Dream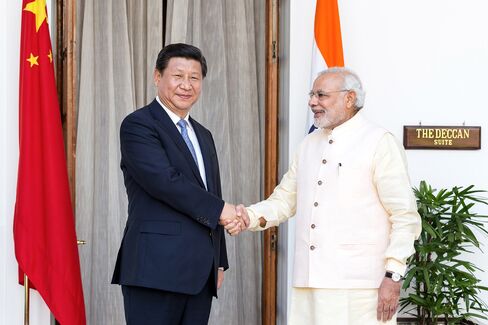 Chinese President Xi Jinping and Indian Prime Minister Narendra Modi, as the only two people managing more than a billion people, have plenty to talk about.
They'll get that chance during Modi's first official visit to China from May 14 to May 16, when he'll travel to Xi'an, Beijing and Shanghai. Likely agenda items include defense concerns, particularly over China-friend and India-foe Pakistan, bilateral trade on which India has had the short stick for years, high-speed trains and the Silk Road revival.
While India's gross domestic product growth eclipsed China's in the fourth quarter, underscoring the south Asian nation's vast economic potential, the country remains far behind its larger neighbor in most economic metrics. Trade, urbanization, wealth and stock-market values illustrate the gap that has widened between the two over recent years.
China accounts for India's biggest bilateral trade deficit, with non-tariff barriers and restricted market access curbing or blocking Indian sales of pharmaceuticals, fruit, rice and information-technology products and services, the Indian Express reported. Frequent inspections, quarantines, certifications and accreditation rules have been impediments.
As recently as 2005, China imported more from India than it exported. Last year, Chinese shipments to its neighbor were worth $54.2 billion, according to the National Bureau of Statistics in Beijing, or more than triple exports from India.
One area where closer cooperation makes sense is steel, said Wang Dehua, researcher at the Center of China and India studies at the Shanghai Academy of Social Sciences. China has an oversupply and India needs more. Wang said Modi's opening of a Weibo account, akin to Twitter, highlights his high expectations for the visit.
Urban Divide
In 1982, about a fifth of China's population lived in urban areas, compared with about a quarter in India. In 2014, 55 percent of Chinese were city dwellers while the proportion in India was barely 30 percent, according to the latest-available figures from the U.S. Census Bureau.
One byproduct of urbanization is the vast difference in income growth that stems from it. Per-capita incomes were essentially the same in 1992. China's average income based on purchasing-power parity was $11,907 in 2013, more than double India's $5,418, data compiled by Bloomberg show.
India is expected to overtake China as the world's most-populous nation in about a decade.
Both China's and India's equity-market capitalizations first broke the $1 trillion barrier in 2007. The contrast since then has been striking, with India's peaking in dollar terms at $1.9 trillion in January 2008. Its stocks are worth about $1.6 trillion today, data compiled by Bloomberg show.
China's equities surpassed $4 trillion in January 2008, and have typically been worth double or triple their India peers. That gap widened further with China's world-beating rally the past year, with Chinese stocks recently worth about almost $8 trillion.
— With assistance by Haixing Jin
Before it's here, it's on the Bloomberg Terminal.
LEARN MORE