Statoil Sets Up Renewables Unit as CEO Shakes Up Management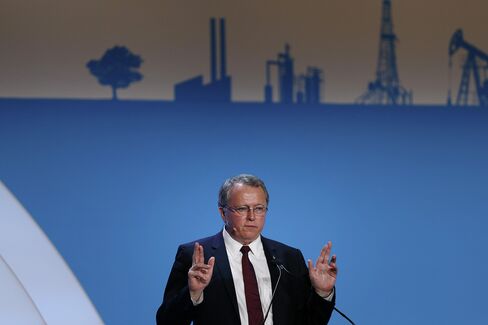 Statoil ASA, Norway's biggest oil producer, is establishing a unit for renewable energy solutions as Chief Executive Officer Eldar Saetre shakes up his management team three months after taking over the company.
New Energy Solutions will be led by Executive Vice President Irene Rummelhoff, formerly head of exploration in Norway, Statoil said in a statement Tuesday. Hans Jacob Hegge will replace Torgrim Reitan as chief financial officer.
"The ambition is to grow and potentially expand into other sources of renewable energy" beyond Statoil's existing wind-power assets, the company said. "The business area will seek new opportunities to deliver attractive returns through technology and business innovation, as well as venture activities."
Saetre, who permanently succeeded Helge Lund as CEO of Statoil in February after serving as interim leader since October, said the company's role in addressing climate change would be among his priorities. Statoil, which operates more than 70 percent of Norway's offshore oil and gas production, is involved in five wind-power projects in the North Sea.
Statoil's only commercial wind project in production is the Sheringham Shoal farm off eastern England, and the state-controlled Norwegian company last year made an investment decision on the nearby Dudgeon facility. Still, the producer reduced its stake in both projects last year.
Unit Components
Statoil's renewable business was previously included in a unit that also included marketing and processing. It also includes carbon capture and storage projects. Statoil led the Norwegian government's flagship CCS project at Mongstad, dubbed the country's "Moon Landing" by former Prime Minister Jens Stoltenberg, which was scrapped in 2013 after cost overruns and delays.
The new renewables unit, which includes low-carbon solutions, "could presage an increased focus on carbon-free energy, but I don't see any sudden changes in the investment program," Kjetil Bakken, an analyst at Carnegie ASA, said by e-mail. "I also think this has a reputation dimension: Statoil wishes to highlight its efforts in this area."
Statoil fell 1 percent to 155.4 kroner as of 11:20 a.m. in Oslo.
Management Changes
Reitan, who has served five years as CFO, will become executive vice president for development and production in the U.S. after Bill Maloney decided not to renew his contract. He will head a unit focused entirely on the U.S. after Statoil decided to fold its Canadian business into the wider international operations unit to create synergies with offshore activities in Brazil, the U.K and Tanzania, the company said. Reitan will start Aug. 1, the date Hegge, currently in charge of development and production in northern Norway, succeeds him as CFO.
Jens Oekland will become executive vice president for marketing, midstream and processing, taking up his new position on June 1, like Rummelhoff. The appointments follow that of Anders Opedal earlier this year as chief operating officer to oversee the company's efficiency programs.
"This could indicate that the company wishes to cultivate internal candidates to qualify to take over the CEO position some time in the future," said Carnegie's Bakken.
Before it's here, it's on the Bloomberg Terminal.
LEARN MORE