North Korea Didn't Launch Submarine Missile, U.S. Officials Say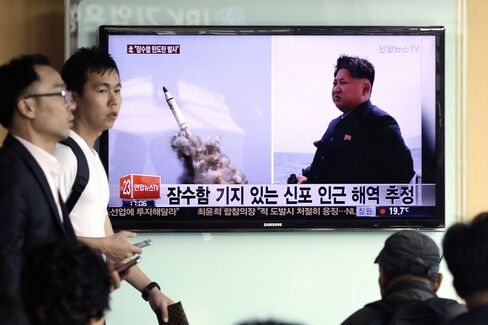 North Korea didn't launch a ballistic missile from a submarine, contrary to its government proclamations and news reports, according to two U.S. officials.
Instead, the U.S. intelligence assessment is that the secretive communist country may have tested the compressed-gas ejection system that's needed to begin launching a missile from a submerged vessel, according to the officials, who asked not to be identified discussing the internal appraisal.
North Korean state media showed leader Kim Jong Un watching a projectile blast out of the sea and said on Saturday that he called the launch an "eye-opening success." No details were provided on the size or range of the missile that it said was tested or when or where it happened.
Because the North Korean submarine involved in the test is relatively new, it would be logical for its military to run a number of tests of the vessel's systems before attempting an actual missile launch, one of the officials said. In addition to the ejection system, those include the missile tubes and the waterproof doors that cover them.
Greg Thielmann, senior fellow at the Washington-based Arms Control Association and a former State Department intelligence official who follows North Korean missile developments, said he's undecided on whether a missile launch actually took place.
"I'm waiting to hear some reporting informed by those who have access to government sources," Thielmann said in an e-mail. "I'm extremely dubious about any actual ambitions in Pyongyang to use submarines for threatening the U.S. mainland."
South Korean Concerns
South Korean President Park Geun Hye said Tuesday during a security meeting that she considers North Korean development of a submarine-fired missile a serious threat to the region.
On Monday, South Korean Defense Ministry spokesman Kim Min Seok said North Korea was still in the early stages of developing such a seaborne weapon.
"The president said North Korea's development of a submarine-launched ballistic missile is a grave challenge undermining the stability of East Asia, as well as the Korean peninsula," Park spokesman Min Kyung Wook said in a online statement about the meeting.
Before it's here, it's on the Bloomberg Terminal.
LEARN MORE