Levy Faces Biggest Test as Time Runs Out in Brazil Congress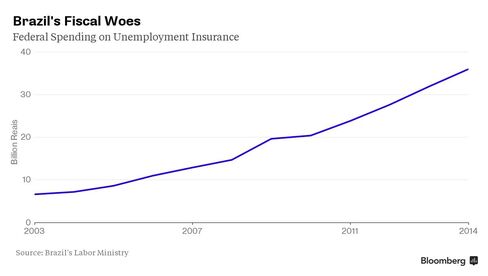 Brazil's Finance Minister Joaquim Levy is up against a ticking clock to convince reluctant legislators to push austerity measures through Congress.
Two decrees that cut social-security spending by as much as 14.5 billion reais ($4.74 billion) lapse June 1 if they don't pass Congress. A separate bill to raise 12.8 billion reais in corporate-payroll taxes this year has stalled, meaning the government is being denied the projected revenue.
A standoff last week over unemployment benefits reflects the reluctance inside President Dilma Rousseff's coalition to pay the political price for shoring up Brazil's public coffers. That, and a Senate chief critical of the proposals, will put Levy's savvy to its biggest test yet, said Brasilia-based political analyst Andre Cesar.
"They can't afford to blink even once or they'll lose a game of poker with huge stakes," Cesar said in an interview. "It's become a race against time now."
Levy, who led efforts to push the bills in Congress, said the measures are crucial to restoring investor confidence and creating conditions for growth.
After weakening to a 12-year low on March 19, the real has rebounded 7.9 percent, the best performance of the 16 most traded currencies after the Norwegian krone. Brazil's benchmark Ibovespa stock index has gained 22 percent after falling to a 10-month low on Jan. 30.
Two Decrees
The lower house on May 6 approved the first decree on unemployment benefit cuts by a margin of just 25 votes out of 479 cast. Finding time this week to vote on the second decree, which restricts pension pay for surviving relatives, will be difficult, said lower house chief Eduardo Cunha. That could mean even less time for the Senate to vote the proposal before the end of the month.
Jose Guimaraes, leader of the government in the lower house, said he was confident the decree would be approved as early as Wednesday.
"The next two weeks will be fundamental, a lot of work, a test of the government's coalition," said Delcidio Amaral, member of Rousseff's Workers' Party and head of the Senate Economic Affairs Committee.
Under Brazilian law, the government wouldn't be able to resubmit the decrees until February of next year.
'Serious Risk'
"Missing the deadline would be disastrous," said Gabriel Petrus, a political analyst for the business consulting firm Barral M Jorge in Brasilia. "There is a serious risk that the savings coming out of Congress will fall short of government expectations."
A separate proposal to reverse breaks on payroll taxes that Rousseff presented as a decree in February, was rejected by Senate chief Renan Calheiros, and resubmitted as an ordinary bill in March. It has not even made it to the committee level and now is under threat of being watered down.
"The government bill on payroll tax breaks needs to be scaled back in the Chamber," said Senator Romero Juca of the PMDB party, Rousseff's largest coalition partner. "If the Chamber doesn't scale it back, we will - it won't be the way the government wants it."
Calheiros has been particularly critical of Levy's proposals, saying that they threaten jobs at a time when the unemployment rate is rising.
Government Ledger
Since the beginning of Rousseff's second term in January, forecasts for the economy this year have swung from an expansion of 0.2 percent to a contraction of 1.2 percent, while the inflation outlook for this year went from 6.4 percent to 8.3 percent.
Levy has pledged to convert last year's primary budget deficit of 0.6 percent of gross domestic product into a surplus of 1.2 percent by year-end. The gap, which excludes interest payments, expanded to 0.7 percent of GDP in March.
In the face of Rousseff's record low popularity, Levy has proven more able than many expected in securing support for his proposals, said Cesar.
To win over Calheiros and other members of the PMDB, the administration may need to go a step further and offer them coveted positions in government, said Petrus at Barral M Jorge.
The Finance Ministry and president's office did not respond to a request for comment on the congressional votes and the allocation of government posts to win support.
Parties that backed the government will receive preferential treatment when it comes to divvying up government posts, Aloizio Mercadante, Rousseff's chief of staff told Estado de Sao Paulo newspaper on Friday.
"Unfortunately, that's the price the government is having to pay to balance its budget," said Petrus.
Before it's here, it's on the Bloomberg Terminal.
LEARN MORE