From Google-to-AOL-to-What Is the Big Question for Tim Armstrong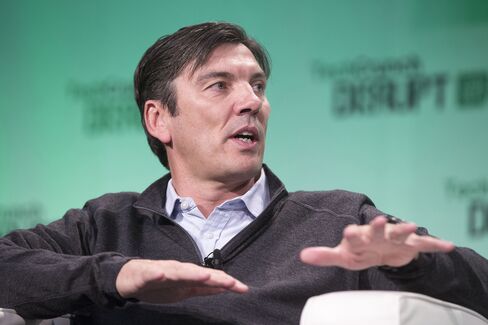 When Tim Armstrong took over AOL Inc., it was running on fumes from its passé dial-up business and pretty much written off as done. Then Google Inc.'s former top ad executive spent more than $1 billion on acquisitions to turn it into an online media powerhouse and digital advertising pioneer.
On Tuesday, six years to the day that he became AOL's chief executive officer, Armstrong agreed to sell the company to Verizon Communications Inc. in a deal valued at $4.4 billion.
Now what? Brian Wieser, a Pivotal Research Group analyst, said it was hard to predict how long Armstrong, 44, would remain at Verizon after the sale closes. "It depends," Wieser said. "Does he think he's going to run the whole company?"
Verizon, the largest U.S. wireless provider, will pay $50 a share -- a 17 percent premium over AOL's price Monday -- and the companies said Armstrong will continue to lead AOL's operations. They didn't put a time frame on it, but Armstrong said in an interview that he'd stay for more than three years.
"I wouldn't have committed to the deal if I wasn't committed to Verizon," he said, dismissing suggestions he'd ever want to run the telecommunications company.
He isn't likely to stick around any longer than he has to "unless there's a viable path" to the top job, said Paul Sweeney, an analyst at Bloomberg Intelligence. "He's not going to be one of the minions," Sweeney said. "He's been a successful CEO and now it's time to step up to a $30, $40, $50 billion company."
AOL is far from that: Its market capitalization is $3.96 billion. On Dec. 10, 2009, the first day it traded on the New York Stock Exchange, it was worth $2.49 billion. The stock's gone up about 80 percent since, trailing the Standard & Poor's Midcap 400 index, which has more than doubled.
Armstrong joined the company just before it was spun off from Time Warner Inc. He'd been at Google for nine years, credited with helping build it into the ad giant it is today.
At AOL, he made the focus online media and video and so-called programmatic advertising, which uses computer algorithms rather than salespeople to buy and sell ad space on websites. He orchestrated the rebirth mostly by buying companies. The largest was the more than $400 million purchase in 2013 of Adap.tv, which matches advertisers and video publishers through an exchange.
AOL also bought the Huffington Post and the websites TechCrunch and Engadget. It's been developing online video series, enlisting actors including Steve Buscemi and James Franco and the documentary filmmaker Morgan Spurlock, the executive producer of its half-hour reality show "Connected." It has a deal with NBCUniversal to make video clips from networks like Bravo and E! available on AOL websites and apps.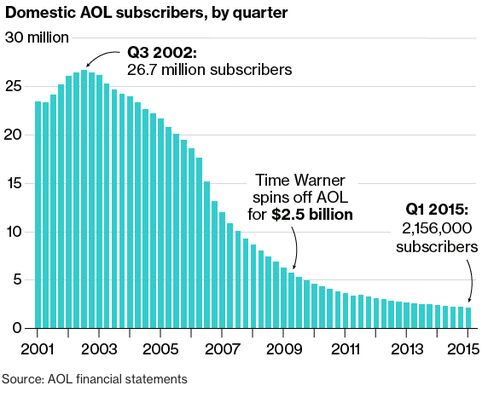 Not all of Armstrong's ideas worked out. Last year, AOL sold Patch, a money-losing hyper-local news service he'd championed, to the investment firm Hale Global for an undisclosed sum. Activist investor Starboard Value LP had demanded the company shut down Patch in 2011, and also pressured AOL to sell off its trove of patents, which it did in 2012; the $1.1 billion transaction with Microsoft Corp. triggered the biggest stock gain for AOL in two years.
Armstrong has also made some memorable gaffes. In 2013, he fired an employee during an internal conference call — because the employee was videotaping the call. Armstrong apologized after a recording of the incident was leaked online. In 2014, he said the company would no longer match 401(k) plans because of the increased costs of caring for two workers' "distressed babies." He apologized and reinstated the match.
"Those two situations were two-in-10,000 for me," he said in the interview. "If I have to choose between being transparent and not transparent I'm going to be transparent."
He declined to say whether he wanted to run a big company one day. "I've been fortunate in my career that I found something I love to do, which is media and tech. My goal is to build the largest media platform in the world for Verizon."
Last Friday, AOL reported first-quarter earnings that beat analysts' estimates; sales at its platforms unit, which includes digital advertising, grew 21 percent to $279.8 million, though the unit lost $10 million. At AOL, he said, "we've been building something that's ahead of the curve. Now the curve has caught up to what're building today."
"Armstrong deserves a lot of credit," Wieser said. "It's very clear he understood where the world of digital advertising was going.''
Before it's here, it's on the Bloomberg Terminal.
LEARN MORE