Carlsberg Slumps as Russia Woes Add to Eastern Europe Loss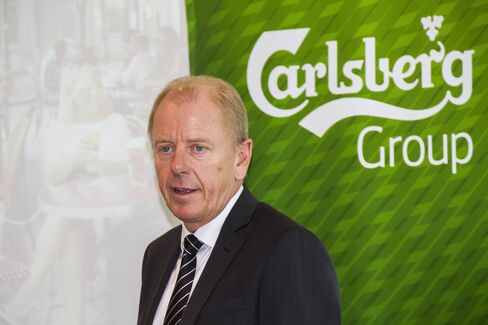 Carlsberg A/S provided a reminder of the difficulties of being Russia's biggest brewer right now as it reported a widening first-quarter loss in eastern Europe.
The operating loss in the region was 155 million kroner ($23.3 million) compared with 8 million kroner a year earlier as the volume of beer sold there declined by 16 percent, the Copenhagen-based company said in a statement Tuesday.
Carlsberg shares slid, even as the brewer's overall profit for the quarter beat estimates due to a better-than-anticipated performance in western Europe. The maker of Tuborg has been weighed down by political instability and economic turmoil in Russia and last year started to reduce output there to counter weaker demand and a declining ruble.
"Eastern Europe was disappointing, with the Russia beer market still heavily down," Javier Gonzalez Lastra, an analyst at Berenberg in London, said in a note.
The shares fell as much as 6 percent to 599.5 kroner in Copenhagen, the most since December.
The Russian beer market contracted by 9 percent in the quarter, according to Carlsberg, which became the country's biggest brewer in 2008 when it acquired full control of Baltic Beverages Holding AB. The Ukrainian market shrank by 14 percent.
No Regrets
"We do not regret going into Russia, it will be a rewarding venture for Carlsberg once the macroeconomic situation stabilizes, but it is unfortunately not possible to say when this may happen," departing Chief Executive Officer Joergen Buhl Rasmussen said in an interview.
Rasmussen, who led the company when it took control of Baltic as part of the 7.8 billion-pound ($12 billion) takeover of Britain's Scottish & Newcastle Plc, is due to hand the reins to the brewer's first non-Danish CEO, Cees 't Hart, next month.
"We entered having already had a joint venture," Rasmussen said of the Russian business. "We really felt like it was the right time to enter. You only get one chance in life."
Carlsberg's Russian leadership meant the brewer was pummelled by a 39 percent slump in the ruble against the euro last year. Hedging against the currency's volatility would be too costly, according to Rasmussen.
2015 Outlook
Group beer volume declined organically by 1 percent in the quarter as eastern Europe's drop was partly offset by growth of 4 percent in Asia and 5 percent in western Europe, where the company was helped by market share gains and an early Easter.
The brewer's first quarter "always needs to be read with a pinch of salt due to the seasonality of the business" both in western Europe and Russia, Gonzalez Lastra said.
Earnings before interest, taxes and one-time items rose 46 percent from a year earlier to 661 million kroner. Analysts on average had estimated profit of 588 million kroner. Sales rose 4 percent on an organic basis, which excludes currency and acquisition effects.
Carlsberg reiterated that it expects "mid- to high-single-digit" organic operating-profit growth in 2015.
Before it's here, it's on the Bloomberg Terminal.
LEARN MORE