U.S. Stocks Extend Global Equity Retreat; Treasuries Stabilize
U.S. stocks fell, as global equities joined a selloff in bonds from Japan to Europe. Treasuries recovered from earlier losses amid demand for the securities at a government auction, while the dollar weakened.
The Standard & Poor's 500 Index dropped 0.3 percent by 4 p.m. in New York. The gauge briefly erased a 0.9 percent slide as yields on the 10-year Treasury note retreated from the highest level since November to decline three basis points to 2.25 percent. The Stoxx Europe 600 Index lost 1.3 percent, while emerging-market shares declined 0.7 percent. The Bloomberg Dollar Spot Index slid 0.5 percent. Oil rallied.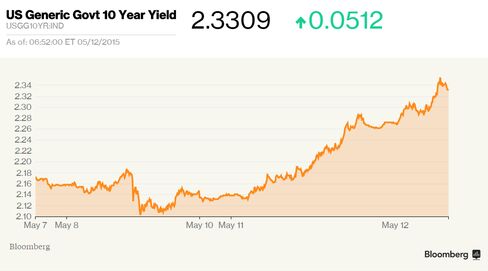 Treasuries stabilized a day after the biggest drop in 30-year bonds since 2013 as an auction of three-year notes drew the strongest bidding since 2009, and as traders found value in debt. A global bond rout had wiped out more than $450 billion from the market. The S&P 500 ended Friday two points shy of a record before two days of losses at the start of this week.
"When you have stocks at the high end of the historical range you need better news than what we have," said Matt Maley, an equity strategist at Miller Tabak & Co. in Newton, Massachusetts. "This rise in rates isn't coming from a better economy or a fundamental reason."
U.S. benchmark 10-year yields touched 2.36 percent before reversing, while Treasury 30-year rates fell three basis points, or 0.03 percentage point, to 3.01 percent. Thirty-year yields jumped 14 basis points on Monday.
The global bond selloff has intensified during the past three weeks as traders exited positions. Investors returned to the U.S. market a day after the biggest drop in two months.
Happy Buyers
"We got to yield levels where guys were happy to take their paper back," said Thomas Tucci, managing director and head of Treasury trading in New York at CIBC World Markets Corp.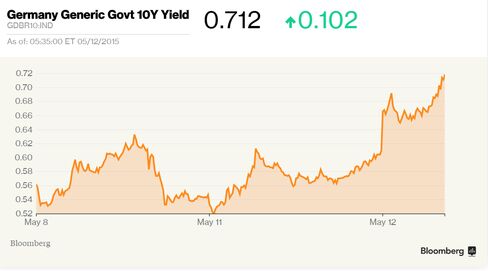 The S&P 500 nearly erased its losses for the day as Treasuries reached their highs. An index of oil and gas producers was the only one of 10 main groups to advance as West Texas Intermediate crude climbed above $60 a barrel.
Federal Reserve Bank of San Francisco President John Williams said Tuesday that he is in "wait and see mode" headed into the next meeting on interest rates in June. Data are due later this week on retail sales, industrial production and consumer sentiment.
The drop in Treasuries had stabilized last week before resuming Monday amid selling in Europe. Those losses spread to Asia Tuesday, with Japanese 10-year yields rising six basis points to 0.45 percent. German yields have advanced in 11 of the past 12 sessions, climbing 52 basis points to 0.68 percent.
Weakness Spreads
The selling in bonds also spread to equities, with the MSCI All-Country World Index slipping 0.3 percent Tuesday. All but two of 18 main western-European indexes retreated. Germany's DAX Index tumbled 1.7 percent, while France's CAC 40 Index Spain's and IBEX 35 Index slipped at least 1 percent.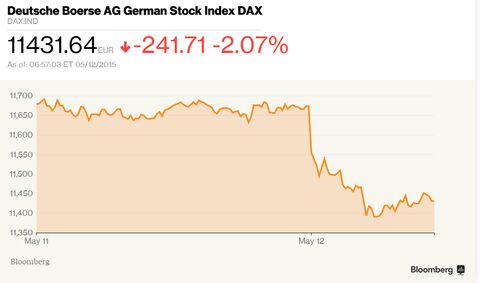 "The weakness today is broad-based," said Espen Furnes, who helps oversee $85 billion at Storebrand Asset Management in Oslo. "You can't hide the fact that equity markets have had an excellent start to the year. In that context I find it reasonable that some investors wish to take some profits."
Greece's ASE Index gained 1.4 percent. The country has readied a repayment to the International Monetary Fund, officials said, while euro-area nations warned Greece still faces a battle to release financial aid.
The dollar's decline on Tuesday wiped out all of its gains from the previous day. The euro rallied versus most of its 16 major peers, adding 0.3 percent to 134.41 yen. The greenback was down 0.2 percent at 119.87 yen.
OPEC Outlook
Crude oil climbed after OPEC boosted its global oil demand outlook and the dollar weakened.
WTI for June delivery advanced 2.5 percent to settle at $60.75 a barrel in New York. Prices have increased 14 percent this year. Brent gained 3 percent to close at $66.86 a barrel in London.
U.S. shale oil output fell by about 1 percent this month and the decline will gather momentum in June, the Energy Information Administration said on Monday.
Soybean futures slid 1.9 percent Tuesday after the U.S. government predicted stockpiles of the crop will reach a record. The Bloomberg Commodity Index added 1.2 percent, its biggest one-day gain since April 15.
Before it's here, it's on the Bloomberg Terminal.
LEARN MORE