U.S. Seeks Opening to Assad Regime as It Trains Syrian Rebels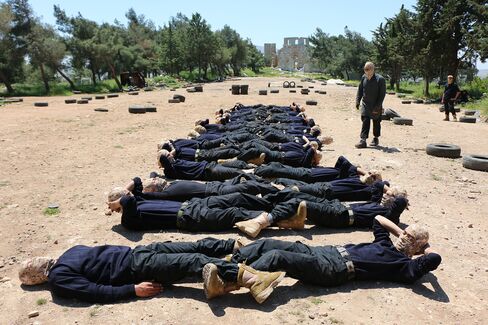 The U.S. is looking to negotiate an end to Syria's civil war with the Assad regime even as it begins training moderate rebel forces in the country, a top State Department envoy said Sunday.
Brett McGurk, the deputy special presidential envoy for the global coalition against Islamic State, said the U.S. hopes the stepped-up military offensive will spur Syrian President Bashar al-Assad to begin talks aimed at ending the war.
"Thus far, the Assad regime has not agreed really to negotiate in good faith," McGurk said on CNN's "State of the Union" program. "We hope now, with the changing conditions on the ground, that we can have an opening because we have to find a political solution to that conflict."
The Pentagon said Thursday that training of moderate Syrian rebels has begun in neighboring Jordan to create what would be a broader force to defeat Islamic State fighters.
Saudi Arabia, Qatar and Turkey also have agreed to host training sites, though Jordan's is the first to get under way. McGurk said about 3,400 rebels who volunteered are being vetted. The U.S. hopes to train 3,000 of them by the end of this year and upwards of around 5,000 over the next 12 months, he said.
Islamic State
While the rebels will be trained to combat Islamic State, which declared a self-styled caliphate in parts of Syria and Iraq, they also seek the ouster of the Assad regime.
At the same time, Daniel Rubinstein, the U.S. special envoy for Syria, will travel to Geneva this week "to reinvigorate a political process to wind down the Syrian civil war," McGurk said.
Syria's conflict, which began with peaceful protests against Assad in March 2011, has killed more than 220,000 people, wounded at least 1 million and displaced about 10 million.
The government has retained control over the country's major population centers, while Islamist-dominated rebels and Islamic State fighters control much of the rural area..
President Barack Obama repeatedly has called for Assad to step down, while focusing on the need for a political settlement.
"I see no coherent strategy in Syria," Michael Hayden, a former director of both the Central Intelligence Agency and National Security Agency, said on CNN's "Fareed Zakaria GPS" program.
The Obama administration's only plan relies on "mowing the grass," or trimming the power of opposition forces, Hayden said. "And of course, the grass grows up again."
Before it's here, it's on the Bloomberg Terminal.
LEARN MORE