U.S. Stocks Overcome Selloff to Finish Week Approaching Records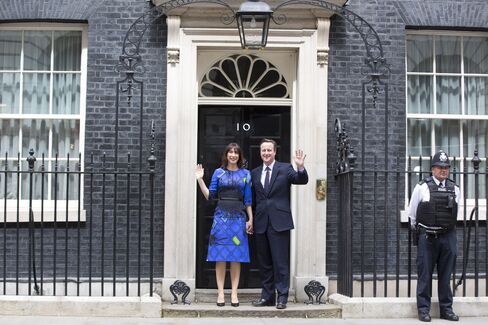 It's going to take more than a global bond rout to derail the bull market in equities.
Stocks jumped on Friday after a report showed hiring bounced back in April, erasing losses from two days earlier and sending the Standard & Poor's 500 Index to a weekly gain of 0.4 percent. Shares overcame the biggest single-day decline in six weeks on Tuesday and losses in fixed-income markets that totaled $500 billion.
The S&P 500 finished two points shy of an all-time high. It ended the week with the biggest surge since March after payrolls data signaled economic growth is accelerating, though not enough to warrant higher interest rates in June. Concern the Fed would raise borrowing costs, along with forecasts for a slump in corporate profit, have whipsawed the index between gains and losses over the past five weeks.
"Stocks have been surprisingly resilient," Kate Warne, an investment strategist at Edward Jones & Co. in St. Louis, said by phone. "Some of the things that have held the market down are proving to be temporary things. Investors were reassured the weakness we saw in March was unusual or an aberration."
The S&P 500 climbed 0.4 percent to 2,116.10 in the five days, while the Dow Jones Industrial Average jumped 167.05 points, or 0.9 percent, to 18,191.11. The Stoxx Europe 600 Index surged 1.4 percent, buoyed by the biggest one-day gain of the year after a surprise election win for British Prime Minister David Cameron's party.
The U.S. equity benchmark rallied 1.4 percent Friday as the hiring data signaled companies are confident the economy will rebound. While a futures-based measure indicates the Fed remains on track to raise rates this year, the jobs growth was slow enough to make a hike in summer less likely.
Bond Market
The labor report also helped mollify bond investors who watched 10-year Treasury rates increase on Thursday to the highest since Dec. 8, as oil's rally above $60 a barrel added to signs of incipient inflation. Two days earlier, the S&P 500 sank 1.2 percent, the most since March 25, as the exodus from sovereign debt spread to other markets.
"'Everyone's been pretty jittery about this backup in yields across Europe and the U.S.," said Frank Maeba, managing partner at Breton Hill Capital Ltd. in Toronto. His firm manages about C$930 million ($769 million). "We've seen some risk paring in the last week or so. I don't think it's all systems go for a June hike."
The chances of a Fed rate increase at the June meeting have declined, while the odds for higher rates in December climbed to 52 percent, according to CME Group Inc. calculations of fed funds futures prices.
Tight Range
The S&P 500 is trading within its tightest trading range to start a year in almost a decade: roughly 125 points. The peak-to-trough move of 6.3 percent is the smallest at this point of any year since 2006.
Equities got a boost from earnings this week. Data showed that analysts reversed predictions for lower profits last quarter, as companies in the S&P 500 topped earnings. Analysts now project a gain of 0.2 percent, compared with 5.8 percent drop at the start of the earnings season.
Six of the 10 main S&P 500 groups advanced in the week, led by a 1.6 percent rise in financial shares. JPMorgan Chase & Co. led banks higher as interest rates climbed, while Warren Buffett's Berkshire Hathaway Inc. added 3.5 percent after lower fuel prices helped its railroad business.
Yahoo! Inc. jumped 3.7 percent after Alibaba Group Holding Ltd. shares surged. Yahoo has a stake in China's biggest e-commerce company, which named a new chief executive officer and posted a 45 percent increase in revenue.
Before it's here, it's on the Bloomberg Terminal.
LEARN MORE