Toyota Forecasts Higher Profit, Plans Buyback After Record Year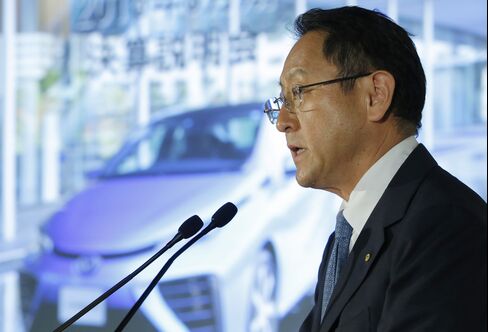 Toyota Motor Corp. forecast profit will surpass last year's record and said it plans to buy back shares as the carmaker resumes its global expansion amid rising sales in the U.S. and China.
Net income will probably rise to 2.25 trillion yen ($18.8 billion) in the fiscal year ending March from the previous year's 2.17 trillion yen, the company said in a statement Friday. The projection trailed the 2.43 trillion yen average of 27 analyst estimates compiled by Bloomberg. Toyota said it's buying back up to 1.27 percent of its shares for as much as 300 billion yen.
President Akio Toyoda is putting an end to a period he's described as an intentional pause at Toyota by building car factories in Mexico and China before the end of the decade. Since he banned adding new assembly plants in 2013, Toyota has boosted efficiency, revamped crucial models such as the Camry sedan and put its Lexus brand back in contention for the U.S. luxury-market crown.
"If you just look at the numbers, the impression is quite negative -- it's very conservative," said Mitsushige Akino, executive officer at Ichiyoshi Asset Management Co. "I think there's good chance they will revise up the numbers simply because the forecast is overall very conservative."
Toyota rose 0.8 percent to 8,279 yen at the 3 p.m. close of trading in Tokyo, before the earnings announcement. The shares have gained 9.5 percent this year, trailing the 13 percent advance by Japan's benchmark Topix index.
Dividend Payment
Toyoda said the carmaker will continue to pay dividends "stably and sustainably, while flexibly considering share buybacks" to reward shareholders. The company said April 28 that it will offer as much as 500 billion yen of a new type of stock with a five-year trading lock-up and protection against loss of principal to attract buy-and-hold individuals.
The company continues to fend off Volkswagen AG to remain the world's top-selling automaker, leading by about 100,000 vehicles through the first three months of 2015. It maintained an edge despite reporting a 2.5 percent sales decline from a year earlier, while Volkswagen posted a 1.8 percent gain.
Falling sales in Japan are forcing Toyota to look elsewhere for growth to sustain its lead. The company's deliveries in its home market plunged 14 percent in the first quarter of the year.
Last month, Toyota said it will spend about $1.4 billion to build factories in Mexico and China. The plant additions will boost production capacity by about 300,000 vehicles by 2019. The company also said it's working with its other joint-venture partner in China to further ramp up output.
Capacity Crunch
Toyota is facing a production capacity crunch in North America and has trailed competitors including Volkswagen and General Motors Co. in China in part thanks to its relatively limited local manufacturing presence.
"We are going into the execution stage from the intentional pause stage," Toyoda told reporters Friday in Tokyo. "We'll be able to see how strong Toyota has become."
Vehicle demand will remain solid in North America this year but is expected to be weak in Asia, Toyota's Executive Vice President Nobuyori Kodaira told reporters Friday. Demand in markets including Russia and the Middle East is slumping because of declining oil prices, he said.
The carmaker sold 1 million vehicles in China for the first time in 2014, two years behind schedule. Volkswagen and GM each outsells Toyota locally by three to one. Toyota's expansion in China will still be modest compared with Volkswagen, which plans to be able to make 5 million vehicles annually by 2019.
Rising deliveries in overseas markets have been a boon to Toyota as Prime Minister Shinzo Abe's economic policies have helped weaken the yen. It may earn more profit than all of Japan's other carmakers are projected to report combined, including Honda Motor Co. and Nissan Motor Co.
Before it's here, it's on the Bloomberg Terminal.
LEARN MORE