Jack of All States: The Future Lawyer May Take an Entirely Different Bar Exam
Law exams aren't what they used to be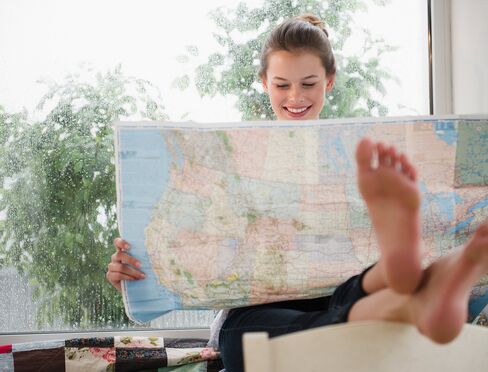 This week a group of New York judges announced a decision that could radically change who becomes a lawyer. For more than a century, anyone who wanted a law career was tested, at length and in essay form, on the minutia of their state's local laws. Now New York, one of the largest legal markets, will replace much of the local exam with a national exam that's already used by 15 other states and gaining in popularity.
Removing the demand for deep state-specific knowledge would profoundly alter how lawyers practice—for one thing, a universal test would enable them to work more easily in multiple states—but for some, even that change isn't drastic enough.
On Wednesday, New York's chief judge, Jonathan Lippman, said the state would eliminate the bulk of the New York-specific material on the bar exam in favor of a more standardized version of the test. Starting next summer, law grads will study for the Uniform Bar Examination, which has spread quickly since Missouri took it up in 2011.
"It is a watershed moment," says Erica Moeser, the president of the National Conference of Bar Examiners, which created the UBE. "It opens up tremendous potential for casting a broader net and seeking a job." A UBE score is generally transferrable between states.
In a speech noting the change, Judge Lippman called New York's decision "a huge step toward a national, uniform bar exam for the entire country."
The implications of the change sound more thrilling than the specifics of it. Instead of spending their first day of the exam answering essays about New York State law, testees will now write essays concerning national law; two 90-minute skills tests, such as writing a legal memo, will replace multiple choice questions about local regulations. The state-law questions haven't disappeared: The new exam will require test takers to bone up on an online course and answer a separate multiple-choice section on New York law.
Some want to see a more fundamental shift in the country's approach to minting new lawyers.
"There are a lot of people that would like to use the opportunity of the conversation of a national licensing exam to have a broader conversation about what the bar exam should test, and how should it test it?" says Patricia Salkin, the dean of Touro Law Center in Long Island. "That's something we ought to be able to do nationally, if the theory is that the skills are portable, and the skill is not a state-specific skill."
Salkin would like the American Bar Association to consider a system that assesses would-be lawyers on their practical skills rather than their performance on a written test.
"This is hardly the last word on the need to completely overhaul an outdated, overly expensive process that does little to measure what the [ABA] requires us to teach or what lawyers actually need to practice," says Nick Allard, the dean of Brooklyn Law School.
Allard is one of a group of law deans who have loudly protested the NCBE's method of testing graduates since pass rates on the exam dropped dramatically last July. He would prefer the ABA to test future lawyers on how well they actually lawyer in a clinical setting.
"When you consider incremental changes to address big problems, you're at risk of considering whether to wallpaper or paint when the house is on fire," says Allard.
In this analogy, the house that's on fire is the way our country decides who gets to be a lawyer. Firefighters are coming, Allard says. "Because New York is so significant nationally, in the scheme of things, this will have a big impact in building momentum toward much-needed reform of the bar and licensing system."
Before it's here, it's on the Bloomberg Terminal.
LEARN MORE