Western Scholars Urge Abe to 'Act Boldly' in Addressing History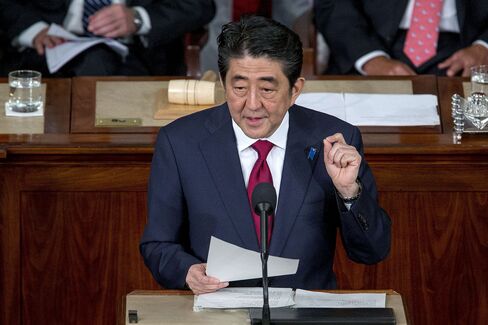 A group of almost 200 scholars urged Prime Minister Shinzo Abe to "act boldly" in addressing Japan's colonial rule and wartime aggression as the 70th anniversary of his nation's surrender nears.
The 187 academics -- based mainly at U.S. universities -- made the plea this week in an open letter in support of what they call the "many courageous historians in Japan seeking an accurate and just history of World War II in Asia."
In a speech last week to a joint session of Congress -- the first by a Japanese prime minister -- Abe offered "eternal condolences" for American lives lost in the war, without apologizing to women from Korea and other nations forced into prostitution by the Imperial Army. Abe's plans to make a "forward-looking" statement to mark the August anniversary risk upsetting Asian neighbors that seek more contrition over the past.
"This year presents an opportunity for the government of Japan to show leadership by addressing Japan's history of colonial rule and wartime aggression in both words and action," the academics wrote.
The dispute over history has particularly clouded relations between Japan and South Korea. President Park Geun Hye has refused to hold a bilateral summit with Abe until he does more to atone for Japan's 35-year occupation of the Korean peninsula and offer compensation to surviving "comfort women." Those strained ties are complicating U.S. efforts to forge a united front with its Asian allies to respond to North Korea's nuclear threat and a more assertive China.
Previous Apologies
The academics urged Abe to act on the sentiments he raised in the Congress speech, namely "the universal value of human rights, of the importance of human security, and of facing the suffering that Japan caused other countries."
Last month, Abe sent his strongest signal yet that he won't repeat previous war apologies in the planned statement. "I uphold the basic thinking behind past war apologies, which means there isn't a need to reiterate them," Abe said on a television show in response to a question whether he would include terms such as "aggression" or "colonial rule."
The scholars include John Dower, author of "Embracing Defeat" and professor emeritus of history at the Massachusetts Institute of Technology; Carol Gluck, professor of history at Columbia University; and Ronald Dore, honorary fellow at the London School of Economics.
They said the problems of historical interpretation impede any celebration of 70 years of peace between Japan and its neighbors, raising the issue of the so-called comfort women as one of the most divisive. Many Japanese nationalists challenge the estimates on the number of women affected and whether they were forced to serve the troops.
'Nationalist Invective'
"This issue has become so distorted by nationalist invective in Japan as well as in Korea and China that many scholars, along with journalists and politicians, have lost sight of the fundamental goal of historical inquiry, which should be to understand the human condition and aspire to improve it," the scholars wrote.
In March, a group of Japanese historians urged publisher McGraw-Hill Education Inc. to change a passage in a U.S. history textbook about women trafficked to Japan's military brothels, following a similar complaint from Japan's Foreign Ministry.
The book states that Japan forcibly recruited as many as 200,000 women from its colonies and occupied territories to serve in military brothels, and later massacred many of them to conceal the truth. Estimates of the number of these "sex slaves" range from 20,000 to 410,000 women.
"Since the equal rights and dignity of women lie at the core of the 'comfort women' issue, its resolution would be a historic step toward the equality of women and men in Japan, East Asia and the world," the scholars said. "We must leave as full and unbiased an accounting of past wrongs as possible."
The statement was written after an open forum at the Association for Asian Studies' annual meeting in Chicago in March and subsequent discussions.
Before it's here, it's on the Bloomberg Terminal.
LEARN MORE