U.S. Pushes UN to Blame Assad for Chlorine Attacks in Syria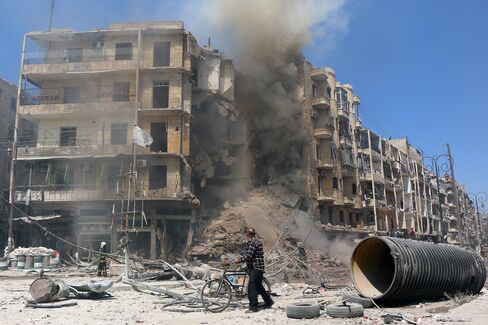 The Obama administration wants the United Nations to create a panel that would confirm its contention that Syrian President Bashar al-Assad is responsible for using toxic chlorine gas as a weapon.
A Security Council resolution drafted by the U.S. would authorize a team of UN investigators to identify who used the industrial chemical for hostile purposes in the Syrian civil war, said two council diplomats who asked not to be identified commenting on diplomatic conversations.
The Organization for the Prohibition of Chemical Weapons concluded last year that chlorine-filled bombs were dropped on civilians in Syria by helicopters, but the watchdog agency doesn't have the authority to place blame for attacks it investigates. U.S. Ambassador to the UN Samantha Power has repeatedly said Assad must be responsible because only his regime has such helicopters.
Chlorine, which has industrial uses such as purifying water, isn't among weapons of mass destruction banned by the international Chemical Weapons Convention. Still, the treaty prohibits the use of any chemical with intent to kill or harm.
American diplomats, backed by British and French allies, have been in discussions with their Russian counterparts to determine whether they will support the text.
Russian Ambassador to UN Vitaly Churkin said he is waiting for instructions from Moscow. "We need to look at at the legal and practical aspects of it, and when we get instructions we will keep working on it," Churkin said.
Russia's Role
Russia has been Assad's top supporter in the Security Council, shielding his regime from any UN-mandated punishment. Russia has said there's a lack of clear evidence that Assad used chemical weapons.
Assad's government joined the global treaty banning the use of chemical weapons in 2013 and destroyed its chemical arms stockpile under an agreement brokered by Russia to avert U.S. President Barack Obama's threat of airstrikes against Syria. But activists, doctors and Syrian war monitors have blamed the government for multiple attacks using chlorine gas.
U.K. Ambassador to the UN Matthew Rycroft said that while it's absolutely clear that chlorine attacks are continuing, the attribution for them isn't.
"We need clearly a mechanism to provide that certainty, and we very much hope that the Security Council will agree to the establishment of that mechanism," Rycroft said.
An American official declined to comment on the draft resolution or the negotiations surrounding it, saying only that the U.S. is engaged in conversations with UN colleagues to pursue justice for the Syrian people.
Before it's here, it's on the Bloomberg Terminal.
LEARN MORE