German Government Bond Slump Enters Eighth Day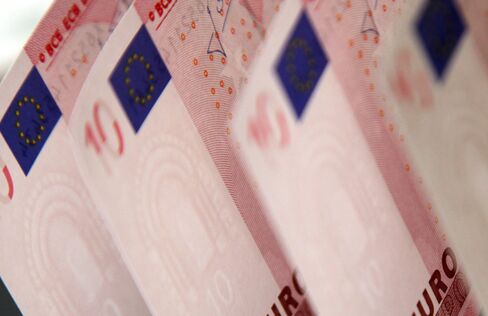 German government bonds extended losses into an eighth day amid a slump that has helped wipe $436 billion off the global fixed-income market in the past week.
The selloff in European sovereign securities deepened on Thursday after French and Spanish debt sales added 13 billion euros ($14.7 billion) of supply into the market. The global rout expanded around the world, infecting Japan as investors returned from a three-day holiday, Australia, where bonds are suffering the longest stretch of losses in 15 years, and Poland, where the government canceled an auction of local-currency securities.
"The move is brutal," said Richard McGuire, head of European rates strategy at Rabobank International in London. "A shift in sentiment and fundamentals may have triggered it. Valuations in bond markets were at extreme levels."
Bond prices are tumbling as investors turn against record-low yields, particularly in Germany where negative yields were sweeping into debt with maturities out to nine years. Adding to the risk of holding bonds, implied option volatility on German 10-year bund futures contracts surged in the past week to the highest since August 2012, data compiled by Bloomberg showed.
The yield on Germany's 10-year bunds, the euro area's benchmark sovereign securities, climbed seven basis points, or 0.07 percentage point, to 0.65 percent at 1:04 p.m. London time. It reached 0.78 percent, the highest since Dec. 8 -- with an increase of as much as 19 basis points intraday. The 0.5 percent bond due in February 2025 dropped 0.61, or 6.10 euros per 1,000-euro face amount, to 98.575.
'Crowded Market'
"Sentiment has changed and the capitulation of long positions is taking place in a very crowded market with low liquidity," said Gianluca Ziglio, a fixed-income strategist at Sunrise Brokers LLP in London. "That explains the sharp moves."
France auctioned 8.5 billion euros of debt, including 10-year bonds with a yield of 0.98 percent, up from 0.51 percent at a previous sale on April 2. French 10-year bond yields climbed five basis points to 0.95 percent, after at one point rising above 1 percent for the first time this year.
Amid the selloff, the perceived creditworthiness of corporate debt also declined. The cost of insuring corporate bonds against default using credit-default swaps rose 2.6 basis points to 65.7, the most since December, according to the Markit iTraxx Europe of contracts on 125 investment-grade companies.
Italian Banks
The bonds of Italian banks dropped after the value of their sovereign holdings plummeted this week. At the end of March, the nation's lenders held about 433 billion euros of their government's debt.
At Spain's auction, the nation sold 4.5 billion euros of government securities, including its current 10-year benchmark bond. The Treasury in Madrid allotted the debt with an average yield of 1.88 percent. That compares with a yield of 1.28 percent at a previous auction of the securities last month.
Spanish 10-year bonds rose, reversing an earlier decline. The 10-year yield fell six basis points to 1.83 percent, after climbing to 2 percent earlier on Thursday, the highest since Nov. 24.
Before it's here, it's on the Bloomberg Terminal.
LEARN MORE